Homemade French Bread Pizza Recipes
There's nothing better than homemade pizza, especially made with fresh dough. However, a quick, easy and inexpensive fix for dinner any night of the week are Home Made French Bread Pizzas. They are fun to make, easy for the kids to assemble and ready in 15 minutes.
By using freshly baked French or Italian loaves, instead of making a dough, a few simple ingredients, we can come up with a variety of pizza toppings to please everybody. In this recipe I have given you the ingredients for the pizzas I made in the picture below - pepperoni with anchovies or mushrooms, barbeque chicken with caramelized onions and pizza Marguerite.
The bread I chose for the pizzas was Italian semolina bread and French bread which were a little wider than the traditional French baguette. You will need approximately 1 1/2 cups of pizza sauce for 2 loaves. This recipe will feed 6 people and is very inexpensive to make. I spent less than $20 for all of the ingredients, which made dinner for less than $4 per person. You can't beat that!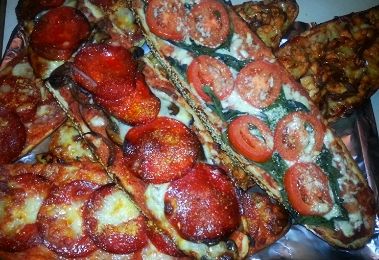 Pepperoni with Anchovies or Mushroom French Bread Pizza
There are 2 options for the pepperoni pizzas here. The anchovies or mushrooms. I made both. Just saute the mushrooms in a little olive oil with some salt and pepper and place them on top of the pizza sauce when assembling.
Ingredients
1 French or Italian loaf
1/2 lb. baby bella mushrooms, sliced thick and sauteed
Ready-made pizza sauce (I used Pomi)
1/4 lb. slicing pepperoni
6 anchovy filets, smashed with a fork
1 cup mozzarella cheese, shredded
Parmesan cheese, grated
Method
Preheat the oven to 375 degrees F.
1. Cut the loaf in half lengthways and remove a little of the bread if it's really thick. Spread the mashed anchovies over the bread followed by the pizza sauce, cheese, pepperoni and finish off with a sprinkle of Parmesan cheese. You can go as light or as heavy as you want on the pizza sauce. My family like to be able to taste it.
2. Place the pizzas on a foil lined baking sheet and bake for 10 - 15 minutes until the cheese is bubbly and browned a little.
French Bread Pizza Marguerite
Ingredients
1 French or Italian loaf
Ready-made pizza sauce
1 cup mozzarella cheese, shredded
Fresh basil leaves, whole (approximately 12)
2 Roma (plum tomatoes,) sliced
Parmesan cheese, grated
Method
Follow the same method for the pepperoni pizzas, placing the basil leaves on top of the cheese and the tomatoes on top of the leaves. Sprinkle with sea salt, ground black pepper and a dusting of Parmesan cheese. Bake for 15 minutes.
Barbeque Chicken and Onion French Bread Pizza
Ingredients
1 French or Italian loaf
1 large boneless, skinless chicken breast, cooked
1 1/2 cups barbeque sauce (your favorite)
2 tbsp. olive oil
1 large red onion, thinly sliced
1 tbsp. Worcestershire sauce
1 cup cheddar cheese
Method
1. Cube the chicken into bite-sized pieces and place in a bowl. Cook the onions in the olive oil over a medium heat for approximately 5 minutes and then add the Worcestershire sauce. Cook for a further 5 - 7 minutes until they are nicely caramelized and soft, stirring often. Add the onions to the bowl with the chicken and toss together with 1 cup of barbeque sauce.
2. Spread the remaining barbeque sauce over the bread, followed by the cheddar cheese, the chicken mixture and a little more cheese. Bake for 15 minutes on a cookie sheet.
Enjoy!
You Should Also Read:
The Home Cooking Recipe Index and Site Map
Visit my American Regional Cuisine site for more delicious recipes!
Fool-proof Pizza Dough-scroll down for recipe


Related Articles
Editor's Picks Articles
Top Ten Articles
Previous Features
Site Map





Content copyright © 2022 by Allyson Elizabeth D´Angelo. All rights reserved.
This content was written by Allyson Elizabeth D´Angelo. If you wish to use this content in any manner, you need written permission. Contact Allyson Elizabeth D´Angelo for details.