Stiff Joints and Meditation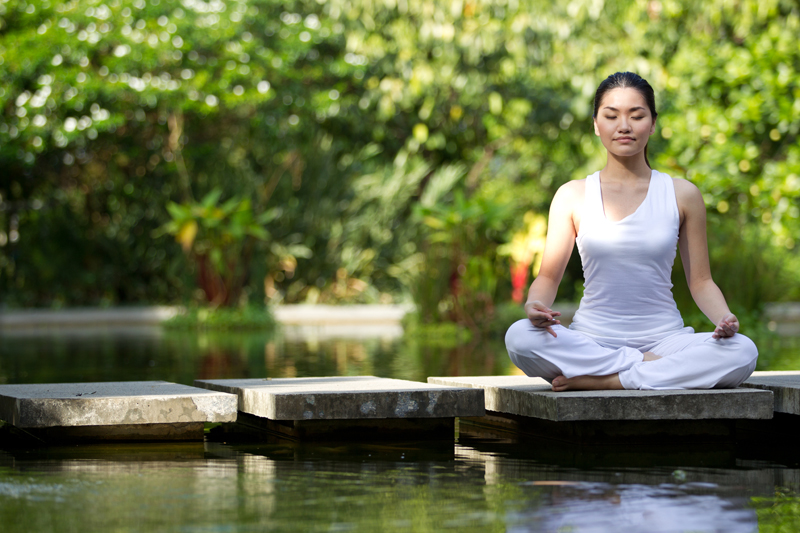 One way to meditate is by sitting on a chair. Following, I describe some simple ways to make this meditation position more comfortable, while maintaining a steady upright posture:
Sit on a chair that is the right height to plant the soles of your feet firmly on the floor, to maintain balance when your eyes are closed or relaxed.
Place a small cushion at your lower back, so rather than leaning on the chair backrest you are propped up against the pillow. This allows you to keep your upper back free to stretch up, rather than slump.
Rest your lower arms on the top front of your thighs next to your body. This allows you the choice of using a rosary or mala, or folding your hands together. In this photo I am using a 108 bead mala to repeat my mantra.
Note that even though my eyes are closed I am not letting my head fall forward and cut off the free flow of my in and out breaths.
Keep up your even breathing throughout your meditation in a pattern such as one count to breathe in, and one count to breathe out. Do not hold your breath at any time.
Even rhythmic breathing can calm your emotions. By concentrating on a regular pattern you are distracting your mind from negative or troublesome thoughts. When your mind is calmed down, you may find that creative solutions flow up to your consciousness. This is one of the benefits of meditation practice.
After some time your body may feel like it is floating in water. Enjoy this freedom of physical sensation. For me, I feel the physical dissolve below my neck. I use this time to generate thoughts of peace and love and stretch my feelings of joy out to the world.
When you are ready to end your meditation session take a deep breath in and slowly release it. Open your eyes. Take time to write any new thoughts in your meditation journal for further review. Feeling refreshed, go on with your day.
In summary,
sitting on a chair and using a pillow for lower back support is a way to meditate, particularly if your joints are too stiff to fold your legs in while sitting on a cushion on the floor.
You are not a failure at meditation by using this method. Remember my story about my great aunt, Sister Mary Rita, of the Mission Helpers of the Sacred Heart. She was sitting on a church pew in morning meditation when she passed on.
Meditation Lessons for Teens and Adults
More than 70 offerings, from guided meditation techniques to on-the-go stress relief and relationship meditations interspersed with verse, and a section of special occasion prayers. 114 pages. Ebook options and paperback.
Meditation for All Kids
Sitting, walking, dance and group circle meditations, along with positive affirmations, verses and benefits of meditation for kids of all ages and abilities in a 100 page book with illustrations. Ebook options and paperback.
NOTE: Sign up below or in the right-hand column for our meditation site newsletter. It only requires your email address and is never given out or sold to anyone. If at any time you wish to stop receiving it, each newsletter contains a link to unsubscribe. Make meditation part of your daily routine.
Article by Susan Helene Kramer


Related Articles
Editor's Picks Articles
Top Ten Articles
Previous Features
Site Map





Content copyright © 2022 by Susan Helene Kramer. All rights reserved.
This content was written by Susan Helene Kramer. If you wish to use this content in any manner, you need written permission. Contact Cat Hamilton for details.