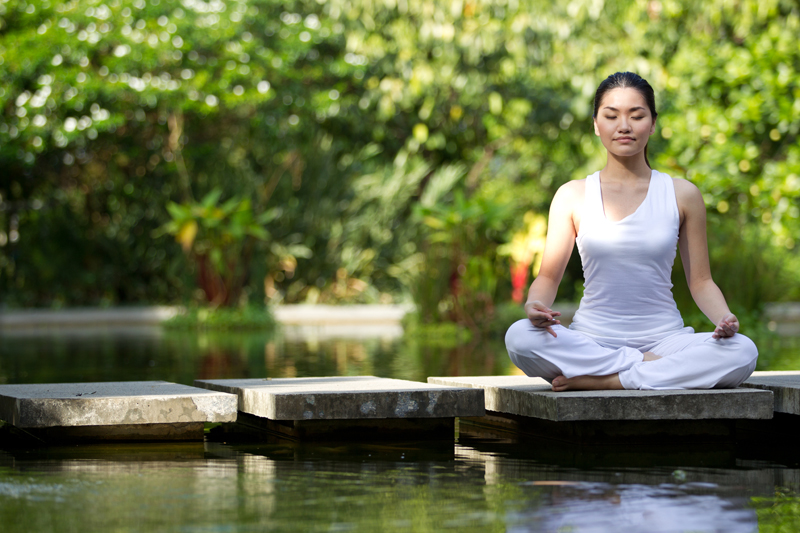 Ah, the end of the day, and the perfect time to take inventory of the day's events and plan for the morrow during a quiet meditation.
Once a day it is useful to review what has transpired, consider the pros and cons, how to proceed.
Meditation time with a period for reflection gives us the opportunity to unwind, think about the day, regroup our energy, realign our short term or long term goals as we feel would be beneficial.
Prepare for your bedtime meditation
by choosing a quiet and private place to sit, where you'll be undisturbed. I have a spot in my finished attic that I call all mine.
When sitting, keep a journal and pen at your side to record insights and use for later review.
Begin your bedtime meditation by sitting upright on a cushion with your legs folded in, or sit upright on a chair, with your feet firmly planted on the floor to maintain your balance. Fold your hands in your lap, or place them face up or face down on your thighs. Close your eyes.
Take a deep inhalation and slowly exhale. Then, begin even regular breathing, such as one count to breathe in, and one count to breathe out. Do not hold your breath at any time.
Keep up the regular rhythm of this even breathing throughout your meditation.
Breath is a tie between the emotional and physical bodies. Conscious even breathing can calm the emotions, and restore balance to your thoughts and body.
Say a prayer to begin your venture within, either a set verse, or in your own words. Then begin listening to your rhythmic breathing in and out. If at any time you hear the Holy Spirit vibration under the crown of your head, begin listening to its soothing sounds.
Start reviewing how your day went. What were the highlights and low points? What could you have done differently? What is the best way to proceed or follow up on the day's events?
To help you make different choices in the future resolve to act for the best good of situations as they arise. This keeps you on the path toward happiness and harmony as you go along.
It may be tempting to just plan for what you want, personally, but if you consider the whole and others impacted by your choices, you have a better chance of insuring a harmonious surrounding and outcome.
To finish your bedtime meditation take a deep breath in, slowly release it and enjoy the feelings of peace in your body and mind. Open your eyes. Take a minute to record thoughts and plans in your journal. Stretch out and prepare for a good night's sleep.
Meditation Lessons for Teens and Adults
More than 70 offerings, from guided meditation techniques to on-the-go stress relief and relationship meditations interspersed with verse, and a section of special occasion prayers. 114 pages. Ebook options and paperback.
Meditation for All Kids
Sitting, walking, dance and group circle meditations, along with positive affirmations, verses and benefits of meditation for kids of all ages and abilities in a 100 page book with illustrations. Ebook options and paperback.
NOTE: Sign up below or in the right-hand column for our meditation site newsletter. It only requires your email address and is never given out or sold to anyone. If at any time you wish to stop receiving it, each newsletter contains a link to unsubscribe. Make meditation part of your daily routine.
Article by Susan Helene Kramer


Related Articles
Editor's Picks Articles
Top Ten Articles
Previous Features
Site Map





Content copyright © 2023 by Susan Helene Kramer. All rights reserved.
This content was written by Susan Helene Kramer. If you wish to use this content in any manner, you need written permission. Contact Cat Hamilton for details.