Walking Meditation on the Breath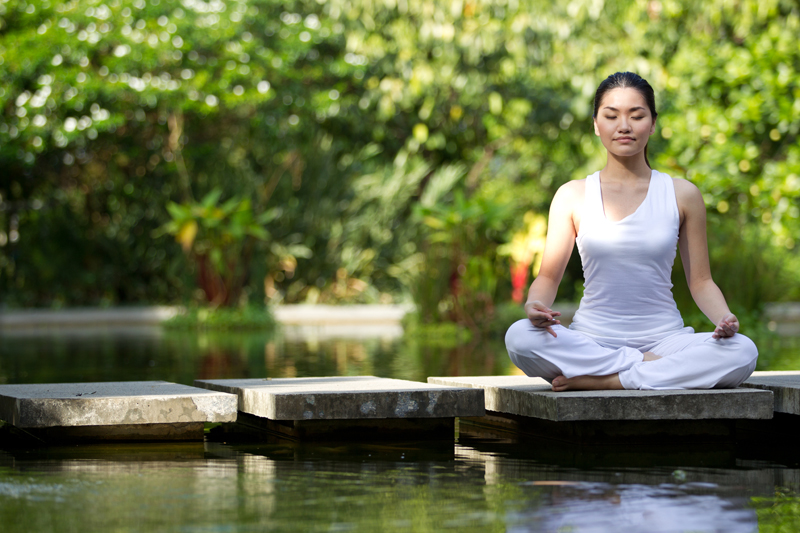 Walking meditation may be more convenient for you if you walk a regular route and don't need to think about where you are going.
Pick a path that will cover at least 10 minutes walking. This gives you time to unwind and get into a regular rhythm.
Before you begin make sure you've visited the rest room and gotten a drink and maybe a snack. Carry a piece of juicy fruit with you in a small daypack if you think you'll need it, as well as an extra layer of clothing if you'll be out for a time. Remember sunscreen and a shade hat.
Now that you're physically prepared here is how to walk: Let your arms swing in opposition to your legs, which means when you step forward with your right foot, you swing your left arm forward, and vice versa.
Breathe in a regular and rhythmic pattern, which could be taking two steps while breathing in, and taking two steps while breathing out. As you begin your walking meditation you will probably spend a minute coordinating your breathing with walking but after that it will become automatic.
After the first minute adjusting to the rhythmic walking take time to send out thoughts of love and peace to the creation. Let your love spiral further afield with each step till you feel a part of the universal workings. You are a necessary cog in the wheel of life, everyone has a place and purpose on earth and in the whole world, too.
Take a few minutes to appreciate life, and having the opportunity to get outdoors and walk. When I worked on a school campus sometimes I would walk on the outer sidewalk during lunch. I may have been tired when I began but I would come back invigorated.
Before concluding your walking meditation say some silent appreciation for the good in your life. Plan how you can improve yourself and help others. Kindness improves both yourself and others. So just showing care as you go through the day keeps you happy and might give others a smile.
When you come to the end of the trail, take a deep breath in and slowly exhale. Take the peace you've been enjoying into the rest of the day.
Walking meditation is different than sitting meditation but both have the benefit of relaxing the body, and freshening your attitude, and that improves yourself and stretches out to the world, little by little, one by one.
For more meditation lessons click the link below this article called Related Articles.
Meditation Lessons for Teens and Adults
More than 70 offerings, from guided meditation techniques to on-the-go stress relief and relationship meditations interspersed with verse, and a section of special occasion prayers. 114 pages. Ebook options and paperback.
Meditation for All Kids
Sitting, walking, dance and group circle meditations, along with positive affirmations, verses and benefits of meditation for kids of all ages and abilities in a 100 page book with illustrations. Ebook options and paperback.
NOTE: Sign up below or in the right-hand column for our meditation site newsletter. It only requires your email address and is never given out or sold to anyone. If at any time you wish to stop receiving it, each newsletter contains a link to unsubscribe. Make meditation part of your daily routine.
Article by Susan Helene Kramer


Related Articles
Editor's Picks Articles
Top Ten Articles
Previous Features
Site Map





Content copyright © 2023 by Susan Helene Kramer. All rights reserved.
This content was written by Susan Helene Kramer. If you wish to use this content in any manner, you need written permission. Contact Cat Hamilton for details.