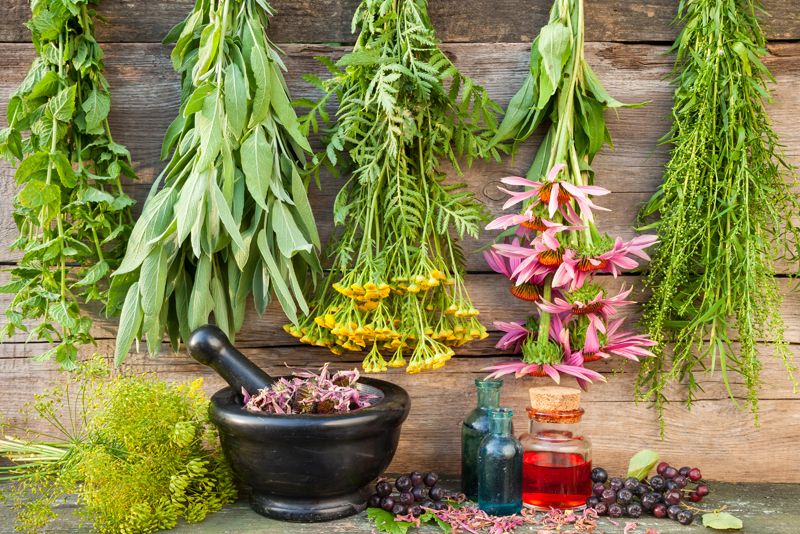 Mid summer is the time for harvesting Saint John's Wort. This herb is really a weed, introduced to North America from Europe centuries ago. Hypericum perforatum, commonly known as St. John's Wort or Klamath Weed, is a perennial plant found in moist, disturbed areas across the western United States.

St. John's Wort medicinal uses can be traced back at least 2400 years. Healers in ancient Greece and Rome are said to have used this common herb to ward off evil spirits. Europeans continued to employ its properties throughout millennia to alleviate nervous disorders.

In modern times, St. John's Wort has become widely recognized as an alternative to pharmaceutical antidepressants. Hypericum, literally translated from its Latin root means "over an apparition". A tincture made from fresh, crushed leaves and flowering tops can be used to treat cases of mild depression.

Herbalists also employ this herb to treat nerve pain. The tincture can be ingested or applied topically to relieve pain and trauma. It has a history of use for treating symptoms of concussions, bruises, pulled muscles, multiple sclerosis and shingles. Taken internally, its effect is on the central nervous system. Applied topically, its medicinal qualities address specific nerve inflammation.

In addition to its application in liquid extract form, St. John's Wort can be infused in oil, which produces a good topical remedy for aches and pains. Directly applied to areas experiencing nerve or muscle discomfort, this oil penetrates the skin to provide fast relief, especially when combined with Arnica and Poplar Bud.

There are many contraindications to using St. John's Wort, which must be considered. Increased photosensitivity is one. Most herbal reference sources recommend avoiding prolonged exposure to sunlight or ultraviolet light while using St. John's Wort. There are also reports of changes in menstrual cycles when this herb is used in combination with certain birth control pills. In fact, when taken internally, St. John's Wort reportedly interferes with the way the body processes many drugs through the liver, so caution in using this herb is strongly advised.

Generally growing in stands of multiple plants, St. John's Wort is easily identifiable. When in bloom, its 2-3 foot tall multi-branched green stems yield a cap of golden yellow flowers, arranged in clusters. The blossoms contain five petals and a showy collection of yellow, purple-tipped stamens that emerge in erect form from the flower center. The leaves are opposite, oblong to elliptical and are usually less than one inch long. Both flowers and leaves are covered with tiny black dots, which contain a substance called Hypericum. This is the medicinally active compound that appears as a red stain when leaves or flowers are crushed.

St. John's Wort spreads via rhizomes and seeds. One plant can produce up to 30,000 seeds! The proliferation of St. John's Wort is of agricultural concern, due to its tendency to take over pasturelands. It is unpalatable to most animals and can therefore spread unchecked along roadsides, fields and open lands. A medicine to some and a nuisance to others, St. John's Wort is still an herb worth getting to know.

DISCLAIMER: The author of this article is not an herbalist practitioner or a doctor. Please consult a medical professional before using any medicinal herbs.




Related Articles
Editor's Picks Articles
Top Ten Articles
Previous Features
Site Map





Content copyright © 2022 by Evelyn Roether. All rights reserved.
This content was written by Evelyn Roether. If you wish to use this content in any manner, you need written permission. Contact Bettina Thomas-Smith for details.