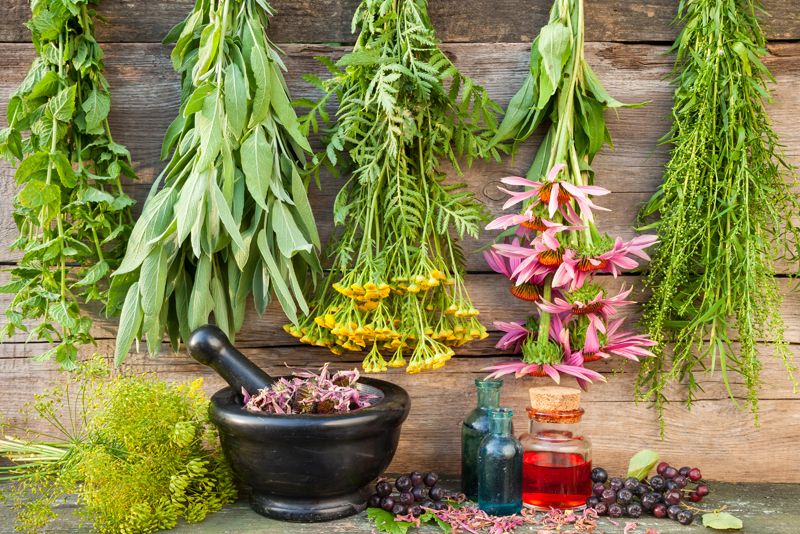 Almost anywhere you live you can go out the door and find herbs. Whether in the garden or growing wild, our herbal friends are everywhere. Cities are no exception. In the urban jungles of North America you might find dandelions, sorrel, purslane, plantain, or other common so-called "wasteland weeds". Of course, due to pollution, herbicide residue, contaminated soils and other toxic conditions, wildcrafting in the city is not advisable. But you never know what the future will bring, so it's good to know what plants you can turn to in a pinch.

You may think that those dandelions in your lawn are weeds. But did you know that dandelion greens are not only edible, but are also rich in iron, protein, Vitamins A,C,E, and B-complex, AND trace minerals? The young leaves are quite delicious in salads or steamed. We can thank the early American fore-fathers and mothers for this tasty lawn pest – it was brought over on the Mayflower. Intentionally!

Sorrel is another yard invader that makes for a novel addition to green salad. These tenacious plants pop up everywhere, especially in slightly acidic soils. They tend to spread extensively, propagating by seed and rhizome. Their arrow-shaped leaf and little, red flowers borne on spiked terminal clusters help identify them. The tart, citrus-y flavor of sorrel leaves is thirst quenching, refreshing and high in Vitamins C, A and beta-carotene. This distinctive flavor comes from oxalic acid contained in the leaves, which, in excess, can irritate your gastrointestinal tract and damage your kidneys. Ironically, sorrel tea has been used to treat kidney and liver ailments, as well as to prevent scurvy.

Another yummy green is purslane. Summer purslane is a succulent, spreading annual that has little five-petaled yellow flowers and loves moist, sunny spots. It has been cultivated for centuries in India and the Middle East and is also native to Europe. Although the leaves can be eaten raw, it tastes better cooked with a little splash of balsamic vinegar. Purslane is a major ingredient (along with sorrel) in the traditionally prepared French dish soupe bonne femme. The leaves are high in Vitamin A and when eaten raw are known to be diuretic (increases the flow of urine).

Keep you eye out for plantain poking through the sidewalk cracks. This plant seems to thrive in adverse conditions and is widespread across the U.S. and Canada. Emerging from a bright green rosette, the plaintain flowers are inconspicuous, appearing along the upper half of 6-8 inch naked stalks. The whole plant is edible, and tastes a bit like spinach or Swiss chard. It is also nutritious, providing good amounts of Vitamin C, A and K. Its medicinal uses have been well-established throughout many generations, such as its properties as an anti-inflammatory. Chewing on the root is also said to relieve toothaches. And I know from experience that a poultice of crushed plantain leaf is a fast, in-the-field pain reliever when directly applied to insect stings or minor skin irritations.

So next time you go to weed those sidewalk cracks, roll around on a park lawn, or cross an overgrown lot, just remember: Those ain't all weeds you're seeing, they're herbs!

DISCLAIMER: The author of this article is not an herbalist practitioner or a doctor. Please consult a medical professional before using any medicinal herbs.



Related Articles
Editor's Picks Articles
Top Ten Articles
Previous Features
Site Map





Content copyright © 2023 by Evelyn Roether. All rights reserved.
This content was written by Evelyn Roether. If you wish to use this content in any manner, you need written permission. Contact Bettina Thomas-Smith for details.