Engaging in the Natural World and Gardens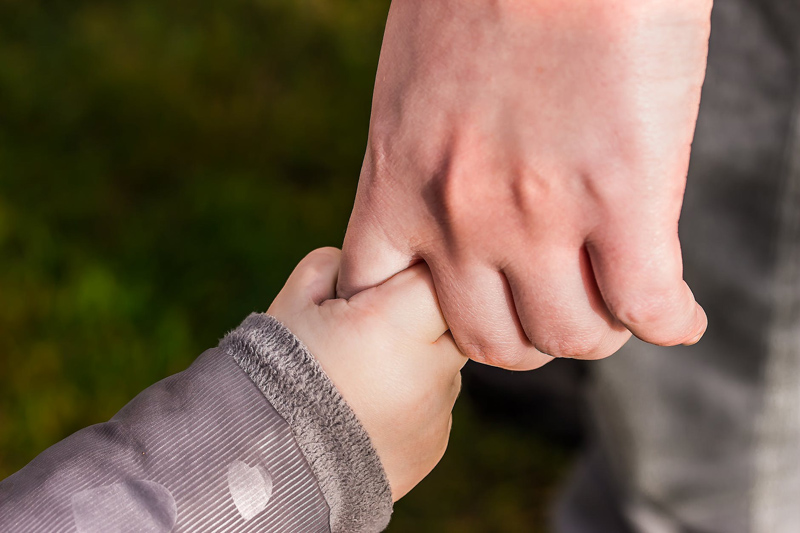 When my children were small they each had their own small patches in the larger garden, where they could dig mud holes and dirt hills. They practiced planting seeds and burying toys to see what would grow. Many of the seeds they planted grew as abundantly as my carefully tended plants, not so surprising as I had prepared the soil for their part the same as mine.
Some children don't mind dirt in the garden but feel very uncomfortable being dirty when they close the garden gate. Others love to water plants and play in puddles but do not want to deal with mud. Some who are uncomfortable in the rain may delight in wearing raincoats and rubber boots walking through sprinklers. Gardens and walking paths do have their own risks and dangers, and children must always be supervised around water. Even a few inches of water in a bucket can be deadly for a child who tumbles headfirst into it.
For many children, being outdoors can provide more tactile experiences than would be comfortable indoors. Being observant little scientists on a walking path or a gardener in their patches can be distractive therapy for children in physical or emotional pain. A good rule of thumb is to expect just the opposite of what you imagine will be something your child will enjoy.
Spending time in gardens may allow more predictability and control than hiking in meadows, or hills nearby, but a diversity of experiences can help each child integrate a new understanding of life and growth. It is worth the effort to discover where in the natural or cultivated outdoors each child feels most comfortable or fascinated. Some children prefer to be still and look around carefully, while others stomp through the landscape like intrepid explorers. Every child should have many opportunities to do both, and everything in between.
Children with disabilities may not have as many opportunities to engage with the natural world as their mainstream peers. Issues related to accessibility of trails, complications of chronic health conditions, and available support or encouragement present impressive obstacles. It could be that parents are overwhelmed by scheduling medical visits, therapy, evaluations and IEPs during the week and have many other obligations to catch up on during weekends and holidays. Nature can be scheduled in.
Opportunities available to mainstream peers and siblings may not be offered to children with disabilities due to imagined obstacles or inexperience of staff and business owners with people who have grown up with disabilities. I have been surprised very often that people I meet have much more experience with disability than I expect. There has never been more awareness of accessibility issues than there is now. Trails and lodges have been built or modified to encourage inclusion of every member of the family.
The Autumn harvest season is a wonderful time to bring children with disabilities back into the garden to enjoy fruits and vegetables they have tended and watched grow from Spring through Summer. In addition to gardening being a natural link to better nutrition and food choices, observing the differences between plants and growth patterns can help children understand why we appreciate differences and celebrate diversity in nature. Children can also learn more about themselves hiking on natural trails or walking through botanical gardens where native plants are featured and protected.
Autumn is a wonderful season because tall plants provide shade and hiding places, and all the seeds planted in the Spring have already shown us what they are going to do. Gardens provide opportunities to focus on growth and change, but are also amazing homes for insects, birds, lizards and other critters who interact with the plants we want to thrive with complete disregard for our wishes. Some people are sentimental and philosophical in their gardens, and others tend more toward being efficient and practical, depending on the season, the weather and the task. Children who have the opportunity to walk or roll through natural places may develop a sense of place and time that adults take for granted.
Although Fall is often taken up with Back to School events, appointments and meetings, it is important that children with disabilities have the opportunity to interact with both the cultivated and natural world. It is more likely if a parent or other family member enjoys gardening at home or in a community pea-patch, or visiting local estates or botanical gardens. Mainstream kids benefit from early experiences with gardening, hiking, and being out in the natural world. Children with disabilities are just mainstream kids who have more paperwork in their lives.
Browse at your local bookstore, public library or online retailer for books like:
Last Child in the Woods
or
The Urban Birder
You Should Also Read:
Fly Fishing for Kids and Teens with Down Syndrome
Choosing Inclusive Summer Camps
Camp Prime Time Family Camp


Related Articles
Editor's Picks Articles
Top Ten Articles
Previous Features
Site Map



Follow @DownSynAdvocacy
Tweet





Content copyright © 2021 by Pamela Wilson. All rights reserved.
This content was written by Pamela Wilson. If you wish to use this content in any manner, you need written permission. Contact Pamela Wilson for details.