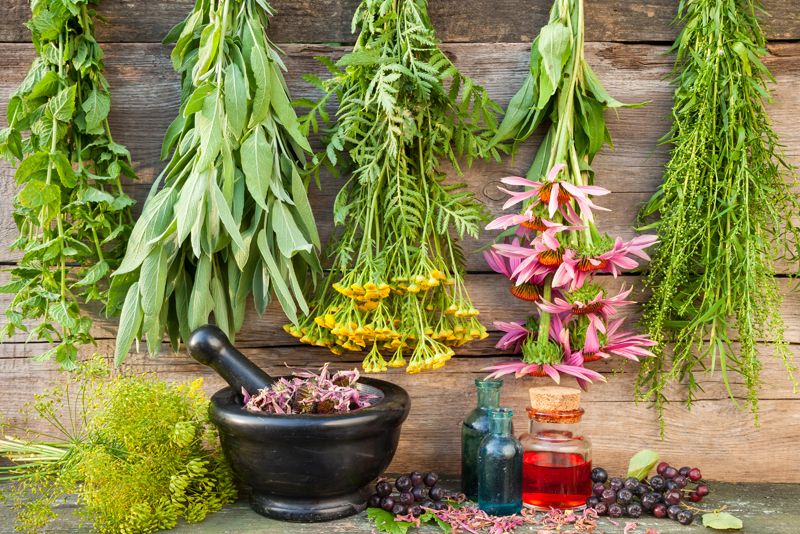 There doesn't seem to be one place you go these days to hear that dreaded cough. Nothing can be more annoying, not just for yourself, but to other members of the family. Before you go racing to the pharmacy and load up on over the counter medicine, take a few minutes and make your own healthy and natural cough drops. The only exception I make is that great Swiss company that makes wonderful herbal cough candies.

If you can make hard ball candy, you can make your own cough drops. Try and choose natural cane raw sugar, the same goes for food colouring such as wild cherry bark and elderberry. Before you start, grease a 9 x 13 glass baking pan with butter. Try lining your pan with waxed paper instead of buttering it - make sure the edges go up the pan so no syrup seeps underneath. This will help the cough drops to pop out after they've hardened.

Tip: Steep herbs in one and a half cups of water in order for the natural flavors and oils to be released prior to boiling mixture.

Items you will need:

• 1/2 cup sugar
• 1/3 cup light corn syrup
• 1 cup water / herbs = herbal tea
• vegetable/food coloring
• powdered sugar

Mix first three ingredients, stir and let it boil until it reaches 290 degrees F. and begins to crystallize. You can test it by dropping a sample from a spoon into a bowl or cup of cold water. When it hits the proper stage, it will form a ball. Remove from the heat after a few minutes. Add food coloring, if desired. Pour the mixture into the pan and let it cool, making sure you cut it into squares before it completely hardens completely. To keep your cough drops from sticking to each other, you can dust them with slippery elm root powder or powdered sugar. Store them in a glass jar with a lid and use as needed.

This can be made using any herb that you want to make a cough drop out of. You can find loose herbs at natural food stores, or you can use a few prepared teabags. You can mix and match a variety of herbs, depending on your preference.

Some great herbs to use for sore throats and coughs are:

• wild cherry bark
• echinacea
• pine needles or inner bark
• horehound
• yarrow
• elderberries
• osha root
• thyme
• dandelion flowers or roots
• yellow dock root
• sage
• mullein leaf
• marshmallow herb
• chicory root
• spilanthes
• peppermint
• eucalyptus
• comfrey leaves
• plantain leaves or roots
• holy basil
• rosemary
• heal all
• peach twig or leaves
• ginger

Please always do your research and consult with your physician, naturopath, or health care provider before taking any home remedies or supplements or following any treatment suggested on this page. Only your health care provider, personal physician, or naturopath can provide you with advice on what is safe and effective for your unique needs or to diagnose your particular medical issue.




Related Articles
Editor's Picks Articles
Top Ten Articles
Previous Features
Site Map





Content copyright © 2023 by Bettina Thomas-Smith. All rights reserved.
This content was written by Bettina Thomas-Smith. If you wish to use this content in any manner, you need written permission. Contact Bettina Thomas-Smith for details.