Ableist Arrogance at a Candy Store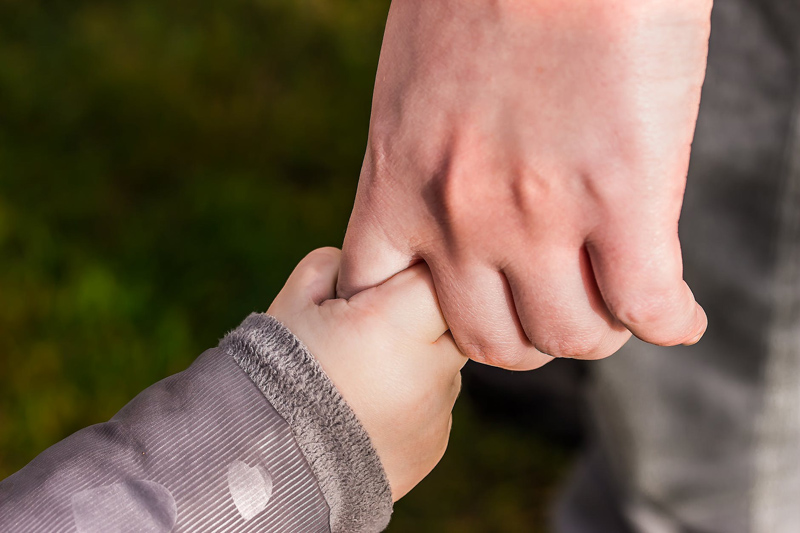 My son and I recently shopped at a candy store where sample chocolates are shared with customers while they are pondering their purchasing decisions. I asked my son if he had his store gift card and he put his empty little pleated candy cup on the shelf next to us so he could show me he had it in his wallet. The sample lady was approaching and offering a second sample to our shopping companion, so we turned toward her to show our interest.
Instead of offering us a second choice, the woman leaned toward my son and commented on the empty chocolate paper on the shelf. When he moved his hand, he accidentally knocked the little cup and it fell off the shelf and floated down to the floor. Before he could step back to pick it up, she leaned in and told him to do so.
At this point I stepped forward and said, "He is a responsible person." He hesitated - I think because she was leaning forward like she might pick it up herself, and he has bumped heads often enough to make sure the other person does not have the same intent - but she stood there waiting and glaring at him until he backed up and picked it up off the floor.
I was so shocked, I did not say or do anything, and I regret letting that moment pass without comment. While my friend was making her purchase, I could barely think. A dark-skinned man shopping with his two children let his empty paper candy cup float to the floor as he took his children out of the store. The sample lady picked it up on her next circuit greeting customers. I think he did that as a message for my son, or for me. My son has excellent manners, but he knows that it is important to speak up when he sees someone else being belittled or bullied. He would have gently intervened if this had happened to someone else.
When we climbed into my friend's vehicle I felt terrible. My son did buy me chocolates but he paid a very dear price. And I am still suffering from the knowledge that on Mother's Day in one of our favorite stores from his childhood and mine, I allowed that store employee to demonstrate her prejudice, discriminate against my son, and show me that as a mother and an advocate, I leave a lot to be desired.
My friend who was behind the sample lady and only observed the body language and attitude of the employee was so bothered by what she saw that she called that store the next day. I did not have the heart to tell her that it was much worse than she thought. Neither my son nor I will ever forget this experience.
I apologized to my son, at home. We talked about other unfortunate situations that he has experienced in his life, and how we might handle something similar in the future. He comforted me by promising to shop at a Godiva chocolate store next Mother's Day. I thought I could put the incident behind me. After all, my mom had sent me a holiday box of nuts and chews and an Easter basket from that store until I was 35. But my own silence has cost me dearly.
I have eaten three chocolates from my son's Mother's Day gift and have not enjoyed even one. I thought I had bitten into a rotten nut the first try. Then the second one tasted like ashes in my mouth the next day. The third was no good, either. As rude and inappropriate as the store employee had been, I know it is my own failure as a mother that I am tasting. I needed to have said something.
It would have been better for me if I had pushed a display stand over and brought all the candy down from the shelves, since I could not find the words. I was taken by surprise. I did not want to ruin anyone else's Mother's Day. That these excuses come to mind wound me almost as much as my failure.
I am proud that I could conceal my own feelings well enough and soon enough so that my son could confide in me how that incident made him feel. He said he remembers 'all the times these things happen.' Of course he does. He knows there is no place and no occasion where some person will not feel perfectly justified in their despicable behavior. So, we have talked about what each of us could do and say next time. Silence is no longer an option for me, but I will follow my son's lead. Meanwhile, I have written to the company and informed them of the need for training for all their employees.
It would have been a simple thing for me to ask the clerk to move along when she took on the task of making sure my son minded his manners, but he has been autonomous long enough that I rarely have cause to intervene on his behalf. I could have easily reminded her that it is not the function of a store employee to see to it that customers pick up after themselves. It is highly unlikely that she would have demonstrated such intrusive behavior toward a grown man who did not have Down syndrome. It may be that she has experience with a relative, neighbor, or friend's family member with Down syndrome and does not realize how inappropriate it was to assume authority over a customer due to assumed intellectual disability.
NOTE: By chance, my son and I met a friend and her preteen son with Down syndrome while shopping. We chatted so long that the candy store mentioned above (at a different location) closed twenty minutes before we walked them over to the door. My friend's son rattled the door and knocked on the glass when he saw an employee straightening up the display case inside. We tried to pull him away, as the woman disappeared behind the counter. She opened the door and gave us each a sample, saying she hoped that we would come back soon. She also told my friend not to worry a bit, lots of people came by and rattled the door after they closed, and she was glad to meet such a charming customer.
It's almost Mother's Day again. My son and I both enjoyed those samples.
Browse at your public library, local bookstore, or online retailer for books like:
Promoting Self-Determination in Students with Developmental Disabilities (What Works for Special-Needs Learners)
or
The Civil Rights Movement for Kids: A History with 21 Activities (For Kids series)
.
Can you see me now? Ladies Home Journal March 2012
Hi, my name is Johanna. I'm 4 years old and I have Down syndrome
https://www.lhj.com/health/news/down-syndrome
Deconstructing disability
How can we redefine societal perceptions of people with disabilities?
https://stream.aljazeera.com/story/201305200000-0022766
Ableism is the discrimination against people who have physical or mental disabilities.
Gary Karp explains how extreme narratives of disabled people can also be discriminatory.
Deaf Disempowerment and Today's Interpreter
https://www.streetleverage.com/2012/12/deaf-disempowerment-and-todays-interpreter/
Dealing with Rude Comments or Behavior in Public -
or, How One Father Raised Awareness in a Toy Store
https://www.bellaonline.com/articles/art69014.asp
You Should Also Read:
Dealing with Rude Comments or Behavior in Public
Inappropriate Remarks from Other Parents
Inappropriate Comments in Inclusive Congregations


Editor's Picks Articles
Top Ten Articles
Previous Features
Site Map



Follow @DownSynAdvocacy
Tweet





Content copyright © 2019 by Pamela Wilson. All rights reserved.
This content was written by Pamela Wilson. If you wish to use this content in any manner, you need written permission. Contact Pamela Wilson for details.