The Sauces of Mexico - Yucatecan Salsa Xnipec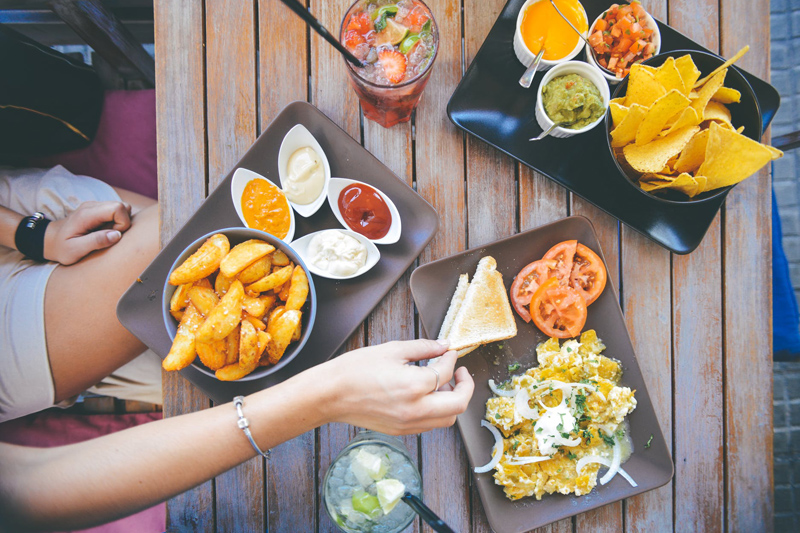 The Mayas' nose of the dog has a rich sting, with the local habanero chilli providing uncompromising fire and brimstone. Salsa Xnipec is to the Yucatán Peninsula what Salsa Cruda, Salsa Fresca or Salsa Mexicana is to the rest of the country: the most popular and traditional table sauce, served at virtually every meal to accompany pretty much everything. It makes an appearance with every local and regional dish, from wonderfully fresh seafood cocktails to rich savoury frijoles con puerco, beans with pork and the achiote-marinated pibils.
Xnipec is a very close relative indeed of Salsa Cruda with only its distinctive chilli, the colour of the onion and the method of acidulation to set it apart. The habanero chilli, with its faintly fruity heat, takes pride of place while finely chopped red onions replace the more common white ones. A good squeeze of lime juice sharpens Salsa Cruda, but in the Yucatán, the very local sour orange, naranja agria, seldom found anywhere else in the country, brings a sparkle, a vivacity, a faint whiff of sweetness and a grapey tang to the Mayan sauce. The spiciness is admittedly often overwhelming as Yucatecan cooks use habaneros with gay abandon, but this fieriness can be tamed by the quantity of chilli incorporated into the salsa. Furthermore, if you cannot cope with the punch of an habanero, you can always use a serrano or even a jalapeño chilli instead, however inauthentic.
Naranjas agrias are virtually impossible to source outside Mexico so during the marmalade season, I am happy to use sour Seville oranges; at other times of the year, a mixture of lime and orange juices works well, although a mild vinegar such as cider is considered a good alternative – it does however lack that elusive hint of fruit which is so essential to a proper nose of the dog.
Xnipec is a coarse, rustic salsa so do not be tempted to chop the tomatoes too finely.
Yucatecan Salsa Xnipec
Serves 6
75 g/3 oz red onions, peeled and finely chopped
30 ml/2 tbsp fresh lime juice, from about 2 medium limes
60 ml/4 tbsp fresh orange juice, from about 1 large orange
500 g/18 oz tomatoes
25 g/1 oz habanero or Scotch bonnet chillies, deseeded and finely chopped
10 g/1/3 oz fresh coriander/cilantro, coarsely chopped
Sea salt
Marinate the onions in the lime and orange juice while you deal with the tomatoes – this early contact with the acidity will turn them a nicely lurid pink.
Quarter the tomatoes, scrape out the seeds and cut them into pieces slightly smaller than a centimetre or half an inch. Stir them into the onion mixture, along with the chillies, coriander and some salt. Check the seasoning.
Serve immediately.
If you do not intend to serve the sauce as soon as it is made, leave out the salt until the last minute as it will draw the moisture out of the tomatoes and make everything a bit soggy.
Salsa Xnipec is versatile and delicious not only with all the typical dishes of the Yucatán Peninsula but also with a steak, roast chicken, stir-fried prawns, grilled fish, fried eggs, etc.
| | |
| --- | --- |
| Chilli and Chocolate Stars of the Mexican Cocina by Isabel Hood is available from Amazon.co.uk | Just The Two of Us Entertaining Each Other by Isabel Hood is available from Amazon.com and Amazon.co.uk |
You Should Also Read:
The Sauces of Mexico - Salsa Cruda
Mexico's Regional Gastronomies - Yucatán
The Sauces of Mexico - Recado


Related Articles
Editor's Picks Articles
Top Ten Articles
Previous Features
Site Map





Content copyright © 2022 by Isabel Hood. All rights reserved.
This content was written by Isabel Hood. If you wish to use this content in any manner, you need written permission. Contact Mickey Marquez for details.