The Sauces of Mexico - Recado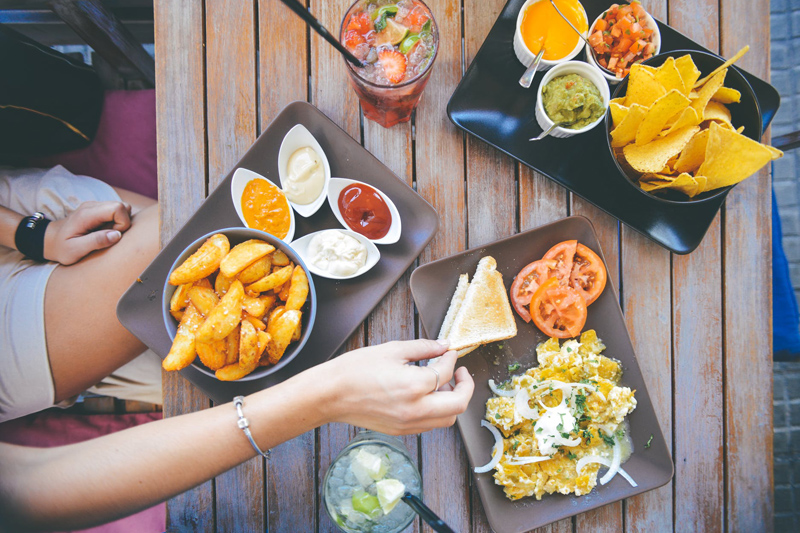 The "recado", like the ubiquitous "adobo", is not really a sauce, but a spice and herb blend or paste used to flavour meat, fish or vegetables before cooking. It is a particular speciality of the Yucatán peninsula - although other regions have their own version – and while one cannot define it as a sauce, it can act as a building block and, with the addition of liquid – the juice of sour oranges, "naranja agria", in the Yucatán – be turned into a proper sauce to bathe the finished dish and add moisture. The basic mixture is often very simple – a straightforward combination of garlic and oregano for instance – but a recado can be considerably more elaborate.

There are of course countless recipes for recados, but Yucatecan cooks work particularly with three specific versions: "recado rojo" or red recado, based on the local bright pink spice known as "achiote"; "recado de bistec" or beefsteak recado, garlicky, herby and spicy, and served with all sorts of ingredients other than beef; and "recado negro", black recado, which is a bit of a challenge to make at home as it requires cooking dried chillies until they are totally charred and black, thereby filling both your kitchen and your lungs with acrid smoke.....

In the 21st century, there are many commercially prepared recado pastes available, and the spice and herb stalls in Mexican markets which sell ready-prepared recados, as well as adobos, chilli pastes for moles and pipianes, and ground, toasted nuts, are a boon to housewives. However, the red and beefsteak recados are easy to make at home and infinitely more flavourful, let alone rewarding.

In the following recipe, I am using a traditional "recado de bistec" to marinate chicken fillets to be cooked on a griddle, and then converting the left-over recado into a vinaigrette-style "salsa" to accompany the finished dish. In the absence of a griddle, the chicken can be cooked in a frying pan or on a BBQ, although in this case it is wise to thread the chicken pieces onto a skewer of some sort. I like the chicken "mini fillets" widely available in supermarkets for this dish as they cook evenly and quickly.

Griddled chicken with Yucatecan recado de bistec – Pollo a la parilla con recado de bistec

Serves 3 to 4

For the recado:-
15 whole garlic cloves
75 ml/5 tbsp olive oil
8 cloves
5 ml/1 tsp black peppercorns
15 ml/1 tbsp allspice berries
15 ml/1 tbsp cumin seeds
1 cinnamon stick, about 10 cm/3 in long, broken into several pieces
15 ml/1 tbsp Mexican dried oregano
15 g/1/2 oz fresh oregano, leaves stripped from the stalks and finely chopped
5 ml/1 tsp sea salt
1 Seville orange, juiced, or 1 small orange and 1 lime, juiced
500 g/ oz chicken mini fillets, or skinless chicken breast, cut into wide strips
1 lime, quartered
Warm tortillas, to serve

Preheat the oven to 200oC/400oF/gas 6/fan oven 180oC.

Bash the garlic cloves with a rolling pin or something heavy like a jar of honey and remove the skins. Place in a small ovenproof dish, drizzle with 2 tbsp of oil and wrap tightly in foil. Bake for about 30 minutes, until soft and golden.

While the garlic is cooking, heat a heavy frying pan over medium heat, add the spices and dry-roast, stirring constantly, until they start to smell aromatic. Be careful not to scorch them as this will make them bitter. Cool slightly before grinding medium fine in a mortar or electric spice grinder. Transfer to a bowl.

Mash the garlic with a fork and stir it into the spices. Add the fresh oregano, the salt and 2 tbsp of orange or orange/lime juice. The recado is now ready to use.

Place the chicken in a freezer bag and add half the recado. Tie the bag tightly and shake it about until the recado is evenly distributed. Set aside for at least one hour, preferably several or overnight in the refrigerator.

Preheat the oven to its lowest setting and put a serving dish to warm. Heat a ridged griddle pan until shimmering. Turn the heat down to medium and arrange the chicken pieces on it in one layer – kitchen tongs make this much easier. Cook the chicken for about 3 minutes, until it has nice golden stripes, then turn it over and cook the other side. Test it for doneness with your thumb – it should feel firm to the touch, and the cooking time depends on the thickness. Remove to a plate, cover with kitchen foil and leave to rest in the oven for 10 minutes.

Whisk the remaining olive oil and orange juice into the recado and check the seasoning.

Serve the chicken with lime wedges, tortillas and the recado sauce.

Buén provecho!

You Should Also Read:
Salsas, the sauces of Mexico
The Sauces of Mexico - Adobo
The Sauces of Mexico - Recado


Related Articles
Editor's Picks Articles
Top Ten Articles
Previous Features
Site Map





Content copyright © 2023 by Isabel Hood. All rights reserved.
This content was written by Isabel Hood. If you wish to use this content in any manner, you need written permission. Contact Mickey Marquez for details.