The Sauces of Mexico - Salsa Cruda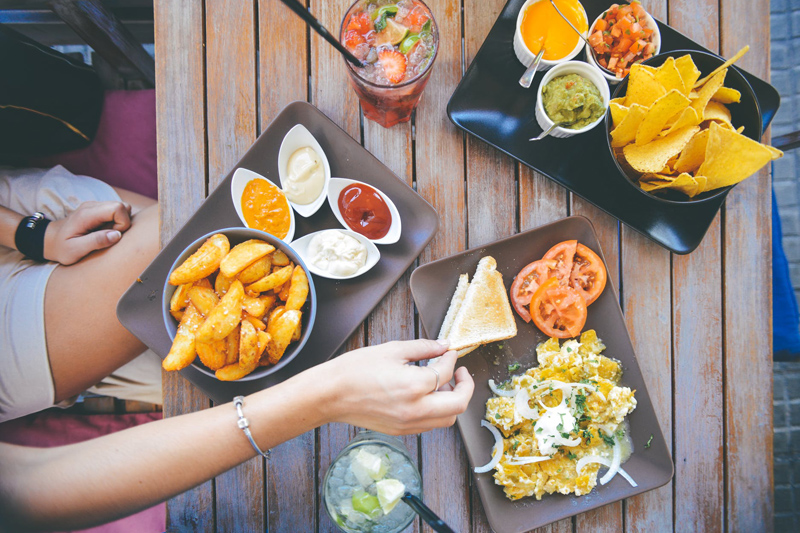 Salsa cruda, raw sauce, or salsa fresca, fresh sauce – names which could mean anything, but in Mexico, they both refer to one very specific sauce, which is the quintessential and most common of all Mexican salsas: a fresh, tingling, aromatic mix of chopped tomatoes, onions, garlic, chilli and fresh coriander, utterly simple and gloriously aromatic. It is an essential accompaniment to any kind of antojito, and therefore an inevitable feature of every street cook's menu, with great bowls of it set out for customers to spoon over their tacos and tostadas. It also appears as if by magic as soon as you sit down at a restaurant table, ready to be spooned onto totopos, tortilla chips, and munched while you decide what else to eat. This same salsa might appear as an accompaniment to grilled fish, stir-fried with some chicken strips, dolloped into soup, folded into thin pasta called fideos, or cooked with rice for arroz a la Mexicana – it is incredibly versatile and can also serve as a base for a slightly more elaborate salsa, with the addition of cooked black beans or grilled, sliced peppers for instance.
Traditionally, salsa cruda is pounded in a mortar made of lava rock, known as a molcajete - hard work but the fragrance which rises from the ingredients as you crush them all together makes the whole exercise into a heady and utterly gratifying experience. The next best thing is to chop it all up on a chopping board – and your knife will need to be extremely sharp or it will just mash the tomatoes, although you can use cherry tomatoes rather than whole large tomatoes and simply quarter rather than chop them. However, I have to admit that I give in gracefully to the 21st century and make my salsa cruda in a food processor, a method which works perfectly well, although you do need to be very careful not to overdo it or you will end up with tomato soup.
Molcajete © Philip Hood
The chillies used in salsa cruda vary widely from region to region, with every cook using her local or preferred varieties. I like some dynamism in my salsa so I usually opt for serranos, medium hot, 5/10 on the heat scale, one of the most commonly used fresh chillies in Mexican cuisine and known simply as chile verde, green chilli. Salsa cruda is often sharpened with vinegar or lime juice, but I find that the natural acidity of the tomatoes is enough to give the salsa the necessary bite. One last confession: I also add olive oil to my salsas which is very unMexican indeed.
Salsa Cruda
25 g/1 oz red onions, peeled and coarsely chopped
1 garlic clove, peeled
2 green or red chillies, as hot or mild as you like, halved and deseeded
15 g/1/2 oz fresh coriander/cilantro, coarsely chopped
30 ml/2 tbsp olive oil
250 g/9 oz ripe tomatoes, quartered
Tortilla chips, to serve
Sea salt and freshly ground black pepper
Place the onions, garlic, chillies, coriander and olive oil in a food processor and process until coarsely chopped. Add some seasoning and the tomatoes, and process again for just a few seconds, to break down the tomatoes – you are looking for a chunky texture, not a purée. Scrape into a bowl and check the seasoning.
Serve with tortilla chips.
The salsa can be prepared a couple of hours ahead of time, but after that it becomes a bit watery. If you are not going to eat it immediately, don't add any salt until you are ready to serve.
And if you feel that this whole process is just too contemporary and that you are missing out on the overall Mexican experience, feel free to make your salsa cruda by hand: finely chop the onions and coriander, crush the garlic, slice the chillies thinly and dice the tomatoes; mix it all together, sit back and enjoy the fruits of your labour.
Buén provecho!
You Should Also Read:
Salsas, the sauces of Mexico
The sauces of Mexico - Cooked tomato sauce
Tomatoes, the Aztecs' Tomatl


Related Articles
Editor's Picks Articles
Top Ten Articles
Previous Features
Site Map





Content copyright © 2023 by Isabel Hood. All rights reserved.
This content was written by Isabel Hood. If you wish to use this content in any manner, you need written permission. Contact Mickey Marquez for details.