Yucatán - Pollo Pibil Recipe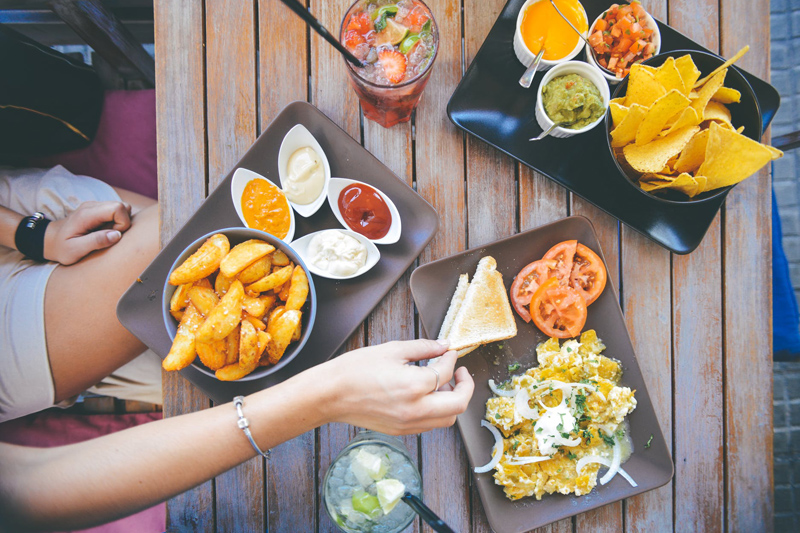 The historical Mayan pib is a pit, dug deep in the earth; it acts as an oven, heated with hot stones and wood, both green and dead, and is an ancient method of cooking very typical of the Yucatán Peninsula. Anything cooked in it is described as pibil (meaning buried), with cochinita pibil, a whole suckling pig rubbed with the typical achiote seasoning, being perhaps the most celebrated dish of the whole region. In the absence of a baby pig, let alone an underground oven, stewing pork may be used, or chicken as in the recipe below.
One of the main pibil characteristics is the presence of fresh banana leaves, which are used to wrap the meat. I have come across a number of recipes which state that the leaves are not essential and can be left out, but I do not agree. They impart a very distinctive and specific flavour to the dish – green, grassy, leafy, herby, impossible to describe but totally discernible and unique and a pibil is simply not a pibil without it. They are easily available by mail order and from Latin American and Asian shops, and they freeze well.
Another indispensable pibil ingredient is acidity, in the form of the very local sour orange, naranja agria, which is not easily come by outside Mexico or even the Yucatán. Seville oranges, which make an annual appearance during the marmalade season, are a good substitute, and at other times of the year, a mixture of fresh orange, lemon and lime juices is excellent, tenderising the meat and imbuing it with a sharp, barely sweet tanginess.
Any meat cooked pibil style is wonderfully savoury, with a good hint of fruit as well as downright earthiness to its vibrant, brick coloured sauce. And the crowning glory of the Yucatecan cebollas encurtidas or pickled onions spooned over the top adds its crunchy, tart contrast, so do not be tempted to leave them out; they are quick to make, wonderfully gaudy and very traditional.
Yucatecan Pibil Chicken - Pollo Pibil
Serves 6
For the chicken:-
30 ml/2 tbsp duck or goose fat, lard or olive oil
175 g/6 oz onions, peeled and coarsely chopped
200 g/7 oz tomatoes, coarsely chopped
225 ml/8 fl oz fresh orange juice, from about 2 large oranges
30 ml/2 tbsp fresh lemon juice, from about 2 lemons
30 ml/2 tbsp fresh lime juice, from about 2 large limes
50 g/2 oz achiote paste or powder
5 ml/1 tsp dried Mexican oregano
5 ml/1 tsp salt
5 ml/1 tsp ground cumin
15 ml/1 tbsp corn flour/starch
75 g/3 oz banana leaves, thawed if frozen
1 whole fresh or dried habanero or Scotch bonnet chilli (optional)
1 large chicken, jointed into eight pieces
10 g/1/3 oz fresh coriander/cilantro, coarsely chopped
Warm tortillas or cooked rice, to serve (optional)
For the pickled onions:-
75 g/3 oz red onions, peeled and finely sliced
15 ml/1 tbsp cider vinegar
15 ml/1 tbsp fresh lime juice
Sea salt
Start off with the cebollas encurtidas by marinating the red onions in the vinegar and lime juice. Set aside until needed. They keep well for a day or two.
Heat the duck fat in a frying pan and add the onions. Cook over medium heat, stirring frequently, until they just start to turn golden. Add the tomatoes and continue to fry until they have softened and some of their moisture has evaporated.
While the tomatoes and onions are cooking, stir together the orange, lemon and lime juices, the achiote, oregano, salt, cumin and corn flour in a small bowl.
Preheat the oven to 175oC/325oF/gas 3/fan oven 160oC.
Line the bottom and sides of a lidded casserole or Dutch oven with the banana leaves, overlapping the pieces so that there are no gaps and letting any excess hang over the sides. Add the onion and tomato mixture, spreading it evenly. Place the whole chilli on top and arrange the chicken pieces over everything. Pour in the citrus and spice sauce. Fold the banana leaves up and around the chicken, using more if necessary to cover it all snugly. Tuck a piece of kitchen foil over the top and add the lid. If you do not have a lid, wrap the whole dish tightly in foil.
Place the casserole in the oven and cook for two hours. Turn the heat up to 200oC/400oF/Gas 6/fan oven 180oC. Remove the lid and foil and peel back the banana leaves. Cook for a further 30 to 45 minutes, until the chicken has browned and the thighs and drumsticks are easily pierced with the tip of a knife.
Sprinkle with coriander and serve immediately with warm tortillas or rice.
Buén provecho!
| | |
| --- | --- |
| Chilli and Chocolate Stars of the Mexican Cocina by Isabel Hood is available from Amazon.co.uk | Just The Two of Us Entertaining Each Other by Isabel Hood is available from Amazon.com and Amazon.co.uk |
You Should Also Read:
Recado Rojo Marinade Recipe
Mexico's Regional Gastronomies - Yucatán
The Spices of Mexico - Achiote


Related Articles
Editor's Picks Articles
Top Ten Articles
Previous Features
Site Map





Content copyright © 2022 by Isabel Hood. All rights reserved.
This content was written by Isabel Hood. If you wish to use this content in any manner, you need written permission. Contact Mickey Marquez for details.