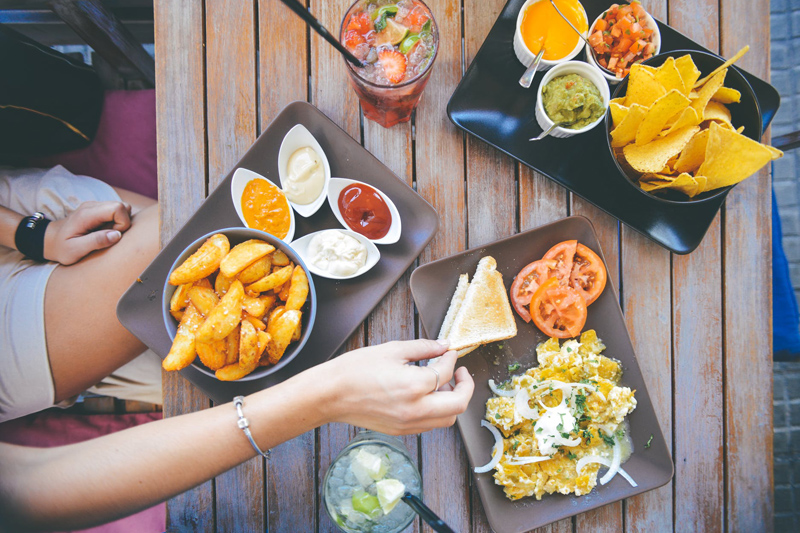 Raw fish marinated in citrus juice is a traditional way of preparing seafood, found all along the coast of Mexico, and Latin America generally. The sharp, acid fluid effectively "cooks" the flesh without ruining the soft, delicate texture. One of my fondest childhood memories is sitting under a palm frond umbrella on the beach in Acapulco, Puerto Vallarta or Veracruz perhaps, and scooping up glistening, vibrant ceviche with totopos or tortilla chips. I can still taste the freshness and sparkle of this particular seafood cocktail or coctel and its tangy, spicy flavour, so redolent of the chillies and herbs of Mexico, was an intrinsic part of seaside holidays.
There are countless recipes for ceviche, and one of my favourites is found throughout the Yucatán Peninsula, where the very regional Salsa Xnipec is used as a dressing. The juice of the local sour oranges or naranjas agrias imparts a barely perceptible sweet edge, softens the tartness and balances the heat of the equally local habanero chilli. I also always include avocado in my ceviche, to give it some richness, as well as blood oranges when they are available, ordinary oranges when they are not. Feel free to use a milder chilli if you prefer.
Huachinango © Philip Hood
Any white fish, or even prawns or squid, can be used but it must be super fresh. Red snapper or huachinango is very popular, particularly on the Gulf coast, and in its absence, sea bass is my first choice. The fish should not marinate for too long or it will toughen so do not mix it with the citrus juice until you are sure you will be ready to eat it on time! All the preparation – dicing the fish, chopping onions and chillies, segmenting oranges, etc – can be done several hours ahead of time so that all you have left to do as dinner approaches is a bit of mixing.
Ceviche
Serves 4 as a first course, 2 as a lunch dish
350 g/12 oz sea bass fillet, skinned
2 small oranges
60 ml/4 tbsp fresh lime juice, from 2 to 3 limes
15 g/1/2 oz hot red chillies, deseeded and finely sliced
75 g/3 oz cherry tomatoes, quartered
25 g/1 oz red onions, peeled and finely chopped
1 garlic clove, crushed
1 small ripe avocado, peeled and diced
45 ml/3 tbsp olive oil
15 g/1/2 oz fresh coriander/cilantro, coarsely chopped
Sea salt and freshly ground black pepper
Warm tortillas or tortilla chips, to serve (optional)
Dice the fish, discarding any small bones, and place in a bowl.
Remove the zest from one orange in long thin strands and set aside. With a sharp knife, peel the two oranges right down to the flesh, slice out the segments and dice them. Squeeze the juice from the membranes and mix with the lime juice.
Pour the citrus juice over the fish and set aside to marinate for one hour – no longer or the flesh will start to toughen. Give it a good stir every now and then. It has "cooked" enough when it has gone from translucent to barely opaque.
When you are ready to eat, gently stir in all the remaining ingredients and some seasoning.
Serve immediately with warm tortillas or tortilla chips.
Buén provecho!
| | |
| --- | --- |
| Chilli and Chocolate Stars of the Mexican Cocina by Isabel Hood is available from Amazon.co.uk | Just The Two of Us Entertaining Each Other by Isabel Hood is available from Amazon.com and Amazon.co.uk |
You Should Also Read:
Yucatán - Fish Tikin Xic Recipe
Mexico's Regional Gastronomies - Yucatán
The Sauces of Mexico - Yucatecan Salsa Xnipec


Related Articles
Editor's Picks Articles
Top Ten Articles
Previous Features
Site Map





Content copyright © 2023 by Isabel Hood. All rights reserved.
This content was written by Isabel Hood. If you wish to use this content in any manner, you need written permission. Contact Mickey Marquez for details.