Yucatán – Venison Salpicón Recipe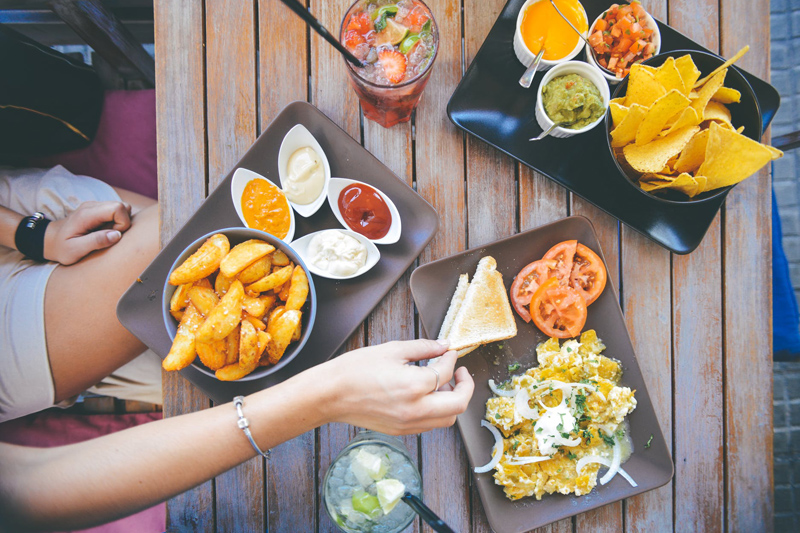 Most of the meat eaten in Mexico today – chicken, beef, pork, kid – is post-Hispanic, and yet the pre-Columbian Mexican diet was far from vegetarian. The indigenous turkey, quail and pigeon, duck and partridge, rabbit, hare and boar all found their way into the cooking pots, as did fish from the sea, rivers and lakes; iguana and armadillo were popular, and plump little dogs, itzcuintli, bred specially for the table, were a real treat.
In the jungles of the Yucatán Peninsula, the Maya stalked a small, red deer which they cooked with aromatic sauces boldly flavoured with chillies and often thickened with seeds or nuts – moles and pipianes. In modern times, the survival of the little venados in the wild has been increasingly threatened by hunting and loss of habitat, but domestication has enabled this species of venison to keep its place in the traditional cuisine and at the Yucatecan table.
Venado © Philip Hood
The Mayan zic is known in other parts of Mexico as salpicón and is reminiscent of a chopped salad which also features shredded meat, particularly beef, and sometimes fish. In the Yucatán, the most popular version is the uncomplicated Zic de Venado, Salpicón of Venison, which includes diced radishes, onions and coriander and is seasoned with the local sour oranges or naranjas agrias. It can be eaten as is, but for me, tucking it into a tortilla and topping it with a very spicy and very Yucatecan Chile Tamulado salsa before rolling it all up into a taco is an unbeatable way to enjoy it. I also like to serve the zic hot, as this makes it more succulent – but obviously is you are eating it as a salad rather than taco filling, you will need to cool it down.
The salsa, which is known in Maya as Kut, is based on the very hot local habanero chilli so if you are not a fire eater, substitute milder jalapeños.
Yucatecan Venison Salpicón – Zic de Venado
Serves 4
30 ml/2 tbsp duck or goose fat, lard or oil
500 g/18 oz stewing venison, cut into large chunks
Zest of half a large orange
75 ml/5 tbsp fresh orange juice, about 1 large orange
1 lime
25 g/1 oz red onions, peeled and finely chopped
75 g/3 oz radishes, about 10 whole radishes, finely chopped
25 g/1 oz fresh coriander/cilantro, coarsely chopped
Warm tortillas, to serve (optional)
Sea salt and freshly ground black pepper
For the roasted chilli salsa:-
30 g/1 1/4 oz fresh habanero or Scotch Bonnet chillies
1 thick slice white onion, about 65 g/2 ½ oz, unpeeled
3 garlic cloves, unpeeled
30 ml/2 tbsp fresh lime juice, about 1 lime
45 ml/3 tbsp fresh orange juice, about 1 small orange
Fine sea salt
Preheat the oven to 150oC/300oF/gas 2/fan oven 135oC.
Brown the venison in the fat in a heavy oven-proof frying pan until it is a nice deep gold. Add just enough water to cover and bring to the boil. Place in the oven, and leave to cook, uncovered, stirring every 20 minutes or so, for about three hours, until the meat is virtually falling apart and most of the liquid has evaporated. Keep an eye on it to ensure it does not dry out. If there is still a lot of liquid, transfer the pan to the hob and boil briskly until there are just three or four tablespoons of juice left – the meat will absorb this.
Remove the zest from half the orange and the whole lime in long thin strips with a citrus zester, and squeeze all the juice. Set aside.
For the salsa, place the chillies, onion and garlic in a heavy dry frying pan and cook over medium heat, turning over as necessary, until everything is lightly charred and soft. Cool slightly before removing the stems and seeds from the chillies – I always discard the seeds to keep the heat level down but feel free to leave them in if you wish. Strip off the garlic and onion skins and coarsely chop the onion.
Place the vegetables in a mini-chopper with the citrus juices and some salt. Pulse until you have a medium coarse sauce. Scrape into a small bowl and leave at room temperature for the flavours to develop. Check the seasoning before serving.
When the venison is ready, use two forks to shred it. Add the citrus juices and some seasoning and stir well. Fold in the citrus zests, onions, radishes and coriander and check the seasoning. Transfer to a warm bowl.
Serve immediately with the salsa and warm tortillas to make into tacos.
Buén provecho!
You Should Also Read:
Mexican Salpicón of Beef Recipe
Mexico's Regional Gastronomies - Yucatán
The Chillies of Mexico - El Habanero


Related Articles
Editor's Picks Articles
Top Ten Articles
Previous Features
Site Map





Content copyright © 2023 by Isabel Hood. All rights reserved.
This content was written by Isabel Hood. If you wish to use this content in any manner, you need written permission. Contact Mickey Marquez for details.