Mexican Salpicón of Beef Recipe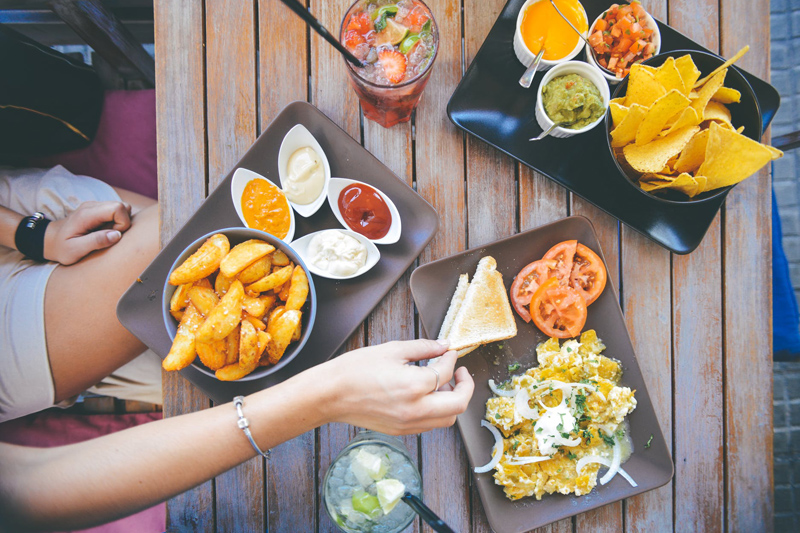 A salad, a filling for tacos, quesadillas, poblano chillies or even empanadas, a topping for tostadas and a stuffing for large fish – the Mexican "salpicón" is versatile and multi-faceted, vibrant, light, tangy and boldly flavoured. It invariably features meat or fish in one form or another, as well as raw chillies, onions, tomatoes and herbs. Countless other ingredients crop up here and there: avocado is quite common and carrots, radishes, cabbage, olives, cucumber, pickled jalapeño chillies, shredded lettuce, celery and cheese all make a regular appearance.
The name is difficult to explain: the Spanish verb "salpicar" translates as "to sprinkle" and perhaps the overall look of the salpicón, almost confetti-like with its diced vividly coloured vegetables, led to the initial description. My further research into the designation however came up with nothing more than "mélange of meat and vegetables", "shredded" or "hashed mixture" and "chopped salad" – none of which come anywhere near illustrating the freshness, piquancy and appeal of a Mexican salpicón.
Although forms of salpicón are eaten all over Latin America, the dish itself seems to have originated in the Andalucía and/or Galicia regions of Spain where recipes for a seafood salpicón in particular abound. Likewise in Mexico, the coastal areas produce salpicones made from a fabulously fresh and varied selection of seafood: "salpicón de jaiba", crab salpicón, is a great favourite. "Salpicón de mariscos" simply means seafood salpicón but can include virtually anything which comes from the sea: octopus and squid, red snapper and fresh tuna, scallops, mussels, anchovies, shrimp and even lobster; so long as it is a marine species it will find its way into a local salpicón. The other very traditional version is "salpicón de res", beef salpicón – but needless to say Mexican cooks also use chicken and pork and occasionally lamb. Venison cooked in a pit is typical of the Yucatán region, where salpicón is often known as "dzik"; in Veracruz they make "minilla" and the "saragalla" found along the Gulf Coast is sweet with raisins and sharp with olives and capers.
The meat for a beef salpicón is traditionally boiled with garlic and onions until it is beautifully tender and virtually falling apart - "falda de res", literally skirt of beef, is the preferred cut. However this method does tend to leach some of the flavour out of the beef and make it quite stringy as well as grey. In my recipe below I am therefore using sirloin or rump and cooking it quite rare, so that it is pink and juicy – not totally authentic, I admit, but very good indeed.
It is important to serve a salpicón fairly soon after it is put together – an hour at the most – as it tends to become a bit watery once it is seasoned and assembled. Warm corn tortillas in which to roll up the salpicón are a good accompaniment, although I prefer totopos, tortilla chips, with which to scoop it up.
Salpicón of beef – Salpicón de res
Serves 4 as a light lunch
225 g/8 oz sirloin or rump steak, about 1 cm/1/2 in thick
5 ml/1 tsp olive oil
75 g/3 oz red onions, peeled and finely chopped
1 garlic clove, peeled and crushed
225 g/8 oz cherry tomatoes, quartered – a combination of red and yellow looks pretty
1 red and 1 green chilli, fairly hot is best, deseeded and finely sliced
150 g/5 oz cucumber, deseeded and diced
85 g/3 1/4 oz pitted black olives, halved
45 ml/3 tbsp olive oil
15 ml/1 tbsp fresh lime juice
5 ml/1 tsp dried Mexican oregano
15 g/1/2 oz fresh coriander/cilantro, coarsely chopped
1 ripe avocado, peeled and diced
1 Cos or Romaine lettuce, finely sliced
60 g/2 1/2 oz Mexican queso fresco or Feta cheese, crumbled
5 ml/1 tsp chipotle chilli powder or to taste
Warm corn tortillas or tortilla chips, to serve
Sea salt and freshly ground black pepper
Heat a ridged griddle pan or heavy frying pan until very hot. Brush the steak with the teaspoon of olive oil, season it well, and cook it for about 2 minutes on each side for medium rare meat - you will need to adjust the cooking time to the thickness of your steak. Remove it to a plate and set aside until totally cold.
When you are ready to assemble the salpicón, slice the fat off the steak, carve the meat into very thin slices and place it with any juices which have accumulated in the plate in a large bowl. Add the onions, garlic, tomatoes, chillies, remaining olive oil, lime juice, herbs and some salt and pepper, and toss together. Gently stir in the avocado.
Arrange the lettuce around the edge of a large serving dish. Pile the salpicón in the centre and sprinkle with cheese and chipotle chilli powder.
Serve immediately with warm tortillas or tortilla chips.
Buén provecho!
| | |
| --- | --- |
| Chilli and Chocolate Stars of the Mexican Cocina by Isabel Hood is available from Amazon.co.uk | Just The Two of Us Entertaining Each Other by Isabel Hood is available from Amazon.com and Amazon.co.uk |
You Should Also Read:
Yucatán – Venison Salpicón Recipe
Antojitos, the Street Food of Mexico
Celebrate 5 de Mayo with a Fajitas Fiesta


Related Articles
Editor's Picks Articles
Top Ten Articles
Previous Features
Site Map





Content copyright © 2022 by Isabel Hood. All rights reserved.
This content was written by Isabel Hood. If you wish to use this content in any manner, you need written permission. Contact Mickey Marquez for details.