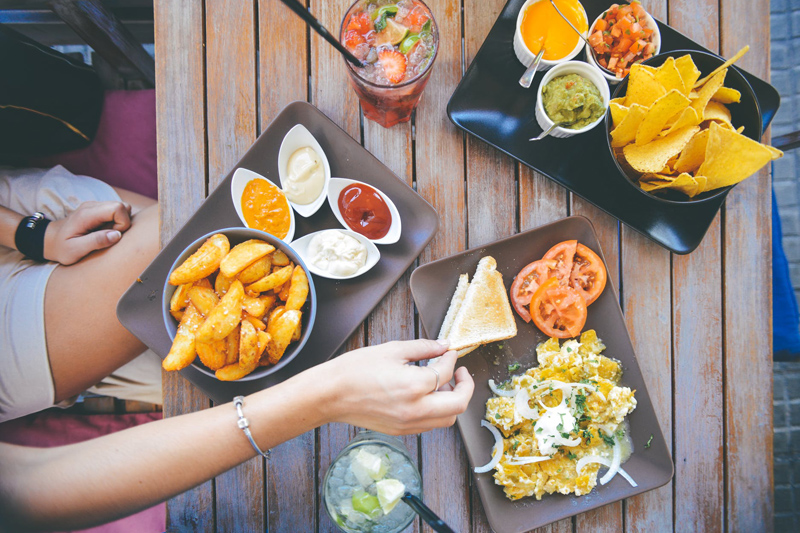 Meatballs are a global favourite, and recipes for them abound all over Mexico. There are of course countless ways of making them, some very regional like the one below, some virtually international. Certain additions however do seem to be very Mexican, which contribute to their specific texture and flavours. Chopped mint for instance is pretty much universal throughout the country, as are various spices and chillies, and the very attractive tenderness of Mexican albóndigas is often achieved by incorporating coarsely grated raw calabacitas, courgettes/zucchini, or cooked rice, even lightly mashed hard-boiled egg. Masa harina, maize flour, may be used both for flavour and to hold the meat together, while breadcrumbs are less common. The meat combination can be just beef, or more often than not, beef and pork, and there are also some very interesting seafood versions.
Surprisingly enough, Mexican albóndigas are almost never fried; the preferred method of cooking is to poach them in a sauce, almost a soup, and the result is a lovely softness – although the colour is a bit on the grey side! The sauce is almost invariably tomato-based, very brothy, and frequently serves as a medium to cook not only the meatballs themselves but also the accompaniment, such as fideos or thin noodles, or perhaps potatoes, which can then absorb all the aromas.
One of my favourite meatball recipes is from the Yucatán Peninsula. These albóndigas are reminiscent of Moorish cuisine, faintly sweet with spices and dried fruit, sharp with capers and crunchy with nuts, and my incorporation of some very post-Hispanic chorizo into the cooking broth brings a wonderful balance and savouriness to the whole dish as well as the pasta.
Lean meat makes lean, dull meatballs and some fat is needed to contribute moisture and suppleness, so be sure not to use any kind of "extra lean" minced meat or your albóndigas will be unpleasantly dry.
Yucatecan meatballs with pasta - Albóndigas Yucatecas con fideos
Serves 4
200 g/7 oz minced beef
200 g/ 7oz minced pork
125 g/4 1/2 oz smoked bacon, finely chopped or blitzed in a food processor
50 g/2 oz red onions, peeled and finely chopped
15 g/1/2 oz fresh mint, leaves only, finely chopped
1 egg
75 g/3 oz fresh breadcrumbs
50 g/2 oz raisins or sultanas
25 g/1 oz toasted flaked almonds
25 g/1 oz capers, rinsed, squeezed dry and coarsely chopped
5 ml/1 tsp ground cinnamon
10 ml/2 tsp ground cumin
4 cloves, finely ground or 1/4 tsp ready ground
4 allspice berries, finely ground or 1/4 tsp ready ground
5 ml/1 tsp dried Mexican oregano
5 ml/1 tsp chipotle chilli powder or to taste
30 ml/2 tbsp olive oil
100 g/4 oz fideos, vermicelli or angel hair pasta
30 ml/2 tbsp chopped parsley
Sea salt and freshly ground black pepper
For the sauce:
500 g/18 oz tomatoes, halved
8 garlic cloves, unpeeled
45 ml/3 tbsp olive oil
250 g/9 oz onions, peeled and coarsely chopped
100 g/4 oz cooking chorizo, skinned and coarsely chopped
750 ml/1 1/4 pints/3 cups water
1 dried habanero chilli
Sea salt and freshly ground black pepper
Start off with the sauce. Heat the grill to high. Line the grill pan with kitchen foil and arrange the tomatoes, cut side up, and garlic cloves on it. Grill 10 cm/4 in from the heat for about 20 minutes, until lightly charred, turning the garlic cloves over half way through. Cool, then peel the garlic cloves and place them in a food processor with the tomatoes and any juices. Process to a relatively smooth purée.
While the tomatoes are grilling, heat the olive oil in a large frying pan and cook the onions until soft and golden. Stir in the chorizo and fry for five minutes. Add the tomato purée, some seasoning, the water and chilli, and simmer for ten minutes.
When the sauce is under way, place all the ingredients for the meatballs in a large bowl and mix thoroughly – hands are best for this, messy but fun. Shape into 16 or 20 meatballs. Place on a plate and refrigerate for 30 minutes to firm up.
Break up the fideos into short pieces, about 5 cm/2 in long. Heat the oil in a non-stick frying pan and add the fideos. Stir-fry over medium heat until golden.
When you are ready to cook the albóndigas, bring the tomato sauce back to the boil. Check and adjust the seasoning. Remove the chilli if you wish – it is very hot. Carefully add the meatballs and simmer very gently for 10 minutes, turning over half way through. With a slotted spoon, remove them to a plate.
Stir the pasta into the sauce and cook until soft, four to five minutes. Return the meatballs to the pan, cover and simmer for a minute or two, just long enough to reheat them.
Serve immediately in warm deep plates, sprinkled with parsley.
Buén provecho!
| | |
| --- | --- |
| Chilli and Chocolate Stars of the Mexican Cocina by Isabel Hood is available from Amazon.co.uk | Just The Two of Us Entertaining Each Other by Isabel Hood is available from Amazon.com and Amazon.co.uk |
You Should Also Read:
Mexico's Regional Gastronomies - Yucatán
Mexican Salpicón of Beef Recipe
The Chillies of Mexico - El Habanero


Related Articles
Editor's Picks Articles
Top Ten Articles
Previous Features
Site Map





Content copyright © 2023 by Isabel Hood. All rights reserved.
This content was written by Isabel Hood. If you wish to use this content in any manner, you need written permission. Contact Mickey Marquez for details.