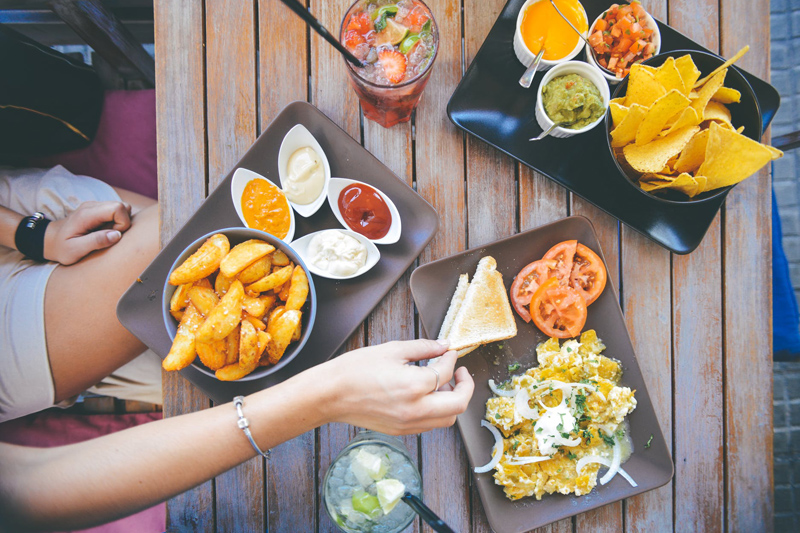 Pozole, from the Náhuatl "potzolli", is a profoundly historical and pre-Hispanic concoction served by the Aztecs in their capital, Tenochtitlán, on ceremonial occasions. In 21st century Mexico, it plays two roles. Although there are specialist restaurants known as "pozolerías", in many homes it is a dish which is served and/or eaten on a weekly basis, usually on a specific day – in one house, pozole day will be Thursday, while further down the road it may be Monday. Over and above this mundane function, it is fiesta food which makes an appearance at celebrations – New Year's Eve is a great favourite but weddings, christenings and wakes are all a popular time to ladle out this delicious, ancient stew cum soup. National holidays also provide an excellent excuse, particularly 5 de Mayo or 5th May, a date which commemorates the Battle of Puebla in 1862 when a small, poorly equipped, hopelessly outnumbered Mexican army routed the French invaders.

The foundation of pozole is of course corn or maíz. Not just any kind of corn however: large, white kernels known as cacahuazintle are required and need to be cooked for several hours until they soften and split open into a flower shape. This lengthy cooking produces a wonderfully sweet, soothing aroma which takes me straight back to my childhood, as well as a rich, nourishing broth which is one of pozole's main characteristics. There are many variations, and colours, of pozole, and countless different ingredients, very local and regional, go into the brew. Pozole Verde, Green Pozole, is flavoured with tomatillos, Mexican green husked tomatoes, and herbs, and while it is thick and comforting in pozole's inimitable way, the bright, tangy zest imparted by these components lightens and perks it up to the extent that it can happily be consumed in warm weather, when fresh tomatillos are in season.

A good, savoury stock is an essential component of pozole and although a stock cube or powder will produce an acceptable result, it is well worth cooking up a chicken carcass, or at least buying real stock, as it will make a discernible difference.

Maíz para Pozole or Corn for Pozole is available in specialist stores and online, and is sometimes called hominy outside Mexico. It also comes in tins/cans but the result is not the same. Check the packet for cooking instructions as it often needs overnight soaking. And in the absence of fresh tomatillos, tinned ones, although not ideal, will do. Many cooks garnish their green pozole with radishes, avocadoes, etc, but I find these additions superfluous.

Green Pozole – Pozole Verde

Serves 6

225 g/8 oz corn for pozole
500 ml/17 fl oz/2 1/4 cups golden chicken stock
500 g/18 oz boned chicken thighs
500 g/18 oz fresh tomatillos, husked and rinsed
450 g/1 lb poblano chillies or green bell peppers
100 g/4 oz jalapeño chillies
8 garlic cloves, unpeeled
15 ml/1 tbsp olive oil
200 g/7 oz onions, peeled and coarsely chopped
50 g/2 oz pumpkin seeds
50 g/2 oz Cos or Romaine lettuce leaves
50 g/2 oz fresh coriander/cilantro
Sea salt and freshly ground black pepper

Place the corn in a saucepan and add the chicken stock. If necessary, pour in enough water to cover by 5 cm/2 in. Cook according to the instructions on the packet, topping up with more water if it starts to dry out.

Put the chicken in a saucepan, add enough cold water to cover by 2.5 cm/1 in and bring to the boil. Turn the heat down and simmer for 20 minutes. Leave to cool. Remove the chicken from the broth with a slotted spoon and shred. Refrigerate until ready to use. Set the broth aside.

Heat the grill to high. Line the grill pan with foil and arrange the tomatillos on it. Grill 10 cm/4 in from the heat for about 10 minutes, until lightly browned, then turn over and grill the other side in the same way. Set aside.

Line the grill pan again and arrange the poblanos, jalapeños and garlic cloves on it. Grill 10 cm/4 in from the heat, turning as necessary, until everything is soft and lightly browned. Cool and then skin and deseed the poblanos and jalapeños. Dice the poblanos and reserve. Peel the garlic.

Place the tomatillos in a food processor together with any juices, the jalapeños and garlic and process to a smooth purée.

Heat the olive oil in a frying pan and fry the onions until soft and starting to brown. Add the tomatillo purée and some seasoning, and cook over low heat for about 15 minutes, stirring often, until nice and thick.

Toast the pumpkin seeds in a small dry frying pan just until they start to pop, turn golden and smell nutty. Be careful not to burn them or they will be bitter. Cool slightly before grinding in a food processor with the lettuce and coriander.

When the corn is ready, add it with its liquid to the tomatillo mixture. Pour in the chicken broth and bring it all back to the boil. Simmer for 15 minutes. Stir in the shredded chicken and diced poblanos and simmer for ten minutes longer. Stir in the ground mixture and bring back to the boil. Check the seasoning.

Ladle the pozole into deep warm bowls and serve immediately. It needs no accompaniment.

Buén provecho!

You Should Also Read:
New Year in Mexico - Pozole Recipe
The People of Corn
Tomatillo, the Mexican husked tomato


Related Articles
Editor's Picks Articles
Top Ten Articles
Previous Features
Site Map





Content copyright © 2022 by Isabel Hood. All rights reserved.
This content was written by Isabel Hood. If you wish to use this content in any manner, you need written permission. Contact Mickey Marquez for details.