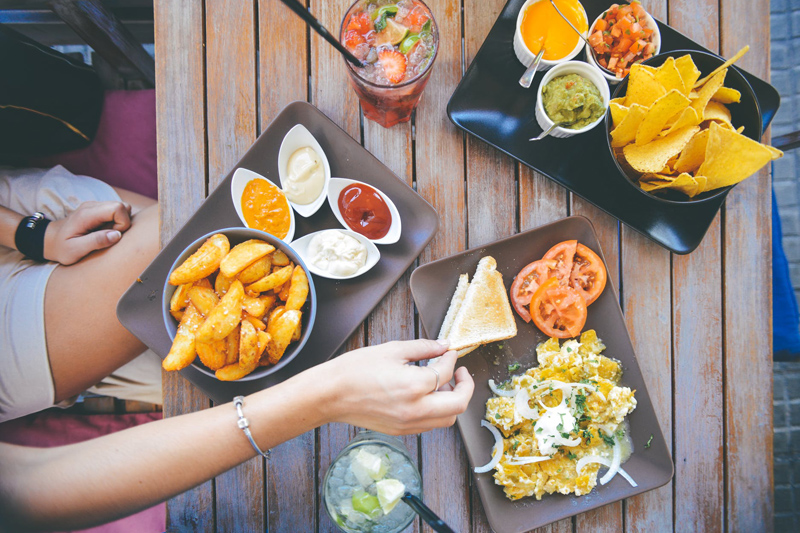 The end of the 19th and beginning of the 20th centuries saw a large influx of Christian immigrants from the Middle East, particularly Syria and present day Lebanon, to the Yucatán Peninsula. These refugees, fleeing religious persecution and oppression under the Ottoman Empire, brought with them the traditional ingredients, cooking methods and dishes of their homelands which have been absorbed into regional Yucatecan cuisine. I was amazed when I first started to research the gastronomy of Yucatán to come across kibis or kibes which were virtually interchangeable with the Middle Eastern kibbeh: cracked wheat or burghul, mint, coriander, cumin, all very Middle Eastern components. And yet served with the regional Yucatecan Salsa de Chiltomate, a sauce of roasted tomatoes flavoured with the local habanero chilli and sour orange juice, as well as the equally typical pickled onions or cebollas encurtidas, they have been neatly and comfortably integrated into Mexican cooking.
Kibes in Yucatán are shaped into cakes by pressing them between the hands and then deep- or shallow-fried in oil, and one of the main challenges is to prevent them from breaking up. My solution after much experimenting is to add eggs to the mix, which although totally untraditional does simplify the procedure very considerably. As for the shaping, I like to pack the kibes firmly into a small round cookie cutter, about 2 1/2 in/6 cm in diameter, which gives me a relatively smooth, flat surface, making them easy to brown with a minimum of fat in a frying pan.
Yucatecan Kibes – Kibes Yucatecos
Serves 6
For the pickled onions:-
75 g/3 oz red onions, peeled and very thinly sliced
30 ml/2 tbsp fresh lime juice, about 1 large lime
Fine sea salt
For the Salsa de Chiltomate:-
750 g/1 3/4 lb tomatoes, halved
4 garlic cloves, unpeeled
15 ml/1 tbsp olive oil
100 g/4 oz onions, peeled and coarsely chopped
1 fresh or dried habanero or Scotch Bonnet chilli
Fresh lime juice
Runny honey, as needed
Sea salt
For the kibes:-
200 g/7 oz cracked wheat/bulghur
25 g/1 oz red chillies, as mild or hot as you like, deseeded
50 g/2 oz red onions, peeled and coarsely chopped
25 g/1 oz fresh coriander/cilantro
25 g/1 oz fresh mint, leaves only
375 g/13 oz minced/ground beef
2 eggs
5 ml/1 tsp chipotle chilli powder or paste
15 ml/1 tbsp ground cumin
10 ml/2 tsp salt
Freshly ground black pepper
Vegetable oil, for frying
Place the onions in a small bowl, pour over the lime juice, sprinkle with salt and give everything a good stir. Set aside. The onions can be prepared several hours ahead.
Put the bulghur in a bowl and pour over enough boiling water to cover by 1 cm/1/2 in. Set aside for 30 minutes then transfer to a colander and drain thoroughly, pressing down on the wheat with the back of a spoon or the bottom of a small bowl to extract as much moisture as possible.
Heat the grill to high. Line the grill pan with foil and arrange the tomatoes, cut side up, and garlic cloves on it. Grill 10 cm/4 in from the heat for about 20 minutes, until lightly charred, turning the garlic cloves over half way through. Cool, then peel the garlic cloves and place them in a food processor with the tomatoes and any juices. Process to a chunky purée.
While the tomatoes are grilling, heat the olive oil in a frying pan and cook the onions until soft and golden. Add the tomato purée, the chilli and some seasoning, and cook over medium heat for about 15 minutes, stirring often, until nice and thick. Squeeze in the lime juice, check the seasoning and remember to remove the chilli before serving. If the sauce is very sharp, sweeten it slightly with a dash of honey – it all depends on how much flavour the tomatoes have to start with. Keep warm or reheat before serving.
In a food processor, grind the chillies, red onions and herbs until finely chopped. Scrape the mixture into a bowl and stir in the beef, eggs, chipotle, cumin, salt and pepper. Fold in the cracked wheat. Shape into twelve cakes, place on a plate lined with clingfilm/plastic wrap and refrigerate for 30 minutes to one hour.
Preheat the oven to its lowest temperature and warm a plate lined with kitchen paper. Heat some vegetable oil in a non-stick frying pan and cook the kibe in two or three batches over medium heat for 7 or 8 minutes on each side, until golden brown. Transfer to the plate in the oven to keep warm until they are all done.
Serve immediately with the chiltomate sauce and the pickled onions.
Buén provecho!
| | |
| --- | --- |
| Chilli and Chocolate Stars of the Mexican Cocina by Isabel Hood is available from Amazon.co.uk | Just The Two of Us Entertaining Each Other by Isabel Hood is available from Amazon.com and Amazon.co.uk |
You Should Also Read:
Mexico's Regional Gastronomies - Yucatán
Mexico's Regional Gastronomy
The Chillies of Mexico - El Habanero


Related Articles
Editor's Picks Articles
Top Ten Articles
Previous Features
Site Map





Content copyright © 2023 by Isabel Hood. All rights reserved.
This content was written by Isabel Hood. If you wish to use this content in any manner, you need written permission. Contact Mickey Marquez for details.