The Chillies of Mexico - El Chile de Árbol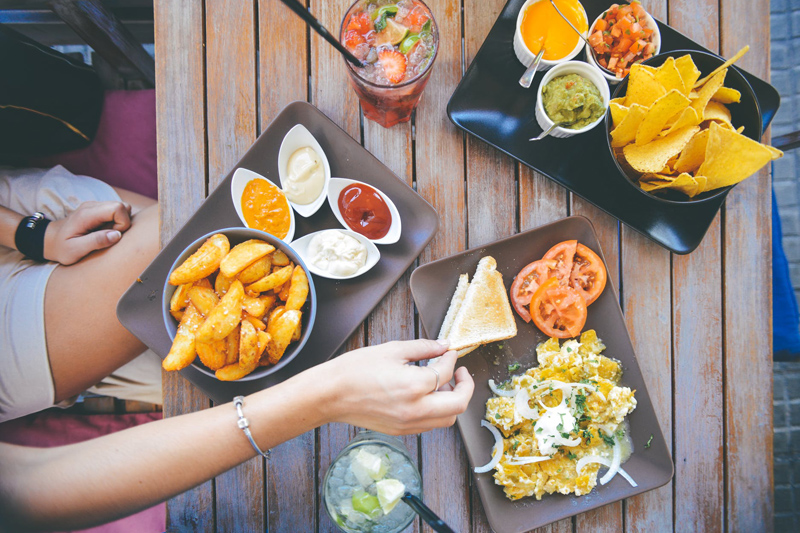 The "tree chilli" is smooth-skinned, thin and pointed, often slightly curved, green when young and gradually turning from orange to scarlet as it meanders towards its prime. Barely three or four centimetres long, its stem is hard and woody but other than that, its relationship to a tree is non-existent. It is also sometimes referred to as pico de pájaro, bird's beak, to which it is very closely affiliated. Like most small chillies, it tends to be hot, even extremely hot, and is used fresh but more often dried; it retains its strong colour after the drying process and if you hang a decorative wreath on your front door at Christmas, you will probably find a chile de árbol in it here and there.
The flavour is vibrant, grassy, hugely invigorating – I always find myself catching my breath very deeply when I eat any salsa based on it! In Mexico, particularly the central region, it is used with gay abandon, seeds and all, mostly in sauces, and the classic tree chilli sauce or salsa de chile de árbol is a great favourite as an accompaniment to any kind of taco, particularly tacos al pastor, and pretty much every each and every taquería and street or market stall will offer this sauce in one form or another. I have in fact occasionally heard it called salsa taquera, taco salsa.
If the salsa has been made with nothing but tree chillies, it will be "muy picosa", literally very stinging, and for my palate, inedible, particularly as it will be full of fiery seeds. Luckily, many cooks are prone to incorporating other varieties of chillies (although not necessarily milder ones!) into this sauce, which gives it greater body and at least partially smoothes out the edges.
Tomatillos or green husked tomatoes are traditionally the base of salsa de chile de árbol, giving it a sparkle and welcome sharpness to offset the ardour. They need to be roasted or grilled to bring out their caramel tones and the chillies themselves, once toasted in a dry frying pan, can be deseeded or not - I personally always remove the seeds but if you are prepared to face the inferno, by all means leave them in, and even increase the quantity of chiles de árbol if you wish. I also add guajillo chillies (deseeded of course!), for their lovely brick red colour.
Like all salsas, this one has many uses, including as a dip with tortilla chips or totopos, and can be drizzled on virtually any antojito – tacos, tostadas, sopes, gorditas, picadas - swirled into a soup, spread on a torta, spooned over eggs, etc, but I particularly love to marinate poussins or quail in it before cooking them under the grill or on a BBQ.
Tree Chilli Sauce – Salsa de Chile de Árbol
Serves 4
10 g/1/3 oz guajillo chillies, about 2 medium-sized
5 g or about 6 whole chiles de árbol
400 g/14 oz tomatillos, fresh, frozen or tinned/canned – husked and rinsed if fresh, well drained if tinned
3 garlic cloves, unpeeled
Sea salt and freshly ground black pepper
Heat a heavy frying over medium heat and toast the chillies, pressing down on them with a spatula, until they start to smell aromatic, about 3 minutes. Flip them over and do the same on the other side. Place them in a bowl, cover with boiling water, put a small saucepan lid or plate on top to keep them submerged, and set them aside to soak for 30 minutes. Drain and set aside.
While the chillies are soaking, heat the grill to high. Line the grill pan with foil and arrange the tomatillos, cut side up, and garlic cloves on it. Grill 10 cm/4 in from the heat for about 20 minutes, until lightly charred, turning the garlic cloves over half way through. Cool, then peel the garlic cloves and place them in a food processor with the tomatillos and any juices. Add the chillies and some seasoning, and process to a smooth brick-red purée, scraping down the sides every now and then. Strain through a medium mesh sieve to remove the bits of skin and the seeds. Check the seasoning.
The salsa is now ready to use, although it can be kept in the refrigerator for up to four days – it does however tend to increase in intensity the longer it sits. Bring it back to room temperature before serving.
Buén provecho!
| | |
| --- | --- |
| Chilli and Chocolate Stars of the Mexican Cocina by Isabel Hood is available from Amazon.co.uk | Just The Two of Us Entertaining Each Other by Isabel Hood is available from Amazon.com and Amazon.co.uk |
You Should Also Read:
Chilli - Dynamite in the Kitchen
The chillies of Mexico
Tomatillo, the Mexican husked tomato


Related Articles
Editor's Picks Articles
Top Ten Articles
Previous Features
Site Map





Content copyright © 2023 by Isabel Hood. All rights reserved.
This content was written by Isabel Hood. If you wish to use this content in any manner, you need written permission. Contact Mickey Marquez for details.