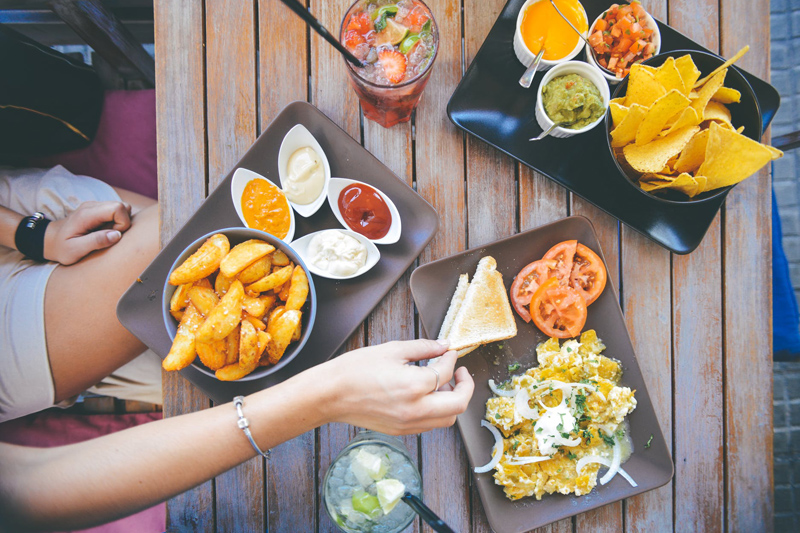 Pity the small Aztec boy who dared to utter a forbidden word or behave insolently towards his elders. The punishment was fiery and painful, and he would rue his slip of the tongue as his mother washed his mouth out not with soap but with scorching chillies. On the other hand, a repeatedly unruly child whose palate had been subjected to such treatment from an early age was bound to quickly develop a valuable immunity to the chilli's irritating capsaicin and be able to eat the hottest chillies with pleasure and confidence, let alone behave as he wished! And while chillies might make a fearsome punishment, their absence from the daily diet was seen as a penance: the religious calendars of pre-Columbian Mexico featured numerous days of "fasting", when the consumption of chilli or salt was forbidden.

Capsicum Annuum was first cultivated in Mexico around 7000BC and is the ancestor both of all modern Mexican chillies, and of the vast majority of chillies found today outside the Americas: all the hot cuisines of the world, from the curries of the Indian subcontinent and southeast Asia to Hungarian goulash, pasta arrabiata or Chinese chilli bean sauce, owe their fire and fragrance to the original Mexican chilli. So whereas the chilli is often described as the heart and soul of Mexican cooking, it also plays an essential and historical role in many other world cuisines as a classic spice and seasoning.

The diet of the People of Corn, as the ancient peoples of Mexico are often known, revolved around the produce of the "milpa" or traditional corn field – corn itself, beans, tomatoes and squashes – and might have been monotonous but for the addition of Capsicum Annuum which would bring warmth, fragrance and flavour to the dishes. I have read that several hundred different chillies are grown and eaten worldwide today, but feel that this figure is very low, since in Mexico alone there must be at least that number, if not many more. Some Mexican chillies are well-known and widely used throughout the country and the cuisine – serranos, jalapeños, habaneros and poblanos among the fresh chillies, and guajillos, anchos, pasillas, mulatos and chipotles among the dried – but the variety of chillies grown and eaten across Mexico is immense and differs from region to region, and even from one small locality to the next: every state, province, district and community has its own very individual and local chillies, and a chilli grown and eaten in one specific valley may not be found anywhere else in the country - and it will undoubtedly leave its own very unique mark on the dishes of those who grow, cook and eat it. Some regional chillies are well known as part of a famous "cuisine" such as that of Oaxaca: chilhuacle, both black and red, costeño amarillo, pasilla de Oaxaca and chile de agua are just a very limited example of the chillies used in that particular state and featured in its renowned "moles". But I have so often asked chilli vendors and cooks in minor, out of the way markets about their chillies, written down the names and then tried to research them and track them down, only to find myself hitting my head against a stone wall and coming up with no answers at all! In some cases, the chillies do not even have a specific name – "es el chile de aquí", it is a chilli from here.

The Spanish Conquistadores must have felt just as frustrated by this strange fruit which they had never tasted. Their experience of a "hot" spice was restricted to black pepper, which was more valuable than gold in Europe and therefore not easily available to the average household. But in Mexico, they found that virtually every dish they were served contained chilli, including the hot chocolate. The variety of chillies was bewildering, as were the numerous Aztec names: quauhchilli, chiltecpin, tonalchilli, chilcoztli, tzinququhyo, texochilli, pocchilli, milchilli, all describing a descendant of Capsicum Annuum. The Spanish chronicler, Fray Bernardino de Sahagún, listed the chillies he encountered during his fifty years of recording Aztec culture: "mild red chillies, broad chillies, hot green chillies, yellow chillies, cuitlachilli, tenpilchilli, chichioachilli, water chillies, conchilli, smoked chillies, small chillies, tree chillies, thin chillies, which are like beetles, hot chillies, the early variety, the hollow-based kind, green chillies, sharp-pointed red chillies" – overwhelming enough in the 21st century when our supermarket shelves are laden with fruit and vegetables from all over the world, let alone to a 16th century soldier arriving in a totally strange land.

The chilli is perhaps an acquired taste, with many people finding its heat, from gentle warmth to full conflagration, difficult to bear, although the palate does seem to adapt to the irritation of the capsaicin and become acclimatised to increasingly hot chillies – and as it does so, it starts to pick out the flavours and aromas behind the heat and appreciate the chilli as a whole taste experience. The "chilli punishment" described above makes it clear that even those born in the land of the chilli and presumably fed it from an early age were not naturally immune to its fire but acquired a taste for it as they grew. Sahagún recorded that the "bad chilli seller" sold chillies from "the wet country, incapable of burning, insipid to the taste", inferring that a chilli without heat had no place on the Mexican table.

Over the next few weeks, I will be writing in more detail about specific Mexican chillies and the role they play in Mexican cuisine – from the fresh varieties with their green, grassy flavour and clear, sharp heat to their dried counterparts, full of subtle undertones which can be described in all sorts of florid terms, from plain sweetness and fruitiness to hints of tobacco, tannin, chocolate or wild herb honey! In the meantime, I would like to finish this introduction to the chillies of Mexico with a quotation from Arturo Lomeli's "El Chile y Otros Picantes": "chile, they say, is the king, the soul of the Mexicans, a nutrient, a medicine, a drug, a comfort".


You Should Also Read:
Chilli - Dynamite in the kitchen
The Chillies of Mexico - El Habanero
The chillies of Mexico - El Pasilla


Related Articles
Editor's Picks Articles
Top Ten Articles
Previous Features
Site Map





Content copyright © 2022 by Isabel Hood. All rights reserved.
This content was written by Isabel Hood. If you wish to use this content in any manner, you need written permission. Contact Mickey Marquez for details.