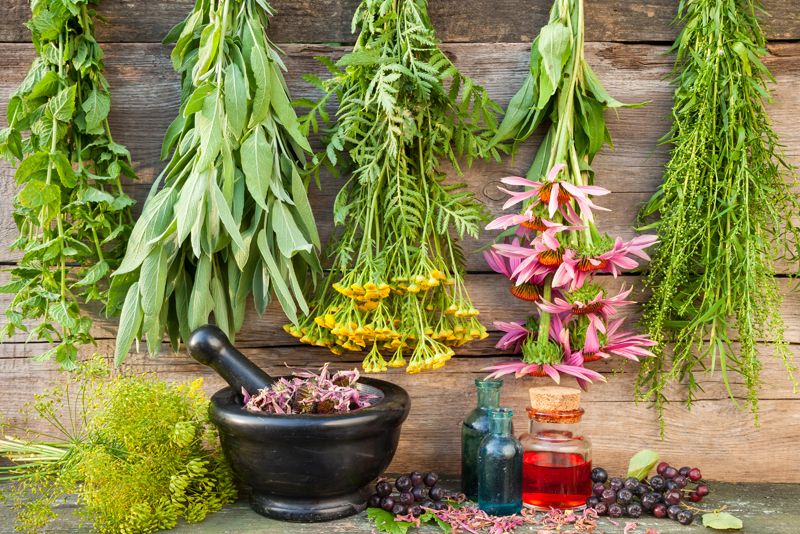 Herbs are amazing versatile plants which have been used for centuries as cures and treatments for many ailments and mental issues. Even today herbs and the synthesized versions are crucial to modern medicine and the production of many common drugs. Mint is used in many cosmetics and as a natural disinfectant, morphine is made from poppies and foxglove is used to produce heart medication .obviously it is vital to harvest the healing properties of herbs to create effective safe treatments.

Herbal products are everywhere in food products, tea blends, bathing products and various weight gainers and energy boosters. Countless types of tea touting cures for insomnia, stress, lack of energy, pms symptoms, arthritis pain and other ailments can be found even in the local super market. Teas are a great way to get herbs in your system, they are delicious, relaxing and require no real cooking skills.

Massaging various herb lotions, oils and creams into your skin can be very beneficial for many problems. The skin is the largest organ in the body and can absorb many nutrients and compounds into the body. Massages themselves can be great for mental and physical health so the effect is doubled with herbal products.

Bath salts, herbal bath oils, sprinkling dried or fresh herbs into bath water are all lovely ways to gain their healing properties. Even tie a bunch of different herbs such as rosemary, lavender, and chamomile into a cheese cloth pouch and give it as a gift to someone special.

Some great herbs for tea include angelica, bay, mint, chamomile, anise, bee balm, borage, lavender, lemon balm, lemon verbena, mullein, perilla, pennyroyal, scented geranium, savory and valerian.

Herbs found in oils, cosmetics, bath products include calendula, chamomile, costmary, germander, lemon verbena, lemon balm, lavender, hyssop, mugwort, parsley, rose, rosemary, sage, thyme, tansy, southernwood, violet, witch hazel, wormwood and yarrow.

Herbs used medicinally include anise(digestion),bay(digestion), elecampane(relief of chest colds), horseradish(muscle compresses), foxglove(Heart issues), garlic(many benefits),lovage(stomachaches),marshmallow (digestion),mint(digestion),mullein(sore throat),mustard(chest congestion) and tarragon(digestion).



Related Articles
Editor's Picks Articles
Top Ten Articles
Previous Features
Site Map





Content copyright © 2023 by Michelle Anderson. All rights reserved.
This content was written by Michelle Anderson. If you wish to use this content in any manner, you need written permission. Contact Bettina Thomas-Smith for details.