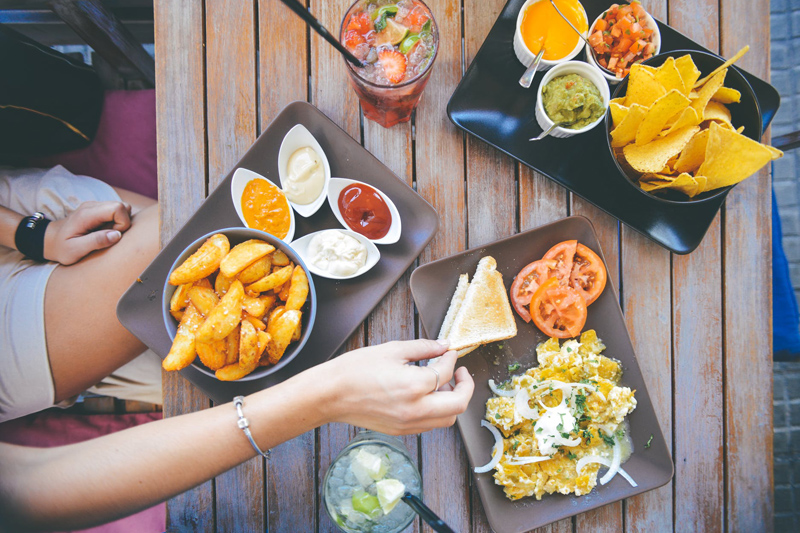 Tender, succulent, rich and satisfying, Mexico's carnitas (which translates rather insipidly as little meats) are one of the most irresistible of Mexican dishes. The contrast between the soft, moist pork and the crisp, golden fat is magical and the very first thing I look out for when I set foot on Mexican soil is a street or market stand which is serving them. The aroma alone is enough guidance in this search – I just follow my nose and once I have sat down in front of a steaming pile of shredded carnitas, some soft corn tortillas and a salsa like guacamole or salsa verde, I know that I am home again at last.
As usual in Mexican cuisine, every cook has her own recipe and her own way of making carnitas. Each region has its special version, and they vary enormously from one state to another - Michoacán and Yucatán maintain theirs are the best. They may not be particularly healthy by today's standards, as fat, traditionally lard, manteca, is used in abundance; the fat however is what gives carnitas their voluptuous texture and flavour and classes the dish as decidedly post-Hispanic: pigs and their rich, tasty lard are a Spanish contribution to Mexican gastronomy.
Cerda © Philip Hood
The most popular method for cooking carnitas is to braise the pork in a liquid – stock, orange juice, even plain water – and then to leave it to cook in its own fat (usually with added lard) until the edges are crisp, golden and caramelised. Then it is ready to be pulled apart with two forks and made into fragrant tacos or enchiladas, which are perhaps the most popular ways of eating them – they are certainly mine.
Below is a basic, flexible, all-purpose recipe for preparing carnitas which does not belong in any particular state but which one comes across throughout the country. The braising liquid in this case is stock, which I do not hesitate to make with water and a spoonful of bouillon powder or a stock cube; and while the use of lard is very traditional, I prefer to use duck or goose fat which is more readily available and whose flavour is less strong. The cumin and oregano are not always used but they do add considerably to the end result. The chipotle can be replaced with any other dried or even fresh chilli – I like the rich smoky heat it imparts to the meat but if you want to increase the punch, you could use an habanero, fresh or dried, or something like a pasilla or mulato chilli for a gentle warmth; if the chilli is whole, remember to fish it out before serving.
My favourite carnitas are the ones they make in the Yucatán, and the links to two different Yucatecan versions can be found at the end of this article.
Pork Carnitas Recipe – Receta de Carnitas
Serves 4
400 g/14 oz stewing pork, from leg or shoulder, cut into chunks
5 ml/1 tsp ground cumin
5 ml/1 tsp Mexican dried oregano
5 ml/1 tsp whole black peppercorns
2 fresh bay leaves
5 ml/1 tsp sea salt
2 garlic cloves, peeled and crushed
15 ml/1 tbsp chipotle chilli paste
120 ml/4 fl oz/1/2 cup duck or goose fat
15 ml/1 tbsp bouillon powder
Warm corn tortillas, to serve
Any fresh salsa of your choice, such as Salsa Verde Cruda, Salsa Fresca, Guacamole or Pico de Gallo
Place the pork in a glass or china bowl. Add the cumin, oregano, peppercorns, bay leaves, salt, garlic and chilli paste and toss everything together, ensuring that the meat is well coated. Cover the bowl with clingfilm/plastic wrap and refrigerate for at least six hours, preferably overnight.
Transfer the pork and any juices to a medium, heavy saucepan, add the duck fat and the bouillon powder, and pour in enough cold water to cover the meat by 1 cm/1/2 in. Bring to the boil, turn the heat right down and leave it all to simmer, stirring every now and then, for about an hour and a half, until the meat feels really tender when pierced with a fork. If there is any liquid left in the pan, turn the heat up and let it bubble until it has evaporated and the meat is starting to fry in the fat. Turn the heat down again and continue to cook, stirring often, until the surface has begun to caramelize and turn golden.
Remove the pork from the heat and shred the meat with two forks.
To serve, place a good spoonful of carnitas in a warm tortilla, top with some salsa, roll up and enjoy.
Buén provecho!
| | |
| --- | --- |
| Chilli and Chocolate Stars of the Mexican Cocina by Isabel Hood is available from Amazon.co.uk | Just The Two of Us Entertaining Each Other by Isabel Hood is available from Amazon.com and Amazon.co.uk |
You Should Also Read:
Tacos of Achiote-marinated Pork Carnitas Recipe
Tacos of Oven-roasted Achiote Carnitas Recipe
The Spices of Mexico - Achiote


Related Articles
Editor's Picks Articles
Top Ten Articles
Previous Features
Site Map





Content copyright © 2023 by Isabel Hood. All rights reserved.
This content was written by Isabel Hood. If you wish to use this content in any manner, you need written permission. Contact Mickey Marquez for details.