Herbs - A Garden Workbook by Barbara Segall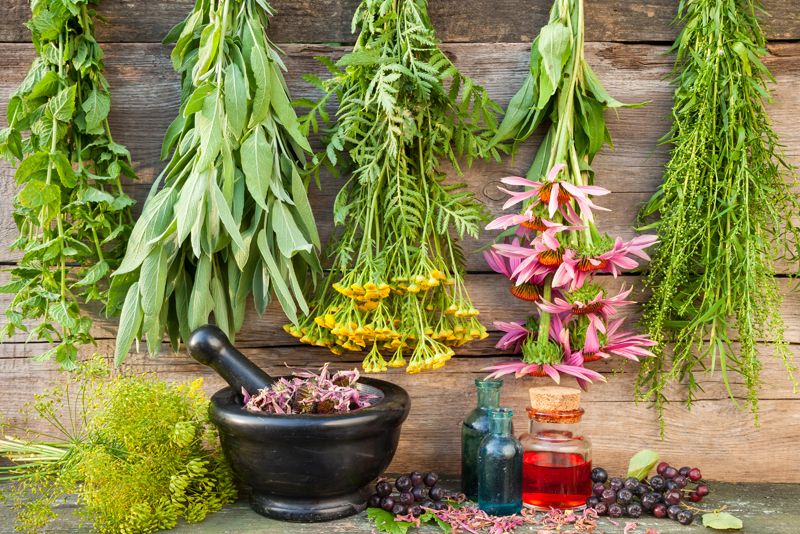 Herbs – A Garden Workbook
is a fun book for herb fans who like projects. It's a 96-page book that has a hard-back cover (for durability) over a convenient spiral-binding (so you can open the book and lay it flat for reference).
The book is intended for beginners and assumes that the reader knows nothing about herbs. It starts with a two-page history of herbs, then moves into a two-page section on choosing healthy herbs, and then another two-page section on planting the herbs in your garden. All of this is outlined with step-by-step photos.
Then we move into the first project in the section introducing culinary herb gardens. It is three interlocking circles, bordered by gravel, that display the herbs from the three continents of Europe, Asia, and Africa. The author urges you to go beyond the old favorites of parsley, chives, and rosemary. Her planting plan includes coriander and ginger mint in the Asian circle, and marjoram and sage in the European circle. The African circle features garlic and winter savory.
Since these are interlocking circles, there is an area shared by Europe and Asia (planted with bay), an area shared by Africa and Europe (planted with rosemary), and an area shared by Africa and Asia (planted with lemon verbena). The area in the center shared by all three "continents" is reserved for marigolds. What a novel idea! Such a project goes beyond merely planting herbs for appearance's sake, and allows you to work in a deeper understanding of history and culture. Besides, the finished result in the photograph is stunning.
The next project tackles a formal herb garden. You know the type I'm talking about: the ones from the Renaissance that are laid out in formal blocks of symmetry. This one is conveniently miniaturized. In the photo, it looks maybe 6-feet by 10-feet and could easily be sized up or down as you wish. The author uses one type of lavender as hedging, and another type to set off the four corners. She works in pots of marigolds, and ties the whole garden together with a small bay tree in the middle.
The book continues, offering useful overviews of medicinal herbs (complete with an informative sidebar), salad herbs, landscaping with herbs in borders, growing herbs in shade, and even growing tiny "lawns" of herbs in checkerboard form or as raised seats or banks. The best herbs for "lawns" are the creeping ground-cover type like some varieties of chamomile and thyme.
The projects include the aforementioned checkerboard herb garden (though, speaking from experience, I don't think she gives the paving-stones enough structural support, and I will be writing up my own version of this project soon). There is also a plan for a culinary wheel garden which I have tried, and enjoyed putting together.
The book also touches upon growing herbs in containers, constructing herb topiaries, propagating herbs, dealing with pests and diseases, and even on using herbs in five short crafts/culinary projects. It includes a two-page "To Do" list organized by the four seasons and cross-referenced with page numbers back to relevant points in the book. Then it concludes with an herbal glossary and a gardening zone chart.
I've given away a lot of books in my time, but I've always kept
Herbs – A Garden Workbook
. It doesn't go into great depth on any one subject because it is intended as an introduction to beginners, but I like its layout and organization and especially its projects. Unfortunately, this great little book is out-of-print (probably because there are so many different herbal guides flooding the market), but lots of good used copies are still circulating on Amazon, and you can find your copy through this link:
Herbs: A Garden Workbook
You Should Also Read:
Book Reviews
Basics
Landscaping


Related Articles
Editor's Picks Articles
Top Ten Articles
Previous Features
Site Map





Content copyright © 2023 by Karm Holladay. All rights reserved.
This content was written by Karm Holladay. If you wish to use this content in any manner, you need written permission. Contact Bettina Thomas-Smith for details.