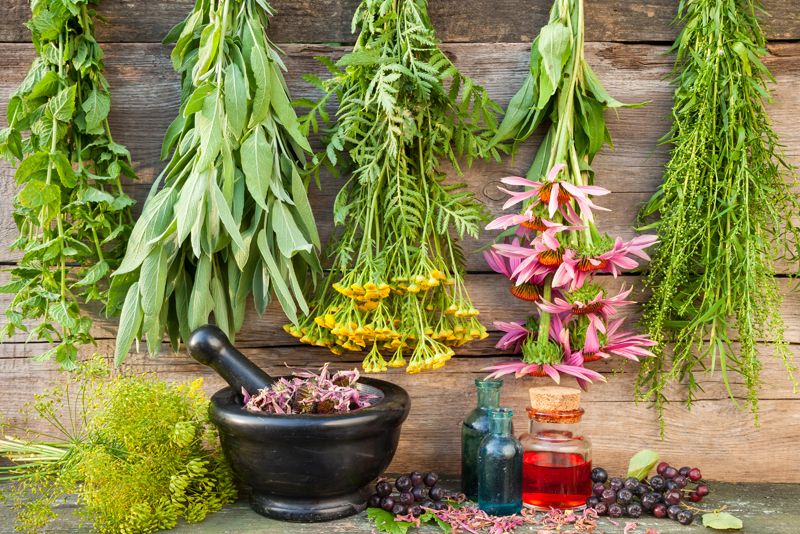 A new year, and for some New Year's Resolutions to lose weight and eat healthy. Salads are tast especially when seasoned with herbs. Add different varieties of lettuce, organic spinach, tomatoes, shredded carrots, cucumber, radishes, and other vegetables to your herbs to make great side dishes and even entrees when protein of your choice is the topping.

Before you think about your salad being the same 'old same 'old…try the following herbs to give it some zip, some incredible flavour and most importantly, outstanding health benefits.

Basil

Known as the "royal herb" by ancient Greeks, Basil is probably one of the most widely used herbs. It is my favourite. Basil leaves should be cut fresh when added to salads or bought in the freeze dried version from your supermarket if "fresh" isn't available.

Calendula

This pretty little flower can be found in most garden landscapes. Use the bright petals of this annual flower to give color to your salads. The leaves can also be added to salad greens.

Chervil

Another favorite of the Romans, chervil's use in the kitchen dates back to the 15th century. Native to the Middle East and southern Russia, it is a hardy annual plant that grows up to 2 feet tall and displays small white flowers. Subtle in flavour, you will often find this in the "spring greens" salads from your local supermarket.

Chives

A member of the onion family chives have long green rounded leaves that are snipped and used to flavor and decorate foods. The leaves of the chives are used in many green salads and add wonderful flavour to any dish.

Coriander

This member of the carrot family is also referred to as Chinese Parsley, Coriander / Cilantro and has a very pungent odor. It is used in Mexican, Caribbean and Asian cooking and the seeds and the leaves are commonly used in salads around the world. The seeds give your salads a little chew.

Cresses

It is a small dark green plant that conveys a peppery flavor to salads, sandwiches or garnishes.

Dandelion

To many, the dandelion is a weed that special formulas of poison have been devised. The leaves and the flowers of these plants are wonderful additions to salads. They are packed full of health benefits. Next time instead of killing them, pick them for your dinner.

Dill

Dill is an ancient herb that dates back to biblical times. The flavor you will recognize anywhere, after all it is the dill plant that flavours our dill pickles.

Fennel

Also known as Sweet Anise or Fennel, this herb has a licorice flavor. The feathery fronds can be used as an herb, like dill weed, to flavor soups and stews and the broad bulbous base is treated like a vegetable (cut into chunks).

Hyssop

A member of the mint family, this herb has a bit of a minty/bitter flavour and should be used sparingly.

Lemon Balm

A bushy, lemon scented perennial that can be used both fresh and dried to add a nice lemon flavour to salads, soups, sauces, stuffing, poultry and fish dishes. The flavour is strong and should not be used in great quantities.

Mints

There are many different types of mints. We have several in our back yard, spearmint, peppermint, and chocolate. Each one of them has the potential to give you an extra jolt to your salad.

Parsley

Italian or flat leafed parsley is widely used to flavour sauces and many other dishes and provides a more intense flavour.

Savory

With both a Winter and Summer savory, each has a nice mint flavor that is great for any dish especially in salads. The winter one tastes like a combination between mint and thyme.

Tarragon

This is one of the most well-liked herbs in French cuisine. Just a small amount of these leaves should be added to your salad as too many leaves can overpower all the other flavours.

Thyme

With over 350 species of thyme, there is no wonder it is one of the most common and popular cooking herbs that can be used fresh or dried. Vegetables love thyme which means that your salads will be perfectly balanced and savory.

Violet

These flowers can be found in the garden and their pretty little faces can dress up the gloomiest of salads.

Please always do your research and consult with your physician, naturopath, or health care provider before taking any home remedies or supplements or following any treatment suggested on this page. Only your health care provider, personal physician, or naturopath can provide you with advice on what is safe and effective for your unique needs or to diagnose your particular medical issue.


You Should Also Read:
Herbs for Healing


Related Articles
Editor's Picks Articles
Top Ten Articles
Previous Features
Site Map





Content copyright © 2019 by Bettina Thomas-Smith. All rights reserved.
This content was written by Bettina Thomas-Smith. If you wish to use this content in any manner, you need written permission. Contact Bettina Thomas-Smith for details.