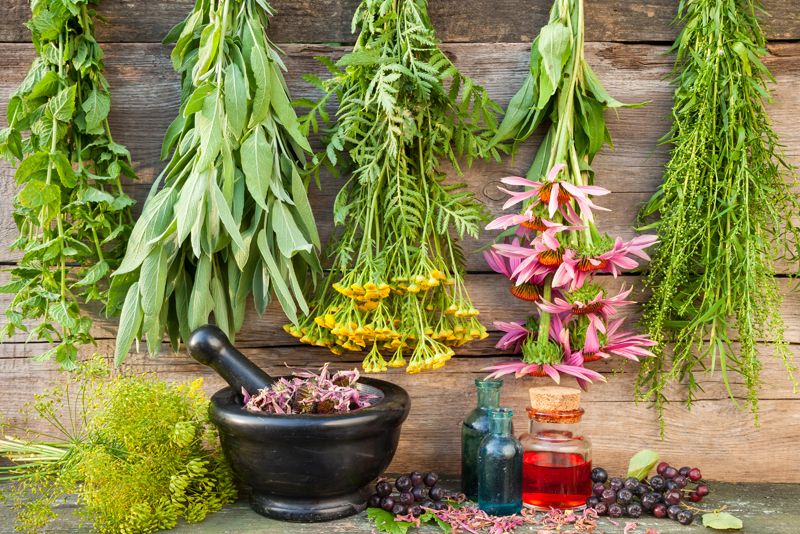 The Italian region of Tuscany is famous for its outstanding cuisine however most of their dishes are simple but flavorful thanks to their local herbs. Now science has shown that these herbs do more than make the food taste exceptional, they are healthy as well. These herbs are packed with so many antioxidants they are among nature's most powerful immune system boosters and you don't even have to travel to Rome to reap the benefits.

Thyme - this great herb cures gum disease! Gingivitis not only inflames gums but makes them bleed and creates plaque that can travel to the arteries triggering heart disease. Thyme is so effective against this bacteria is used in most mouthwashes including Listerine!

Ancient Romans drank Thyme tea which help here and prevent gum infections - including mouth and canker sores. *Cold Thyme tea helps heal acne even better than benzoyl peroxide.

Rosemary helps prevent Alzheimer's. This herb has been known as a brain booster and helps improve concentration. Studies have shown it contains compounds that strengthen neural connections and guards against dementia and Alzheimer's. *Rosemarinic acid neutralizes carcinogens in grilled meats.

Marjoram keeps bones strong as this herb is filled with calcium and is one of the best sources of bone boosting vitamin K which shields against osteoporosis. Marjoram is also a natural anti-inflammatory that helps repair damaged cartilage and keeps joints cushioned so you can avoid arthritis related pain and swelling. *This herbs vitamin K, iron, and vitamin C helps shrink capillaries and erase bruises and varicose veins.

Sage balances your hormones. If you struggle with PMS,. Pain or menopausal symptoms, a few cups of sage tea can help with the symptoms. It has been found that its chemical compounds mimic estrogen in the body which helps ease or morally triggered irritability and mood swings. It's oils and tannins reduce perspiration which helps relieve hot flashes and night sweats. *Sage relieves anxiety by slowing the breakdown of acetylcholine, calming neurotransmitter that improves mood.

Garlic chases away germs and vampires! This little clove is brimming with natural antibiotics and 20 other germ killing compounds that makes it as effective as penicillin. Garlic fortifies your defenses by stimulating infection fighting T-cells and has been shown to reduce your risk of being sick by 60%. Garlic will also help you recover an average of three days faster from your illness. *Garlic can reduce cholesterol levels as much 12%

Oregano prevents ulcers of food poisoning because it is filled with more antioxidants than apples, blueberries and even spinach! It is also an too bacterial that wipes out the number one cause of stomach ulcers as well as many of the top culprits behind food poisoning, such as E. coli and salmonella.

Please always do your research and consult with your physician, naturopath, or health care provider before taking any home remedies or supplements or following any treatment suggested on this page. Only your health care provider, personal physician, or naturopath can provide you with advice on what is safe and effective for your unique needs or to diagnose your particular medical issue.

You Should Also Read:
BellaOnline's Herbs Forum


Related Articles
Editor's Picks Articles
Top Ten Articles
Previous Features
Site Map





Content copyright © 2023 by Bettina Thomas-Smith. All rights reserved.
This content was written by Bettina Thomas-Smith. If you wish to use this content in any manner, you need written permission. Contact Bettina Thomas-Smith for details.