Eliminating Fleas the Natural Way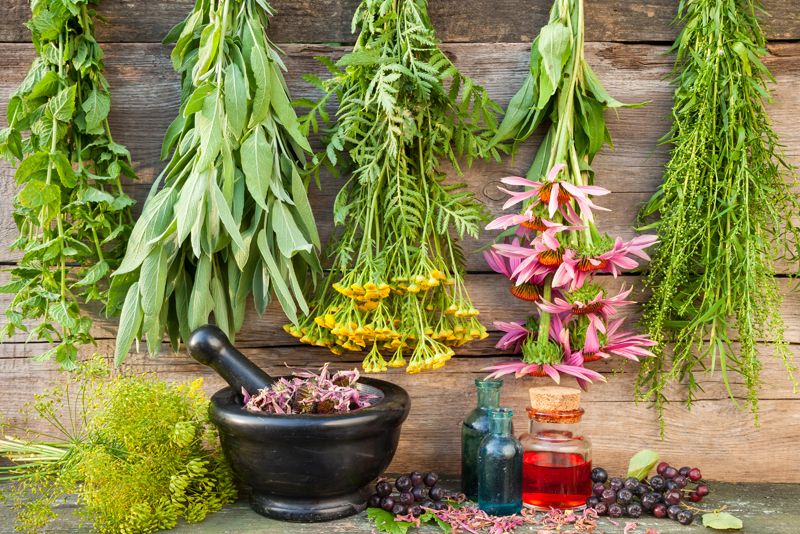 While having a chat with someone on face book the other day, I was asked if I knew any ways to get rid of fleas the natural way. For me, herbs are a huge benefit, not only to our health but in ridding pests in our environment…namely fleas! I strongly feel that this subject needs the background as well as a remedy, listing both herbs and natural solutions for this problem.
With the warm humid weather upon us, it is the perfect breeding season for these little vampires. These diminutive bloodsuckers can be a real pain (no pun intended), especially when in only three months, the average female flea can lay a whopping 20,000 eggs and can leap 100 times their own height, which equates to nine inches high and/or five feet sideways. For every single flee you happen to find on your pet there is at least a dozen more in your home.
Fleas feed only on blood. The good thing is they spend the majority of their life away from the host, only coming out when they
need to suck your blood
. A single feeding for these horrible tiny creatures keeps them full for up to two months. Unfortunately, this leaves the rest of your home infested and in need of extermination.
Please don't use chemicals to get rid of fleas as they contain pyrethroid based products and insecticides that are classified by the EPA as carcinogenic to pets and humans. Commercial flea killers contain synthetic pesticides that have nerve paralyzing agents that have the ability to cause respiratory failure, convulsions, tremors, skin rashes, nausea and even a weakened immune system in your dog or cat. Just think if it harms your dearly loved pet, what it could do to your children?
I know there are at least two "commercial" brands being toted on television as the best line of attack in your war on fleas and ticks. And that is great, I'm sure they are good. I choose not to put my pets through anything that might do more harm than good. So for those of you, who want to rid your pets and home of these pests, put in the time and effort as it isn't a quick fix deal, here are some formulas that might help.
Your plan of attack :
1. Vacuum your home thoroughly! Seriously, this means EVERYTHING – carpets, rugs, floors, corners, walls, pillows, couches, mattresses, cushions, curtains, ceiling, etc. You see the picture. Dispose of content carefully as all the dust inside contains fleas, eggs, larvae and is perfect feasting ground. ALL bedding (yours and your pets) wash in as hot water as allowed. This is a crucial step, please don't ignore.
2. Next you will sprinkle the "mixture" as described in #4 below, over your rugs, carpets, cushions, under mattresses and pet's bedding. This can stay on for as little as an hour or a few days. Again, vacuum and destroy the contents and wash all material items.
3. Vacuum and wash cycle needs to be repeated every 3-4 days.
4. During all this, you need to also need to wash your dog or cat in an herbal shampoo that consists of any combination of combination of any of citronella, lavender, rosemary, pine cedar, bergamot, eucalyptus, juniper or geranium. Note that as soon as you get your pet wet, the fleas will literally rush to higher ground – meaning the head and neck. This area needs to be coated with the shampoo to prevent the fleas from escaping and keeping them under control while you wet down, lather and massage the rest of the body. Leave shampoo on and use this time (15 minutes at least) to massage it into your babies skin, not missing an inch as to saturate the coat.
5. Rinse thoroughly! You could follow with a rosemary, lavender or tea tree oil rinse to bring relief to your pet's skin.
*See Herbal and Natural Flea Concoctions for more information.
Please always do your research and consult with your veterinarian, physician, naturopath, or health care provider before taking any home remedies or supplements or following any treatment suggested on this page. Only your health care provider, personal physician, or veterinarian can provide you with advice on what is safe and effective for your unique needs or diagnose you or your pet's particular medical issue.
You Should Also Read:
Herbal and Natural Flea Concoctions


Related Articles
Editor's Picks Articles
Top Ten Articles
Previous Features
Site Map





Content copyright © 2019 by Bettina Thomas-Smith. All rights reserved.
This content was written by Bettina Thomas-Smith. If you wish to use this content in any manner, you need written permission. Contact Bettina Thomas-Smith for details.