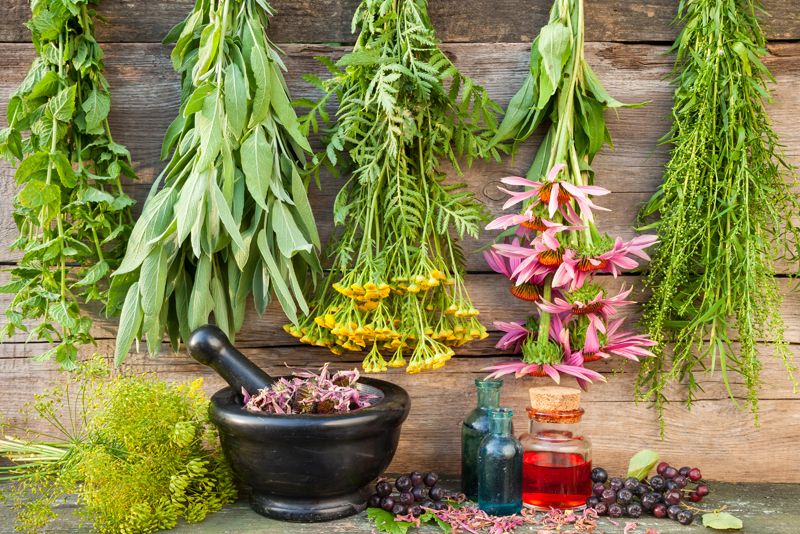 Whether it is hot or cold, tea alone has huge antioxidant properties. Mix teas with herbs and you have a wallop of goodness that no vitamin can compete with. Try out these different recipes and see which one quenches your thirst!
*Steeping tea takes only 3-5 minutes in boiling water, any longer can draw out less pleasing flavours. Put herbs in a loose tea strainer, infuser or tea ball for best results. Having one of these on hand is useful for when trying out different loose teas.
7 Herbs to Try
1. Lavender – (
Lavandula
)try ending your day with a cup of lavender tea to put your whole body into a glorious sleep. Lavender relaxes tense muscles, relieves headaches and nervousness.
2. Ginger – (
Zingiber officinale
)if you suffer from upset stomach, nausea, motion or morning sickness, then this is the tea for you.
3. Peppermint - (
Mentha xpiperita
)this wonderful herb has proven antimicrobial (a substance that destroys or slows down the growth of microorganisms such as bacteria, fungi, or protozoans) actions that alleviates nausea and indigestion. So instead of popping a tablet, or drinking that pink stuff, try a nice cup of peppermint tea!
4. Rose Hips - (
Rosa spp.
)this tea is somewhat fruity and sharp and contains most of your daily Vitamin C.
5. Lemon Balm - (
Melissa officinalis
)after a long day at work or with the kids, try Lemon Balm tea to sooth those frazzled nerves. This great lemony tea not only relieves your anxiety but helps with that digestion (which could stem from your stress).
6. Hibiscus - (
Hibiscus sabdariffa
)with all the stress we are under these days, it is no wonder our blood pressure is skyrocketing. If you suffer from this condition, try a cup of Hibiscus tea, you might just see surprising effects.
7. Black Tea - (
Camellia sinensis
)a favourite of mine and many others today. This tea is so rich in antioxidants it reduces your risk of heart disease and stroke. When something so good for you tastes the same, how can you lose?
Please always do your research and consult with your physician, naturopath, or health care provider before taking any home remedies or supplements or following any treatment suggested on this page. Only your health care provider, personal physician, or naturopath can provide you with advice on what is safe and effective for your unique needs or to diagnose your particular medical issue.


Related Articles
Editor's Picks Articles
Top Ten Articles
Previous Features
Site Map





Content copyright © 2019 by Bettina Thomas-Smith. All rights reserved.
This content was written by Bettina Thomas-Smith. If you wish to use this content in any manner, you need written permission. Contact Bettina Thomas-Smith for details.