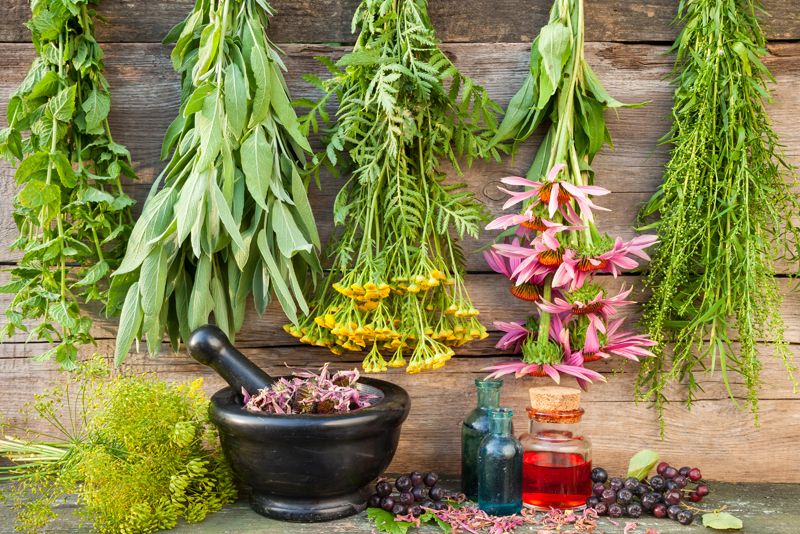 Herbs are wonderful. Growing your own, in your very own herb garden is even better. For cooking and health, there is nothing better than having fresh herbs just outside your doorstep and a herb garden is one of the greatest additions you can make to your garden and way of life.
To cultivate herbs you need a sunlit spot with at least six hours of sunshine a day and soil that is well drained. Your herb planting may be full-size or tiny, current and assorted, or a group of potted herbs. Any way you look at it, make it your own, make it something you will take pleasure in and make it easy enough to look after.
Whether you opt for several containers filled with your favourite herbs, or a raised bed made simply of 4 boards and filled with soil and compost, always do your research first on what herbs that will grow best in your climate. A little homework before hand can reduce the grief later on when nothing seems to be growing.
To find the best places to grow herbs, merely walk out your back door and study every space within 20 paces that gets at least a half day of full sun. As you decide where to grow your herb garden, consider the times you are cooking and need to pop outside to grab some fresh mint, or basil. Having your herbs within easy reach can make a big difference.
I have found that having herbs that I regularly use in recipes, in containers on the deck…within arm's reach – so to speak. Other herbs (ones we don't need on short notice), such as our various mints, do well in our perennial garden.
Designing your own herb garden has unlimited potential. Remember, choose something you like, and will nourish. From containers, to a planned out circular garden with every herb in its place, it is all up to you. Have fun with it. If something doesn't work, change it! That is the great thing about plants; they are (for the most part) forgiving. Just be sure to know how much space each herb will need when designing your garden so when you eventually go and pick them all out, they will have the room to grow.
Here are few herbs to try, Aster, Butterfly Weed, Catmint, Chamomile, Comfrey, Evening Primrose, Feverfew, Flax, Garlic Chives, Golden Marjoram, Goldenseal, Hyssop, Lady's Mantle, Lamb's Ears Lavenders, Lavender, Lemon Balm, Mints, Monkshood, Rosemary, Sage, Sedum, Soapwort, Tansy, Thyme, Winter Savory and Yarrow.
When caring for your herb garden, make sure to water your new garden on a regular basis and deadhead (snip) herbs lightly and regularly, even if you're not using them in your cooking. Some herbs are annuals, such as coriander, basil and parsley, so be sure to check the labels when buying your plants. Go pesticide free and always to hand remove pests and diseased leaves as they become visible.
Please always do your research and consult with your physician, naturopath, or health care provider before taking any home remedies or supplements or following any treatment suggested on this page. Only your health care provider, personal physician, or naturopath can provide you with advice on what is safe and effective for your unique needs or to diagnose your particular medical issue.
*Photo courtesy of Thomas Kriese


Related Articles
Editor's Picks Articles
Top Ten Articles
Previous Features
Site Map





Content copyright © 2023 by Bettina Thomas-Smith. All rights reserved.
This content was written by Bettina Thomas-Smith. If you wish to use this content in any manner, you need written permission. Contact Bettina Thomas-Smith for details.