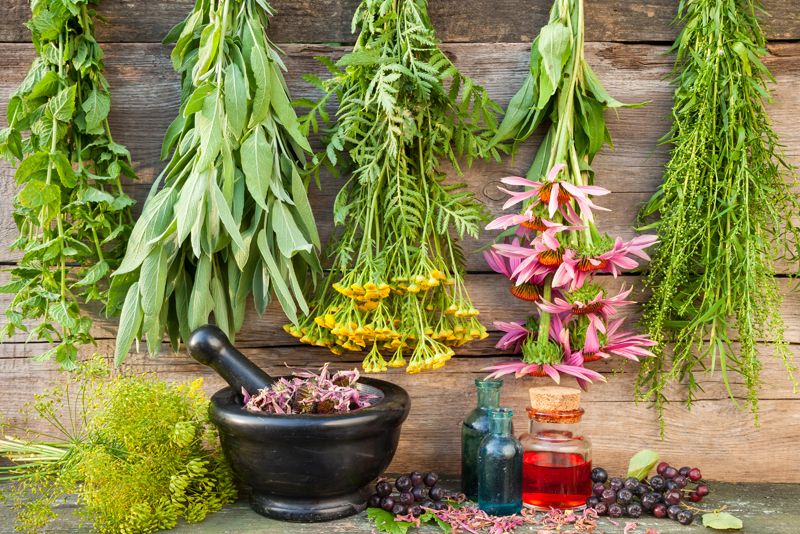 There is nothing worse than a nagging cough. Oh wait, yes there is! Having a cough with chest congestion is not only a big irritation, it is troublesome. That is where natural expectorants come in. Expectorants help loosen congestion in the lungs by reducing the thickness of mucus, making coughing more productive and clearing the lungs. Expectorant herbs are very important in the treatment of coughs, congestion and bronchitis, or worse, pneumonia and other life threatening illnesses.

Natural expectorants lessen and break up the mucus that is stuck in your lungs, making it easier to breathe. Always spit out any mucus that's loose. Never swallow it. Remember to drink lots of fluids as staying hydrated helps get rid of the mucus in your lungs.

Expectorants encourage the body to cough which loosens the matter inside the lungs. The cough allows you to get rid of the "garbage". Nature has remedies for everything. This includes ridding the body of things that it does not need and that can cause damage.

Check out these natural expectorant herbs and see which one works best for you.

Licorice is not only an expectorant; it soothes irritated throats, inflamed lungs and is a cough suppressant. Tea made with 1/2 tsp. licorice root can be drank up to three times a day, or use purchased lozenges as directed.

Sage Tea is another great tea. Use 2 tsp. of fresh leaves or 1 tsp. of dried sage per cup of hot water. Drink 2-3 times daily; sweeten with honey if desired.

Angelica is an excellent herb to add when dealing with colds, congestion, and fevers. Angelica root is warming and stimulating to the lungs, helping to ease chest congestion.

Horehound also acts as a relaxant and cough suppressant, soothing irritated lungs and helps stimulate bronchial secretions. It is very bitter, so sweetened lozenges are the usual remedy recommended.

Benzoin resin has a pronounced effect on congestion that apparently melts away blockages. It is an expectorant and increases flow.

Eucalyptus is both a decongestant and an expectorant. Most people are familiar with it in lozenge form, but in the case of a persistent cough, it is perhaps more effective as a steam or chest rub. I have found putting a tablespoon in a pot of boiling water, covering my head with a towel and inhaling the steam works miracles.

Black Cohosh is useful as a tea to quiet a nighttime cough.

Cayenne loosens mucus, making it easier to expel from the lungs. It also stimulates the body, including the chest.

Garlic is an herbal cure-all. As an expectorant, it can be used as a steam inhalant, a chest rub or taken internally. Eat a raw garlic clove one to three times daily.

Camphor acts as an expectorant and helps clear lung congestion. Camphor is a very helpful ingredient for coughs, colds, and in breathing complications.

Other herbs to try or at least find out about are Asafoetida, Basil, Bloodroot, Borage, Cajeput, Cedar, Celandine, Colt's Foot, Confrey, Couch Grass, Elecampane, Fennel, Ginger, Grindelia, Holy Basil, Honeysuckle, Hyssop, Kava-Kava, Lobelia, Marshamallow, Mullein, Myrrh, Peppermint, Pleurisy Root, Red Clover, Red Root, Reishi, Sandalwood, Soapwort, Slippery Elm, Spearment, Speedwell, Spruce, St. John's Wort, Sunflower, Sweet Marjoram, Thuja, Thyme, White Horehound, White Peony, Wild cherry and Yarrow.

Please always do your research and consult with your physician, naturopath, or health care provider before taking any home remedies or supplements or following any treatment suggested on this page. Only your health care provider, personal physician, or naturopath can provide you with advice on what is safe and effective for your unique needs or to diagnose your particular medical issue.


Related Articles
Editor's Picks Articles
Top Ten Articles
Previous Features
Site Map





Content copyright © 2023 by Bettina Thomas-Smith. All rights reserved.
This content was written by Bettina Thomas-Smith. If you wish to use this content in any manner, you need written permission. Contact Bettina Thomas-Smith for details.