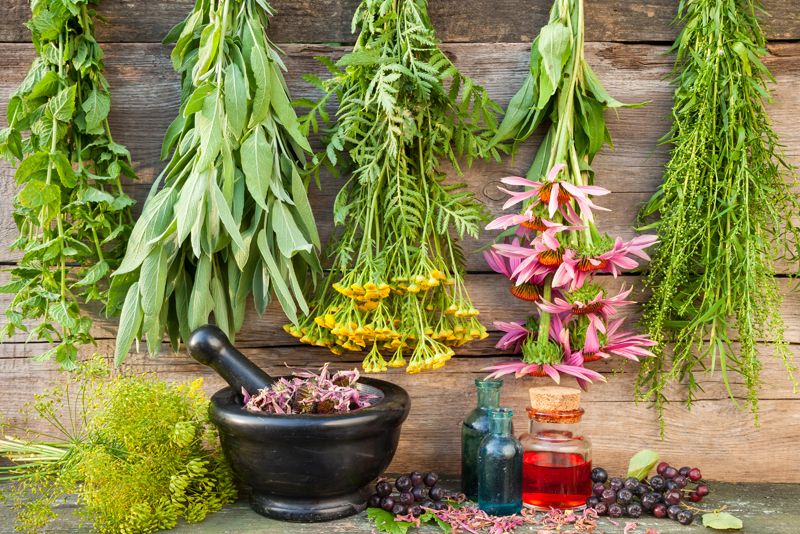 As the summer season comes to a close, we have to be grateful for the Farmer's Markets and bountiful harvest from our gardens full of fresh produce just ripe for the picking (and canning).
This brings me to those of us who can't wait to get into the kitchen and preserve what we have painstakingly grown over the last few months. Why not add a little herbal freshness to your process this year? Be creative, you might be amazed at the flavour you encounter when you pop open that lid!
Herbs from your garden:
oregano, thyme, mint, basil, rosemary, chives, garlic, sage and dill. You will also need salt – I prefer Kosher, Himalayan and Pickling, distilled apple cider or white vinegar, or lemon/lime juice.
Be inspired and play around with herb combinations. Having herbal infused flavour in your recipes will bring new life to the same old formula. Using herbs individually or in a combination will make sure you never make the same recipe twice.
So whether you go the quick route (using old salsa, pickles and any other clean, washed jars and eating your goods within a few weeks) or opt to take your time and go through the canning process of cooking and sterilizing, you can enjoy your creations quickly or have the benefit of your labour all through the winter months. Vegetables include, green onions, beets, baby carrots, pearl onions, peppers, tomatoes, cauliflower, radishes, zucchini and cucumbers. You are only limited to your likes and dislikes.
Here is one of my favourite recipes.
Sweet & Spicy Zucchini Pickles
• 1 quart fresh, unpeeled, thinly sliced zucchini
• 2 thinly sliced medium onions
• 2 crushed garlic cloves
• salt – 4 tablespoons to ¼ cup at most
• 1-1/4 cups each of sugar and apple cider vinegar
• 1 teaspoon celery & mustard seed
• 1 tablespoon each of chives and basil
• 1 tsp to 1 tablespoon (depending on your heat level) crushed red pepper flakes
• 1 jalapeño (again, if you don't like heat, omit)
Take your zucchini, onions and cloves, sprinkle with salt, cover with cold water and let stand a couple hours. Drain, rinse in fresh cold water – repeat at least twice. Combine vinegar, sugar and seasonings in a pot and bring to a boil for approximately 5 minutes. Add the first 3 ingredients and stir. Take pot off of heat and let stand 3-4 hours and then put back on burner and once again, bring to a boil and simmer 5 minutes.
Stuff pickles into sterilized jars and process 10 minutes in boiling water or put into clean reused jars to be eaten within a couple weeks.
Please always do your research and consult with your physician, naturopath, or health care provider before taking any home remedies or supplements or following any treatment suggested on this page. Only your health care provider, personal physician, or naturopath can provide you with advice on what is safe and effective for your unique needs or to diagnose your particular medical issue.


Related Articles
Editor's Picks Articles
Top Ten Articles
Previous Features
Site Map





Content copyright © 2023 by Bettina Thomas-Smith. All rights reserved.
This content was written by Bettina Thomas-Smith. If you wish to use this content in any manner, you need written permission. Contact Bettina Thomas-Smith for details.