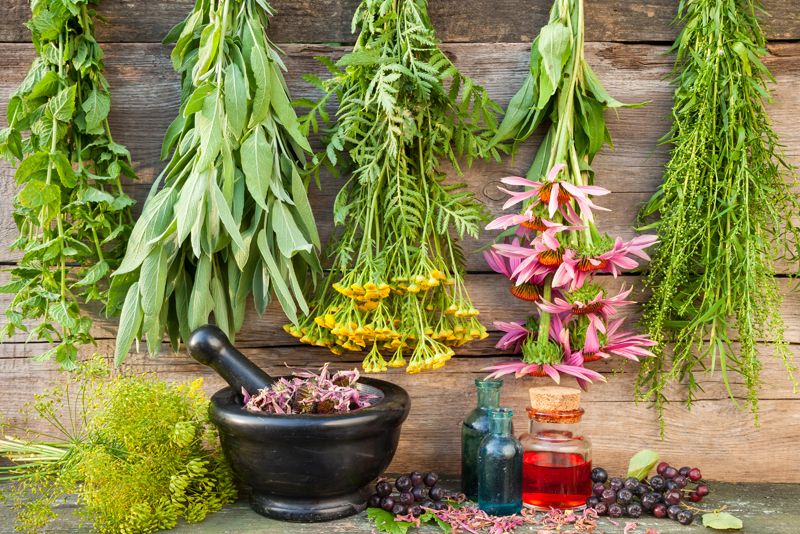 Lavender is a calming, sweetly aromatic and revitalizing herb that grows in many moderate weather gardens. Lavender has a tendency to grow quite effectively under the right circumstances and there is nothing more calming than the smell of lavender.

By nearly any estimation, Lavender is a plant with amazing and versatile uses such as baking, insect repellant, and drinks and even as gifts (sachets, soaps, etc.) It has been popular for treating a wide variety of problems, especially to aid in relaxation. Perhaps the most familiar use of Lavender is in its ability to lull people to sleep. It has been used for this in British hospitals for many years. Having a pillow stuffed with lavender flowers can be just what the doctor ordered at the end of a hectic day. Or try a few drops of Lavender essential oil on a pillow, or a few in a bath just before bed. Its gentle soothing properties also make it ideal for treating anxiety, panic attacks, and other related issues.

It is also highly effective for headaches. Lavender is one of the few essential oils that can be applied directly to the skin without dilution. You can apply a drop to each temple to vastly improve a headache, or mix it in a 2 to 1 ratio with peppermint (peppermint being the lesser end of the ratio). This combination is most successful for migraines. Lavender can also be diluted in a carrier oil, lotion, or balm, and rubbed on most sore areas, including strains, sprains, bruises, and various skin irritations. It can also be used on burns to lessen pain and help avoid blistering. As it has antiseptic qualities, it can also be effective for treating minor wounds and helps to speed healing.

Lavender essential oil is one of the few that is safe for (very limited) internal use; the herb, both fresh and dried, is as well. 1-4 drops on a sugar cube or a tablespoon of milk can be helpful for a number of things, including faintness, anxiety (particularly palpitations and the like), low appetite, dreary spirits, and flatulence. It is also helpful for a sore throat.

Because of Lavender's antiviral and antiseptic qualities, you can either add a few drops to a spray bottle of water (which must be shaken well before each use) or simply get Lavender water. It makes your rooms smell wonderful, and also helps in preventing the spread of illnesses, like colds and flu.

Lavender is also good for an analgesic, anti-inflammatory, antiseptic, diuretic, insecticide, sedative, acne, allergies, anxiety, asthma, athlete's foot, bronchitis, bruises, burns, chicken pox, circulatory issues, colds, colic, cuts, dandruff, depression, dermatitis, earache, eczema, headache, hypertension, insect bites, insect repellent, insomnia, irritability, itching, labor pains, mental fatigue, migraine, muscular aches, oily skin, panic attacks, PMS symptoms, psoriasis, rheumatism, scars, sinusitis, sores, sprains, strains, stress, stretch marks, sunburn, tension, vertigo, whooping cough, and many more.

Please always do your research and consult with your physician, naturopath, or health care provider before taking any home remedies or supplements or following any treatment suggested on this page. Only your health care provider, personal physician, or naturopath can provide you with advice on what is safe and effective for your unique needs or to diagnose your particular medical issue.
You Should Also Read:
BellaOnline's Herbs Forum


Related Articles
Editor's Picks Articles
Top Ten Articles
Previous Features
Site Map





Content copyright © 2023 by Bettina Thomas-Smith. All rights reserved.
This content was written by Bettina Thomas-Smith. If you wish to use this content in any manner, you need written permission. Contact Bettina Thomas-Smith for details.