Healing Herbal Tea Recipes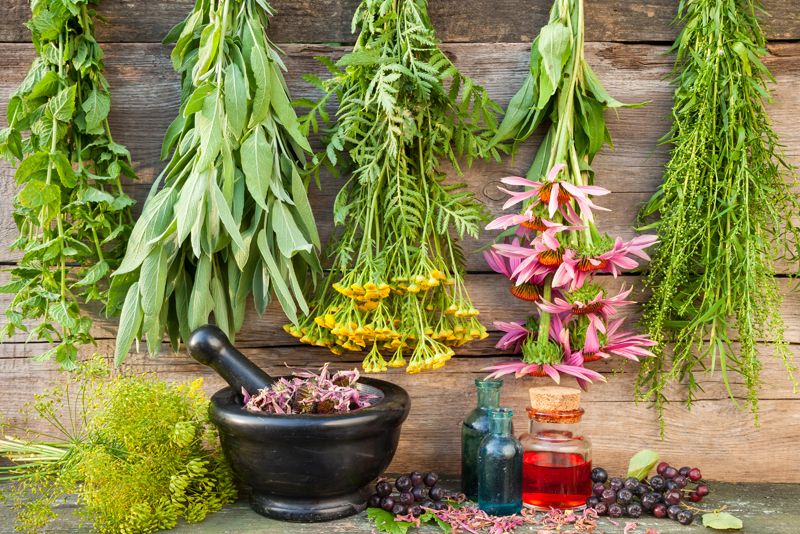 Here are a few recipes for herbal teas I've found helpful.
Calming Tea
4 cups water
3 tsp linden flowers
3 tsp chamomile
3 tsp passionflower
3 tsp orange zest
½ tsp stevia (this is a sweetener, you could use sugar or honey as well)
Bring the water to a boil, then remove it from the heat. Add the herbs, and allow them to steep for 10-15 minutes.
Herbal tea for respiratory troubles
This an herbal mixture that is wonderful for a sore throat, stuffy nose, congestion in the chest, and so on.
You don't need to use ALL of the herbs listed here; mix it up individually depending on what the problem is. If it's mainly a sore throat, use herbs for soothing the throat and helping to fight the infection; if it's congestion use herbs to loosen the mucous and make sneezes and coughs more productive and so on. Please research the effects of these herbs.
Eucalyptus to loosen mucous and help to open and soothe membranes
Comfrey is a natural analgesic, helps with sore throat
Lavender helps open nasal passages, relaxes muscles and can help with headaches
Rosehips are a good source of vitamin C
Juniper berries are a mild expectorant
Elecampane is an expectorant, and an excellent remedy for bronchitis, as it helps with cough
Angelica is good for cough and colds
Catnip is a good cold and flu remedy, as it is an expectorant, eases stomach upset, and fever reducer
Anise is an expectorant
Peppermint is an antibiotic, and soothes nausea, upset stomach, and headaches
Sage is an immune stimulant
Alfalfa is an immune stimulant
Horehound is very good to use when there is severe congestion, as it promotes mucous production and soothes the muscles of the bronchus
The following herbs can be added as needed.
Goldenseal is an antibiotic
Hyssop is good for sore throats
Lobelias is powerful against respiratory infections, such as earache, or of the lymph nodes, so could be very useful for those with mono
Wild cherry bark is a cough suppressant, most useful when taken at night so as to inhibit coughing while trying to sleep
Blood root is an expectorant and can help to relax the bronchial muscles
Boneset is good for upper respiratory infections and can also relieve mild aches and pains associated with influenza
Cloves can stimulate and disinfect the bronchial membrane
Elder flowers are good for upper respiratory ailments
Eyebright is an anti-inflammatory that can help with sinus headaches
Poppy is a painkiller
Feverfew is an anti-pyretic
Lemon balm is high in vitamin C, also for taste
You should use approximately 2 teaspoons of herbs total for each mug of tea. Bring water to a boil then remove from heat. Add herbs and allow to steep for 5-10 minutes.
Chai - Digestive Tea
Chai is a wonderful, spicy tea used commonly in the Middle East to settle the stomach and promote digestion after a meal.
1 cup water
1 tbsp. grated ginger, fresh
1 Cinnamon stick
2 whole peppercorns
4-5 cardamom pods
¼ cup milk
pinch nutmeg (optional)
honey to taste (optional)
In a saucepan, combine water and herbs. Cover and allow to simmer on low heat for eight to ten minutes. Add the milk, and return to simmering point for a further eight to ten minutes. Pour into mug and sweeten with honey; garnish with nutmeg.
***The following herbs should never be taken by pregnant women, or women who are trying to become pregnant, because they can cause spontaneous abortion or miscarriage.***
Hyssop
Angelica
Elecampane
Juniper
Sage
---

Mountain Rose Herbs
A leading organic supplier since 1987
of bulk organic herbs and spices, essential oils and herbal teas.
Wonderful herbs at fabulous prices... well worth a look!
You Should Also Read:
BellaOnline's Herbs Forum
Healing Herbal Teas


Related Articles
Editor's Picks Articles
Top Ten Articles
Previous Features
Site Map





Content copyright © 2022 by Jennie Kiger. All rights reserved.
This content was written by Jennie Kiger. If you wish to use this content in any manner, you need written permission. Contact Bettina Thomas-Smith for details.