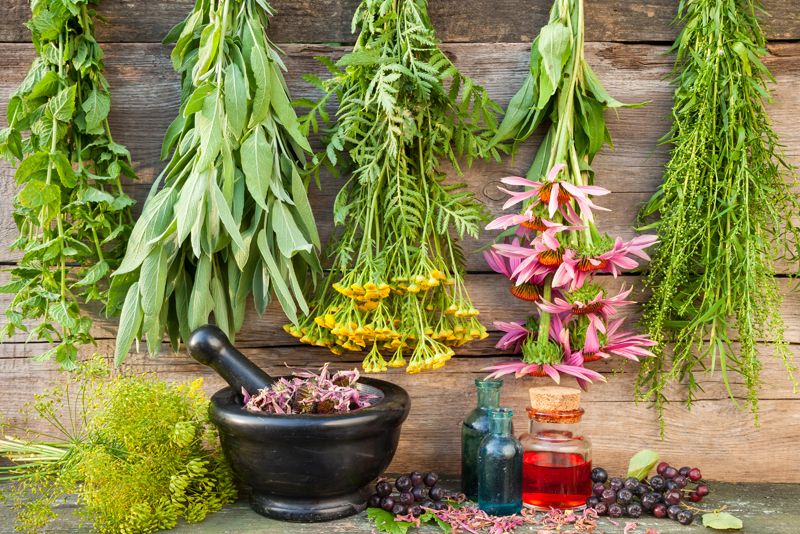 It seems that you cannot go a day or even a few hours without seeing some commercial on television promoting a product that will take years of your appearance, reduce wrinkles and turn back the clock ten years!
You could go out and buy these products, having your bathroom cabinet resemble a shelf in your local department store with oodles of items you assumed would do what was promised, or you can take the herbal approach. Taken both internally and externally, herbs can renew you from the inside out.
With our skin exposed to the sun and pollutants, we have to be careful to prevent premature aging. Herbs taken both internally and externally. They can reduce and even eradicate wrinkles and contain plant compounds that can even regenerate skin tissue, thus removing damaged skin.
It would be great if we could all live forever, or at least maintain our youthful appearance while do so. Check out these herbs that can give you the edge on aging!
Herbs for Your Fountain of Youth
1. Ginseng – this extract contains powerful antioxidant compounds that can significantly reverse UV skin damage.
2. Frankincense – this was supposedly Cleopatra's secret compound for removing wrinkles. This herb has regenerative effects on the skin that smoothes out lines and wrinkles.
3. Rosehip Oil – contains Vitamin C and is one of the best wrinkle products out there. It can even treat burns, scars and wrinkles because of its regenerative properties.
4. Aloe vera – contains antibacterial compounds as well a stimulating the growth of new skin cells.
5. Ginger – increases appetite by stimulating the membranes of the stomach and intestines which in turn helps you look more youthful from the inside.
6. Turmeric – this works from the inside out to make skin look more healthy.
7. Gotu kola – aids in reducing stress, which also strengthens and improves your brain and nerves. It increases blood flow to arms and legs, improves memory and balances energy levels. This works inside out to restore youthfulness.
8. Dandelion root – cleanses the blood and liver as well as being high in fiber. It contains elevated amounts of Vitamin A, C, D and B-Complex..all of which your body needs.
9. Cayenne pepper – an ant-aging powerhouse that regulates blood pressure and cholesterol, promotes circulation and reduces stress.
10. Garlic – regulates blood and cholesterol levels and wards against twenty-seven pathogens.
11. Echinacea – one of the best anti-aging herbs that boosts the immune system that can heal wounds, bites and healing of skin issues.
12. Burdock root – a powerful blood cleanser that flushes toxins from your body and restores liver and gallbladder. It is a natural antibiotic as well contains anti-tumor properties.
Please always do your research and consult with your physician, naturopath, or health care provider before taking any home remedies or supplements or following any treatment suggested on this page. Only your health care provider, personal physician, or naturopath can provide you with advice on what is safe and effective for your unique needs or to diagnose your particular medical issue.
You Should Also Read:
Herbs for Healing


Related Articles
Editor's Picks Articles
Top Ten Articles
Previous Features
Site Map





Content copyright © 2022 by Bettina Thomas-Smith. All rights reserved.
This content was written by Bettina Thomas-Smith. If you wish to use this content in any manner, you need written permission. Contact Bettina Thomas-Smith for details.