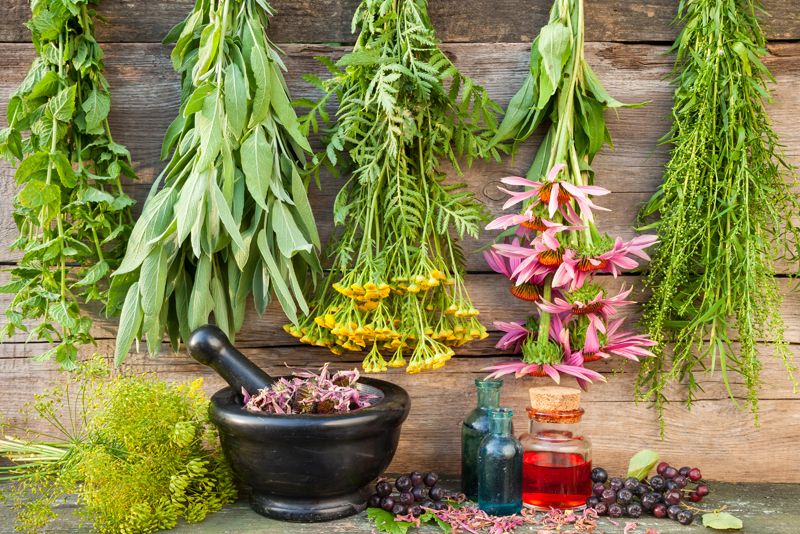 If you are among the 6.1 million women in the Unites States, between the age of 15 to 44 years old, and are having difficulty getting and/or staying pregnant, you aren't alone. There are many things that increase your chances of infertility, such as age, excess alcohol use, stress, diet, smoking, etc., and worrying about getting pregnant can increase this risk.

With so many women waiting now until they are in their thirties and forties to have children, it is becoming increasing problematic for some to conceive. It has been shown that with most women having a child after 35 years of age, about one-third of couples are now showing fertility problems.

Introducing herbs to your diet might just be the answer to your desire to get pregnant. There are many "fertility" herbs that can increase your chances of bringing home that baby you desire. Herbs can restore those hormonal imbalances that might just be stopping you from conceiving. Herbs can also reduce risks of miscarriage.

If you are at the point you have tried everything, why not give the following herbs a try. Who knows, you could be counting your blessing soon!

Fertility Herbs

Chaste Tree Berry (Vitex or Agnus Castus) helps reduce hormonal imbalances by stimulating the pituitary gland and is beneficial for menopausal changes. It helps to regulate periods, restart stopped period and control heavy bleeding. This is particularly good after long term birth control pill use.

Black Cohosh impersonates estrogen effects and helps restore hormone balance. Besides stimulating the release of eggs from the ovaries, it regulates menstrual cycles. It can take care of hot flashes, mood swings and various other menopausal symptoms.

Dong Quai is a blood tonic containing iron, B12 and Vitamin E that builds up the blood. It balances estrogen and regulates the menstrual cycles, again helping with egg implantation. It is best used on days between ovulation and menstruation.

False Unicorn Root helps to normalize ovaries and improve reproduction.
Wild Yam increase your chances of becoming pregnant by increasing progesterone production. This must be taken after ovulation, NOT during.

Red Clover is one of the best herbs for increasing fertility. With its high vitamin content that aids the uterus, its high protein benefits the entire body. It contains nearly every trace mineral needed by the body and can be effective in relaxing the nervous system.

Raspberry Leaf is best used in conjunction with Red Clover because of its benefits to the uterus.

Nettle nourishes the whole body and is a helpful uterine tonic.

Evening Primrose Oil helps increase the effectiveness of cervical mucus. It helps with PMS and is best taken from menstruation to ovulation.

Flaxseed Oil helps treat menopausal symptoms, menstrual cramps, female sterility and endometriosis by evening out a woman's estrogen-progesterone ratio and improve uterine functioning.

Please always do your research and consult with your physician, naturopath, or health care provider before taking any home remedies or supplements or following any treatment suggested on this page. Only your health care provider, personal physician, or naturopath can provide you with advice on what is safe and effective for your unique needs or to diagnose your particular medical issue.
You Should Also Read:
Herbal Remedies


Related Articles
Editor's Picks Articles
Top Ten Articles
Previous Features
Site Map





Content copyright © 2023 by Bettina Thomas-Smith. All rights reserved.
This content was written by Bettina Thomas-Smith. If you wish to use this content in any manner, you need written permission. Contact Bettina Thomas-Smith for details.