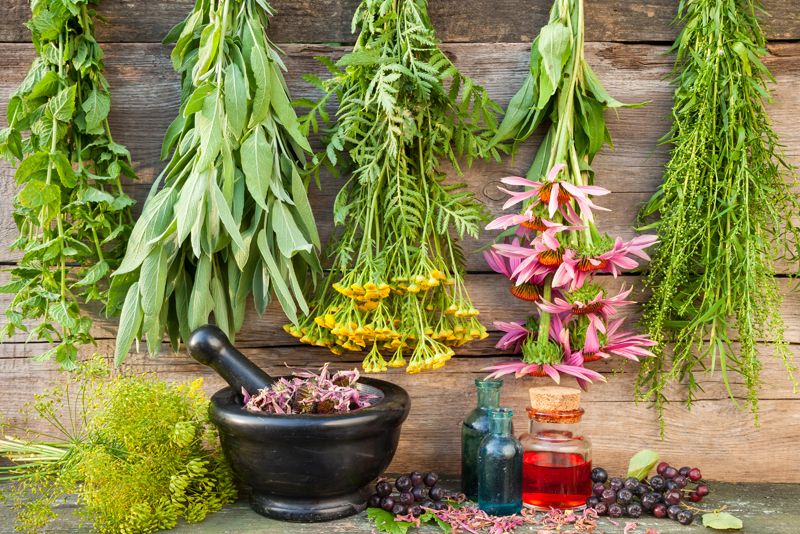 Okay, I know what you are thinking, "Herbal Flash what?" Has she gone off her rocker? Well, some days it may feel like that. Those days when you crank up the air conditioning when it is -30 below or you sit in a tub of ice cubes just to cool down. That may seem a bit drastic, but when you are among the 50 million women suffering through Menopause, you know that I am talking about hot flashes. Those dreaded heat-ups that cause you to sweat buckets even when people are in their winter parkas and there is 4 feet of snow outside!

As if hot flashes aren't enough, there is the night sweats, insomnia, depression, irritability, mood swings, weight gain, loss of memory and/or concentration, dizziness, aches and pains. It is interesting that 80% of American women experience hot flashes, whereas only 10% of Japanese women do.

With that significant variation, could it be that their diet, beliefs and holistic approach can make such difference? The treatment prescribed by most doctors is HRT – Hormone Replacement Therapy and ERT – Estrogen Replacement Therapy. Unfortunately, studies have shown that these have more risks than benefits. These include: stroke, heart disease, breast cancer and blood clots.

In addition to making changes in your diet try adding Soy, Flaxseed, Calcium, Vitamin D and Omega 3 fatty acids as well as eliminating or at least decreasing the amount of caffeine and carbonated beverages which contain phosphorus and may lead to osteoporosis.

Excess sugar can impair the liver's ability to produce estrogen as does commercially raised meats that contain a lot of saturated fat that hinders the body's capability to metabolize estrogen. Implementing an exercise routine as well as acupuncture can be a great start. But if you find you need additional help, herbs may be what the doctor ordered. They are safe and effective without the terrible side effects of traditional medication and therapy.

There are two types of herbs that we can use for the relief of menopausal symptoms. They are broken down into two groups: Phytoestrogenic and Non-estrogenic. The first contains phytoestrogens that are comparable to estrogen. The second doesn't contain estrogen and these are used when you want your own body to produce its own hormones. Both help in relieving the symptoms, but the Phytoestrogenic herbs introduce hormones into the body, whereas the non-estrogenic herbs assist the body to create the hormones needed.

Top 10 Recommended Herbs:

1. Black Cohosh – effective for night sweats, hot flashes, mood swings, sleep and even depression. This is to be used for SHORT periods only. Dosage of 40 mg tablet recommended daily.

2. Red Clover – used for treating night sweats, cardiovascular health, hot flashed and bone loss. The isoflavones in this help to balance the body's estrogen levels and taking 40 mg capsules up to twice daily is suggested.

3. Ginseng – helps restore hormonal balance, thus helping with memory loss, fatigue and allergies. Dosage: 100-500 mg twice daily.

4. Don Quai – helps to regulate hormonal imbalance associated with hot flashes, night sweats, mood swings, etc. Dosage: ask your health care provider and/or naturopath.

5. Ginkgo – helps to raise hormone levels and is excellent for memory and sleep disorders. Dosage: 40-240 mg divided into two servings.

6. Macafem – normalizes hormones, boosts energy and desire, thus helping with irregular periods, hot flashes, night sweats, mood and loss of desire.

7. Evening Primrose Oil – hot flashes, night sweats, mood and sleep. Take 500 mg up to three times daily.

8. Three others to look at: DHEA, Hops and Wild Yam.

Since there can be harmful interactions with these or any herbs, always consult your doctor and/or naturopath before taking anything – natural or not. They will be able to give you the right combinations and dosage and help you find the best combination suited just for your needs.

The first item will help, the second is my feeling of "just go with it" and have a laugh!




Related Articles
Editor's Picks Articles
Top Ten Articles
Previous Features
Site Map





Content copyright © 2023 by Bettina Thomas-Smith. All rights reserved.
This content was written by Bettina Thomas-Smith. If you wish to use this content in any manner, you need written permission. Contact Bettina Thomas-Smith for details.