Herbs for Flu and Cold Season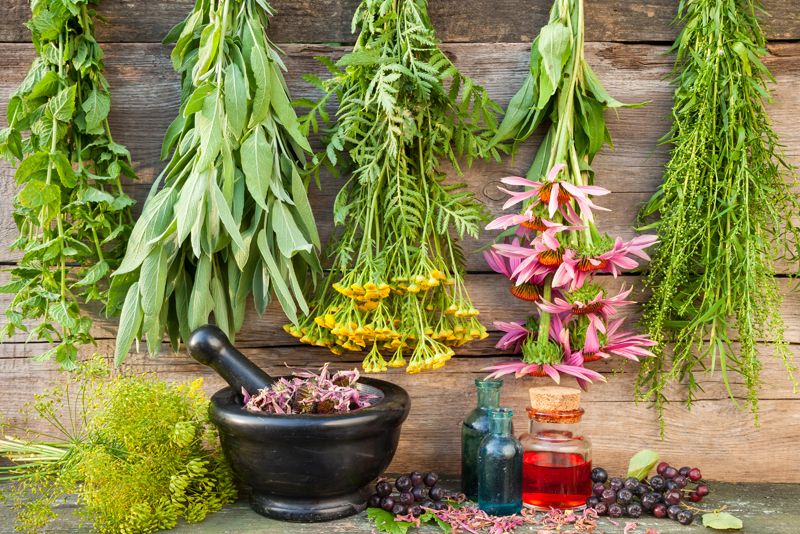 With the stress of the holidays behind us and the winter in full swing, our immune systems are down, and more susceptible to catching those nasty little flu and cold bugs that creep up on us. With the help of some amazing herbs, you can cut and even repel these viruses.

Try out some of these great plants for yourself and keep some on hand in your pantry at all times, you never know when they will strike!

Echinacea is my favourite and number one on my list. We take it starting November and continue through until spring. Native Americans may have used Echinacea for more than 400 years to treat infections, snake bites and wounds, as well as a all-purpose treatment. This herb can keep immune systems well and strong, shielding it from common pathogens like the influenza virus. It has been shown that Echinacea extract works against an enzyme called hyaluronidase that tears down the body's defenses against diseases. Studies also suggest that Echinacea may be helpful in not only destroying viruses like certain strains of influenza but slowing tumor growth. Its anti-bacterial effect makes it a great herb for treating many viral and bacterial diseases. Echinacea is an exceptional blood cleanser, it helps to brush away dead cells and other debris through the lymphatic system and it sends out white blood cells to fight the infection.

Elderberry has been used for centuries as a tonic for colds, flu and sinus infections. It has also contains viburnic acid, a compound that encourages perspiration and aids in detoxifying body tissues which helps the body reduce fever, purify the blood and cleanse the body's cells of pathogens. Elder has many other health attributes as well and is even safe for children. At the first sign of the flu make some elderberry tea with yarrow and peppermint right before bed to induce sweating and encourage a good night's rest.

Ginger has been used for the treatment of digestive problems, stomach upset and nausea for more than 2,000 years, but ginger has long been a popular natural remedy for a variety of ailments such as the common cold, flu-like symptoms, headaches and painful menstrual periods. It can also be taken in high-dose supplement form to aid the immune system in warding off and killing the flu virus.

Garlic is very successful in improving the function of the immune system and should be taken beforehand to avoid catching the flu or colds. It has anti-bacterial properties that help the immune system to fight infection as it contains several helpful compounds, including allicin, one of the plant kingdom's most potent antibiotics. Garlic combines well with Echinacea and collectively makes strong fighting power against infections.

Yarrow is great to treat the fever associated with the flu and can be used in combination with Elder to fight this debilitating symptom.

Elder is useful to treat sinus congestion and fever. There are several sinus congestion teas that have dried elder flowers as the major factor.

Marshmallow root has been used for centuries to treat sore throat and coughs due to many different viruses. It is very helpful in relieving the irritated throat passages and relieving lung congestion due to mucus buildup.

Thyme is an extremely powerful antimicrobial which has been used to treat respiratory infections.

Sage also has antimicrobial properties and can be used to gargle with help relieve sore throat symptoms.

Ginger is another of natures' antiviral herbs which contain nearly a dozen antiviral compounds. Ginger is pain relieving, antiseptic and antioxidant and is priceless for preventing and treating colds, sore throats and inflammation of mucus membranes. It also reduces pain and fever and has a mild sedative effect that will encourage rest.

Please always do your research and consult with your physician, naturopath, or health care provider before taking any home remedies or supplements or following any treatment suggested on this page. Only your health care provider, personal physician, or naturopath can provide you with advice on what is safe and effective for your unique needs or to diagnose your particular medical issue.


Related Articles
Editor's Picks Articles
Top Ten Articles
Previous Features
Site Map





Content copyright © 2023 by Bettina Thomas-Smith. All rights reserved.
This content was written by Bettina Thomas-Smith. If you wish to use this content in any manner, you need written permission. Contact Bettina Thomas-Smith for details.