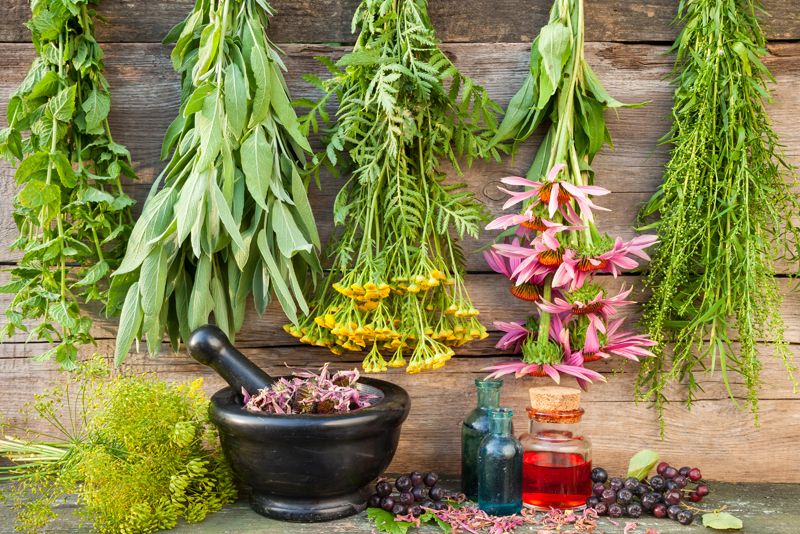 Have a little time on your hands? Have tea, herbs and a steeper? Fresh and dried herbs have been used to make infusions with medical properties have been in use since the beginning of time. Try making some infusions that are not only pleasing to the palate but will do the body good as well!

Infusions

According to Wikipedia: An infusion is a very simple chemical process used with botanicals that are volatile and dissolve readily, or release their active ingredients easily, in water, oil or alcohol. The botanicals are typically dried herbs, flowers or berries. The liquid is typically boiled (or brought to another appropriate temperature) and then poured over the herb, which is then allowed to steep in the liquid for a period of time. The liquid may then be strained or the herbs otherwise removed from the liquid. Unless the infusion is to be consumed immediately, it may then be bottled and refrigerated for future use.

The amount of time the herbs are left in the liquid depends on the purpose for which the infusion is being prepared. Usually steeping for not more than 15 to 30 minutes, or until the mix cools, will create a beverage with optimal flavor. Steeping for a longer time typically results in a somewhat bitter-tasting infusion. Four (4) hours, however, is a more appropriate length of time for achieving herbal potency if health benefits are the priority. Quantities of the herb and liquid used will vary according to the herb or how strong the infusion is required to be. A common proportion used is 28 g (one ounce) of herb to 0.5 L (one pint) of liquid.

There have been several accessories and techniques for removing the steeped or left over products that were used to infuse liquids such as water, oil, or alcohol. Tea infusers work as strainers and assist in removal of used herbs, leaves from over steeping or leaving residues. French presses are commonly used to infuse water with various teas and coffee. There are product lines such as Zing anything that are easy on the go beverage and oil infusers. Lastly, and most commonly used, the tea bag. Tea bags today are made with filter paper and filled with various tea flavors.

A common example of an infusion is tea. Many other drinks (for instance, so-called "herbal teas") are prepared in the same way. Lemon, chamomile, senna, apple, ginger, rooibos, and a great many other plants are used individually or in combination. Herbal infusions in water and oil are both commonly used as herbal remedies.

Plants with desirable flavors may be steeped in an edible oil or vinegar for an extended period; the infused oil or vinegar is often sold still containing the plant, and is then used as flavoring. Chiles, lemon, garlic, and many other plants may be used. There can be ambiguity in the labeling of these oils: for example, what is described as sesame oil may be oil extracted from sesame seeds, or another vegetable oil infused with sesame.

Relaxing Night Time Tea

Quarter cup dried Chamomile flowers
2 TBSP dried Peppermint
1 TBSP dried Red Clover
1 quart boiling water

Add dried herbs to a quart jar. Pour boiling water to the top of the jar. Place a lid on the jar and steep for 2 hours up to overnight. Strain liquid through a fine mesh tea strainer or cotton cloth. Discard dried herbs and store herbal tea infusion in the refrigerator until ready to use. For a cup of tea, pour into a cup and warm. Add honey to taste. Sip and enjoy.

Sore Throat Tea

Quarter cup dried Chamomile Flowers
3 TBSP dried Peppermint
1 TBSP dried Sage
1 quart boiling water

Follow directions for making herbal teas. This recipe is great for colds that come with sore throat and congestion. Sage is a great herb for helping breakup phlegm and easing a sore throat. Warm up a cup and add honey and lemon juice to taste.

Please always do your research and consult with your physician, naturopath, or health care provider before taking any home remedies or supplements or following any treatment suggested on this page. Only your health care provider, personal physician, or naturopath can provide you with advice on what is safe and effective for your unique needs or to diagnose your particular medical issue.


Related Articles
Editor's Picks Articles
Top Ten Articles
Previous Features
Site Map





Content copyright © 2023 by Bettina Thomas-Smith. All rights reserved.
This content was written by Bettina Thomas-Smith. If you wish to use this content in any manner, you need written permission. Contact Bettina Thomas-Smith for details.