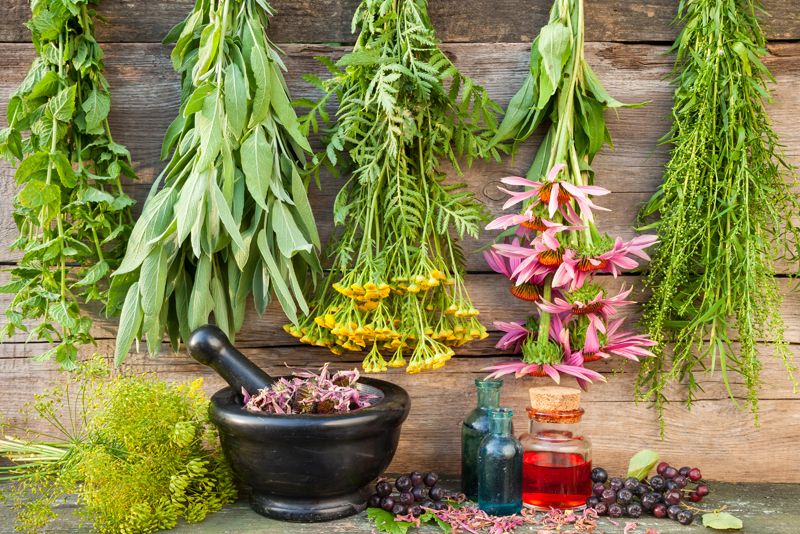 Seems there are more uses for this great herb than hanging a bunch of garlic bulbs around your neck to keep vampires away (or your significant other if you've eaten too much). In ancient times, it was used as a powerful ward against werewolves, demons and vampires.
Garlic (
Allium sativu
) is a relative of the onion, leek, shallot and chive family. Used for over 6,000 years, it got its start in Asia and is now a staple in Mediterranean cooking as well as being widely used in Europe, Africa and North America for seasoning. This tasty little morsel is still used today for both culinary and medicinal purposes.
Today, this tasty herb is great for helping your garden grow; which means, getting rid of fungus, bugs and some four-legged pests that can destroy all your hard work. Having been into ecological efforts and not wanting pesticides near us or our pets, we have used garlic and other "natural" concoctions for many, many years. Most of them work better than their chemical counterpart.
So fret no more…here's garlic to the rescue!
Must Have List
• Garlic
• Onion & Chives (if you don't have garlic)
• Hot Peppers (ground Cayenne will do)
• Baking Soda
• Dishwashing liquid (NON-antibacterial)
• Baby Shampoo
• Vegetable oil
• Spray Bottle
• Glass Jar
• Watering Can
Fungus Recipe
Take 4 garlic cloves and crush, add half a cup of baking soda and pour into 1 gallon (3.78 litres) of water. Bring to a boil and let cool. Strain into a watering can and soak problem areas thoroughly so that the tonic penetrates deep into the soil. This recipe helps keep your flowers and vegetables healthy and happy.
Pest Recipe
Take your glass jar, and put 1 whole garlic bulb mixed with 1 cup of vegetable oil. Screw lid on tight, let sit for a couple days until odor is overpowering. Strain liquid into fresh jar and keep in refrigerator until ready to use. Take 1 tablespoon of this mixture and add with a quart of water and a few drops of dishwashing liquid into a blender…pour into a spray bottle. You are now armed and ready to get rid of whiteflies, aphids and destructive worms and caterpillars.
Aim only at those pests you want removed from your plans and garden.
Gentle Bug Spray
This repellent is kind to even the youngest plants, turning those munching pests into compost by using this: take approximately half a cup of crushed garlic and two cups of water…mix together and let stand for several hours. Pour mixture into spray bottle and have a go at your plants at least once a week…reapplying after a rain. Be sure to pay attention to new shoots and buds so those insects won't do any more damage.
Here's to a healthy summer garden that will show you a great harvest come fall! Just a little planning in spring and summer can help your garden flourish without worrying about damage to your vegetables, flowers, pets and even yourself. So show those pain in the neck bugs whose boss this year and reap the rewards.
Please always do your research and consult with your physician, naturopath, or health care provider before taking any home remedies or supplements or following any treatment suggested on this page. Only your health care provider, personal physician, or naturopath can provide you with advice on what is safe and effective for your unique needs or to diagnose your particular medical issue.


Related Articles
Editor's Picks Articles
Top Ten Articles
Previous Features
Site Map





Content copyright © 2023 by Bettina Thomas-Smith. All rights reserved.
This content was written by Bettina Thomas-Smith. If you wish to use this content in any manner, you need written permission. Contact Bettina Thomas-Smith for details.