Italian Parsley Facts and Information
If you subscribe to my newsletters here at the Home Cooking site, then you will be familiar with my influx of fresh herbs in most of my recipes. I love them! Fresh herbs are awesomely aromatic - you just have to sniff them to know … and you say....Aaahhh!
There are so many healthy and medicinal properties associated with fresh herbs that you probably didn't realize as well. So, together we will explore these every couple of weeks starting this week with 1 of my 4 favorites, parsley.
Sage, Rosemary and Thyme are my other 3 - I call these my "fab four" they kind of remind me of the Beatles! And they are my go to herbs for great flavor, only because I can always find them in my local market. And, you won't be without a recipe either - I'll either give you a link to one of my recipes which incorporates fresh herbs or it will be a new one - or both. So we'll get to these one by one!
I do believe that my recipes taste so much earthier, flavorful and more comforting using fresh herbs. Not that I'm degrading the dried herbed varieties, as these too have the same nutritional properties as fresh herbs which I use often in many recipes. I keep the dried herbs stocked in my pantry at all times, just in case my local market is out of something that I need. But for me, whenever I can I use fresh!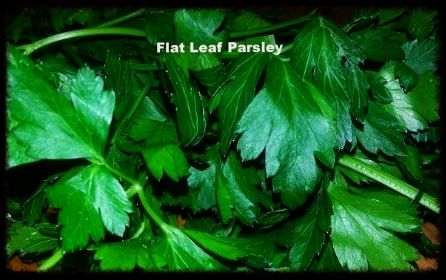 Parsley:
comes in the form of flat leaf or the curly variety. I prefer the flat leaf parsley as it has more flavor than the other. Flat leaf parsley looks very similar to fresh cilantro (another of my favorites,) so if you are unsure as to which one is which in the market, just smell it. Cilantro will smell strong and parsley will have more of a fresh and milder scent. The flat leaf parsley has pointed leaves, whereas the cilantro has rounded off leaves. And, if you're still unsure – hey! Ask the produce guy!
Nutrition and Facts:
Parsley contains many nutrients including vitamins C, B12, K and A. Eaten regularly, parsley keeps the immune system strong as well as toning your bones and helping to heal the nervous system. Parsley has anti-inflammatory properties so if you suffer from joint pain, it will help. Parsley is also a benefit for those of us who have high blood pressure, too.
One Amazing Fact!
Parsley contains Apigenin - and in a study in Cancer Prevention and Research it was found that Apigenin blocks the formation of new blood vessels that tumors love to thrive and grow on in certain types of breast cancers. Although research is still ongoing, this is an amazing preventative herbal supplement to add to your diet any time.
Uses:
When restaurants add that little sprig of parsley on your plate, it's not just there as decoration. The parsley is intended as a palate cleanser after your meal, so that you can enjoy your next course. So, garnish your plates or add a handful of fresh parsley leaves to your daily salads. Chop a whole bunch and add to soups during the last 5 minutes of cooking - or incorporate fresh parsley into casseroles and stove top skillet meals during the last few minutes for that fresh flavor.
And...
Try drinking parsley tea daily (recipe below.) Parsley tea has the same nutrient values as if you were eating it raw in a salad. So, if you're not a salad eater but love tea - it's a great way to add this wonderful nutritious herb into your diet.
So why not try sipping this daily - and add a splash of honey too as a sweetener. It's all good, hot or cold!
Parsley Tea
Makes 4 cups
Bring 32 oz. (4 cups) of cold water to a rolling boil.
1 packed cupful of parsley leaves, rinsed and roughly chopped.
Place one 1/4 cup of leaves in the bottom of a cup and pour in 8 oz.of the boiled water.
Cover and let the tea steep for 5 minutes or more.
Strain or remove the parsley leaves with a slotted spoon and enjoy!
Make a large batch and keep it in the refrigerator, warming it up as needed.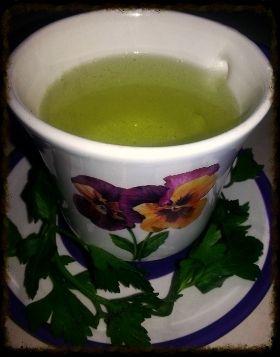 You Should Also Read:
Visit my sister site for hundreds of great home cooked regional recipes
Visit Bettina - She's the guru of herbs!
Spaghetti alla Cabonara with Fresh Herbs


Related Articles
Editor's Picks Articles
Top Ten Articles
Previous Features
Site Map





Content copyright © 2022 by Allyson Elizabeth D´Angelo. All rights reserved.
This content was written by Allyson Elizabeth D´Angelo. If you wish to use this content in any manner, you need written permission. Contact Allyson Elizabeth D´Angelo for details.