When you combine oriental Chinese food, the flavors of Malaysia, the sauciness of Indian cooking and aromatic spices of Arabia - you end up with Thai food. Thais use lots of fresh vegetables, chilies and spices along with small portions of meats, seafood and poultry in their dishes.
This Thai Style Chicken Ginger Stir Fry recipe is very easy to make and is ready in 30 minutes. You don't need a big fancy wok to stir fry, a large skillet will work just fine. As there is a little chopping involved in this recipe, it's wise to prepare all of your ingredients as listed in the recipe ahead of time before you start to cook. This way, the process of stir frying will go smoothly.
Any recipe you make is always open to interpretation, so feel free to experiment by adding chilies or substitute ingredients as you wish. Any type of mushroom, for example, will work well in this recipe as would a green bell pepper instead of red. This recipe serves 4 people very well. Enjoy!
Ingredients
2 large boneless chicken breasts, cut into bite sized pieces
Kosher salt and ground black pepper
3 tbsp. olive oil
1 large sweet onion, diced
1 large red bell pepper, diced
3 green onions (scallions)
3 cups Asian mushrooms, sliced
2 tbsp. gingerroot, sliced into thin matchsticks
1 small can bamboo shoots
4 tbsps. Oyster sauce
3 tbsps. Fish sauce
2 cups chicken stock
1 tbsp. cornstarch and water (optional)
Chopped cilantro for garnish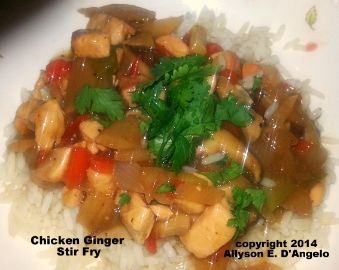 Method
1. Brown the chicken in a frying pan over high heat. You will have to wait for the steam to evaporate for a while and it will then begin to brown. Set aside.
2. In the same pan, still over a high heat, add the olive oil and the next 5 ingredients. Stir fry until the bell peppers and onions begin to soften, then add the bamboo shoots, chicken, oyster and fish sauces. Combine well and continue to stir fry for 2 more minutes. Add the chicken stock and stir in. Cook for 5 minutes more.
If you wish to have a thicker sauce add the cornstarch slurry and bring to a boil and cook for 1 minute more. Add more chicken stock if you want this dish to be saucier. Taste and adjust the flavor with more oyster or fish sauce as you like if necessary. Serve over rice and garnish with cilantro.