Quick Malt Balsamic Pickled Onion Recipe
There are so many methods and techniques used to pickle onions. But the question is, in what manner do you want to pickle? Do you want the sliced or the whole quick onion recipe – or maybe the one that takes from 2 - 4 weeks to mature into the delicious and tangy crunchy orbs that they are?
Whichever method you choose, they come out tangy, crunchy and make you want to make more. This article uses my 24 hour quick pickling method. If you have leftovers after the day you consume, they will keep great in the refrigerator for at least one month.
Growing up in England, I munched on malt vinegar (pub style) pickled onions with fish and chips as well as a tasty Ploughmans lunch. If you're not familiar with what a Ploughmans lunch is (the Ploughman is the farmer) - it was simple affair and everything was home made by his wife, the home cook, who grew and cooked everything from scratch.
This easy lunch made with love by his endearing wife, sent the ploughman out into the field with a simple, yet substantial lunch box to keep him going until he returned tired and hungry for dinner. There are many variations of the Ploughman's lunch today, especially in the British pubs.
Some variations may include meats such as ham and a slice of pork pie (recipe link below.) The staples on the plate though, would undoubtedly include pickles, home grown salad ingredients, regional chunks of cheese, pickle relish and of course my favorite, pickled onions.
In this recipe, I combine malt and balsamic vinegars along with a touch of Worcestershire sauce and honey to balance the acidity. However, you can substitute the same quantity of granulated sugar if you wish. When purchasing your onions, choose nice papery onions - they should be firm with no soft spots. Cipollini onions look like a small squashed baby onion.
This recipe is easy to prepare, but there's just one snag - the peeling of the onions is tedious. However, I have given you a simple technique in the recipe to rid you from frustration, so that the peeling of the skins will be a cinch (pictured right.)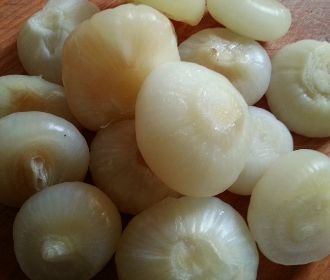 My Quick Malt and Balsamic Pickled Cipollini Onion recipe is great with an old fashioned plate like the ploughman's lunch, served alongside antipasti and fantastic sliced onto a sandwich to give that boring lunch meat a little kick. A simple, easy to make recipe which may start you canning!
Ingredients
1 lb. cipollini onions
1 1/2 cups malt vinegar
1/2 cup balsamic vinegar
3 tbsp. honey (or granulated sugar)
2 tbsp. Worcestershire sauce
3 cloves of fresh garlic, peeled and smashed
1 tbsp. kosher salt
Method
1. First, start by placing the unpeeled onions in a pan and cover them with water. Bring to a boil, reduce the heat to medium and cook for 5 minutes. Drain and place them back into the pan and cover with cold water. Change the water frequently until the onions begin to cool down. After a while you will be able to remove the skins with no problem. Trim the hairy root end but leave this intact. Carefully squeeze the onion from the root end and slice off the pointed end, exposing the layers of onion. Set aside.
2. In the same pan, combine the vinegars, honey, Worcestershire sauce, smashed garlic and salt. Bring to a boil, reduce the heat to medium and cook until reduced by one third. If you are not sure what one third is by eye-balling it then look at the mixture and it will become a little darker and syrupy (but not like pancake syrup) but still loose. Or after about 5 minutes of reduction it should be done.
3. Next, you will need one sterilized glass jar and lid. You can achieve this by buying mason jars or using something in your home. These will need to be covered and boiled for 5 minutes, along with the lids.
4. Finally, place the onions into the jar, cover with the vinegar mixture and seal. You can sit these in a cool, dark place like a pantry cupboard and they will mature faster. I refrigerated these and after 24 hours they were a quick pickled onion fix. I would have loved to leave them for a few more days, but my kids were busting my chops for them.
By the way, they are all gone! :)
You Should Also Read:
Visit my other site American Regional Cuisine for more great recipes
Hearty Rustic Pork Pie with Bacon Recipe


Related Articles
Editor's Picks Articles
Top Ten Articles
Previous Features
Site Map





Content copyright © 2022 by Allyson Elizabeth D´Angelo. All rights reserved.
This content was written by Allyson Elizabeth D´Angelo. If you wish to use this content in any manner, you need written permission. Contact Allyson Elizabeth D´Angelo for details.