Depression Hurts But Herbs Can Help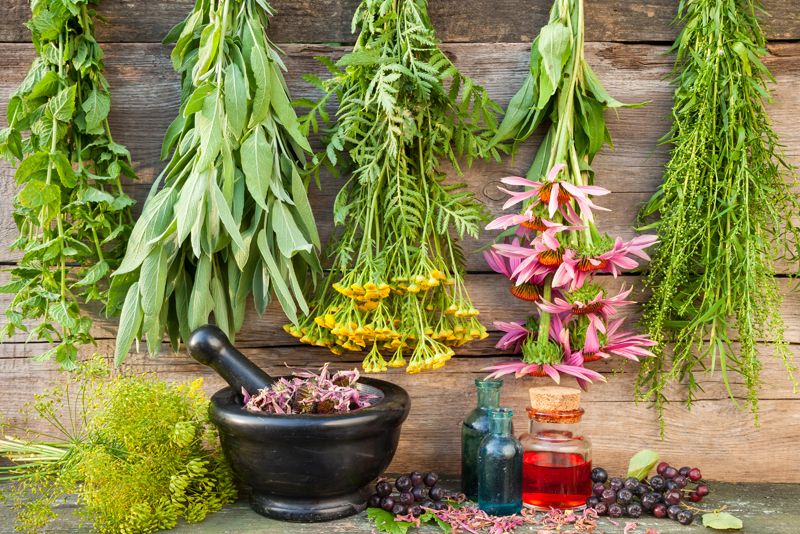 The Wikipedia encyclopedia describes depression as a state of low mood and aversion to activity that can affect a person's thoughts, behavior, feelings and physical well-being. Depressed people may feel sad, anxious, empty, hopeless, worried, helpless, worthless, guilty, irritable, or restless. They may lose interest in activities that once were pleasurable; experience loss of appetite or overeating, have problems concentrating, remembering details, or making decisions; and may contemplate or attempt suicide. Insomnia, excessive sleeping, fatigue, loss of energy, or aches, pains or digestive problems that are resistant to treatment may be present.

In reading that definition, it would be an exaggeration to say we never feel sad, anxious, worried or guilty about something or other. That is life and we deal with issues the best we can, each in our own way. The problem is that most of us rather not talk about our feelings. It seems like if we don't say it, it doesn't exist. Truth is, it does and it is serious. Never turn your back on your health or someone you think needs assistance, you may save a life. When it becomes more than mere ups and downs and it interferes with your life, job and relationships, it might be time to seek professional help.

In the US alone, it is estimated that 1 in 10 have depression, with the majority being women between the ages of 40-65 years of age. Antidepressants are reportedly the third most common drug used by persons aged 12 and older. If you have been diagnosed with Depression, there are as many avenues to recovery as there are types of the disease; major depression, dysthymia, SAD and bipolar disorder. Always listen to what your family doctor and psychiatrist's advise before making your own decision.

Traditional or natural route? Again, it depends on your doctor, doing your homework and what feels comfortable for you. Learn all you can about antidepressants and herbal alternatives so you can make and informed decision on what course of action is best for you. Both avenues can help with depression symptoms, but aren't a total cure and conventional medicine comes with many side effects and drawbacks.

Traditional drugs used in the treatment of depression include SSRI's - selective serotonin reuptake inhibitors (Prozac, Zoloft, Paxil), atypical antidepressants, TCA - tricyclic antidepressants and MAOI - monoamine oxidase inhibitors. While the side effects are common (nausea, insomnia, restlessness, weight gain, anxiety, tremors, headaches, gastrointestinal problems, etc.) it is the seriousness that makes most stop taking their medications. It has been shown that some of the effects go away after the first few weeks to a month of treatment, while others can continue or even become worse.

In our situation, we chose the holistic way and found these herbs have made an incredible difference in mood, mood swings, temperament, anger and outlook on life.

These herbs include:

• St John's Wort (Hypericum perferatum) This personally has been a miracle worker for us. It has even been compared to the drug Prozac, but without the serious side effects. This plant has even been used for thousands of years to celebrate summer solstice; it is still used in pagan festivals to cleanse the body of evil spirits by tossing the herb into the fire. The standardized extract of this herb has great potential in improving depression and anxiety, plus helping with insomnia, often associated with the disease. Always talk to your doctor and pharmacist before taking medication with this to be sure it won't interact with any medications you may be taking. *My husband has recently had to take Lyrica/Gabapentin and continues with the St. John's Wort with no ill effects. He's been taking the herb for three years, three times a day.

• 5-HTP - 5-Hydroxytryptophan is a natural antidepressant and found to enhance serotonin, a neurotransmitter in the brain that regulates mood.

• Lemon Balm is considered to be one of the top herbs for depression. Used in tea it has been shown to reduce anxiety, encourage relaxation and ease nervousness.

• Rhodiola Rosea a plant shown for improving mood, restoring neurotransmitters in the brain to good wellbeing, and promoting overall emotional happiness.

• Passionflower (Passiflora incarnata) is non-habit forming and used to treat anxiety and insomnia. I love this herb in tea before going to bed. It can also come in a capsule form along with other herbs such as valerian, melatonin and hops. Very effective.

• Valerian Root (Valeriana officinalis) is most known for its calming effect, that is why is is great for anxiety and insomnia.

• Skullcap (Scutilaria lateriflora) works well in reducing nervous tension as well as headaches and anxiety.

• Other herbs known for treating depression: Thyme, Fennel, Sweet Basil Mugwort, and Blessed Thistle.

As always, please do your homework, consult your family doctor and your naturopath should you choose to go the holistic route. Ask a professional what to and what not to take, the dosages and what potential side effect the medicine and herbs will have for you. Whether you choose traditional, natural or a combination of both, it is ultimately your choice to discover what works best in your treatment and recovery.




Related Articles
Editor's Picks Articles
Top Ten Articles
Previous Features
Site Map





Content copyright © 2023 by Bettina Thomas-Smith. All rights reserved.
This content was written by Bettina Thomas-Smith. If you wish to use this content in any manner, you need written permission. Contact Bettina Thomas-Smith for details.