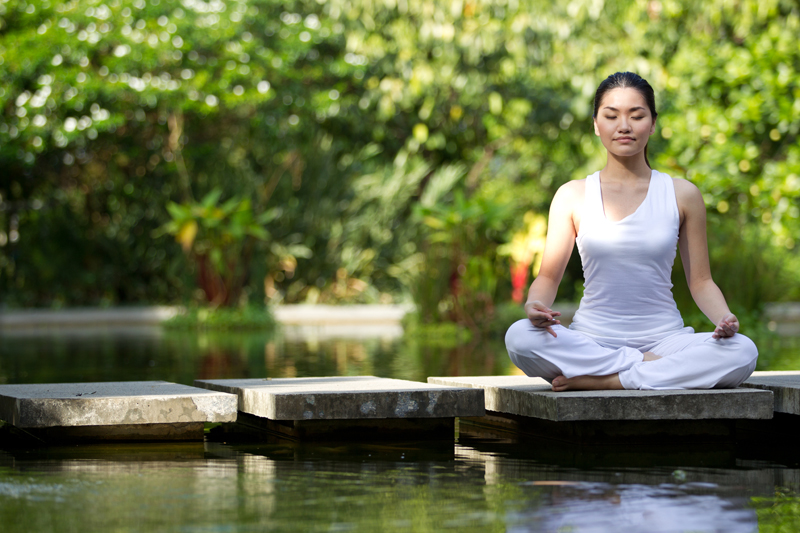 The goal of meditation is communing with our dear Creator and Sustainer, no matter what name or language is used. Spirit is spirit and not limited to a particular form. Spirit flows through all atoms, enlivening everything: people, places, things. Meditation is a universal experience for all.
This is a general meditation format for going deeper within the framework of your faith tradition. Adapt as you feel comfortable.
Meditation Outline
1. Choose a place to sit where you will be undisturbed. This could be at home, in a house of worship, outdoors in a garden or park or the beach.
2. Fold your hands in your lap, or place your palms facing down or up on your thighs.
3. Close your eyes.
4. Take a deep inhalation and exhalation to begin. Then relax your breathing into a regular pattern, such as one count to inhale, and one count to exhale. Keep up this rhythmic pattern throughout your meditation without actually saying the counts verbally or mentally.
5. Say an opening prayer in your thoughts, something uplifting and inspiring to put you in a positive frame of mind.
6. Make your individual prayer request at this time, or request peace for all.
7. Slip into the period of quiet reflection on a specific topic you have in mind, or for world peace. After your meditation session write out new ideas that come to mind in a journal for later review.
8. To go deeper into the quiet, listen to the sound of your regular rhythmic breathing, drawing your attention back to it if your mind wanders. Sustain this period of meditation as long as possible and enjoy the deep peace it offers. This is the experience to take back into everyday living. And the more often you meditate and develop this peace, the more this state of being will become an automatic guide when problems or situations arise.
9. Close your meditation with another deep inhalation and exhalation. Open your eyes. Write any insights in your journal. Go forward with your day, fortified and strengthened from your spiritual source within.
Meditation Lessons for Teens and Adults
More than 70 offerings, from guided meditation techniques to on-the-go stress relief and relationship meditations interspersed with verse, and a section of special occasion prayers. 114 pages. Ebook options and paperback.
Meditation for All Kids
Sitting, walking, dance and group circle meditations, along with positive affirmations, verses and benefits of meditation for kids of all ages and abilities in a 100 page book with illustrations. Ebook options and paperback.
NOTE: Sign up below or in the right-hand column for our meditation site newsletter. It only requires your email address and is never given out or sold to anyone. If at any time you wish to stop receiving it, each newsletter contains a link to unsubscribe. Make meditation part of your daily routine.
Article by Susan Helene Kramer


Related Articles
Editor's Picks Articles
Top Ten Articles
Previous Features
Site Map





Content copyright © 2023 by Susan Helene Kramer. All rights reserved.
This content was written by Susan Helene Kramer. If you wish to use this content in any manner, you need written permission. Contact Cat Hamilton for details.