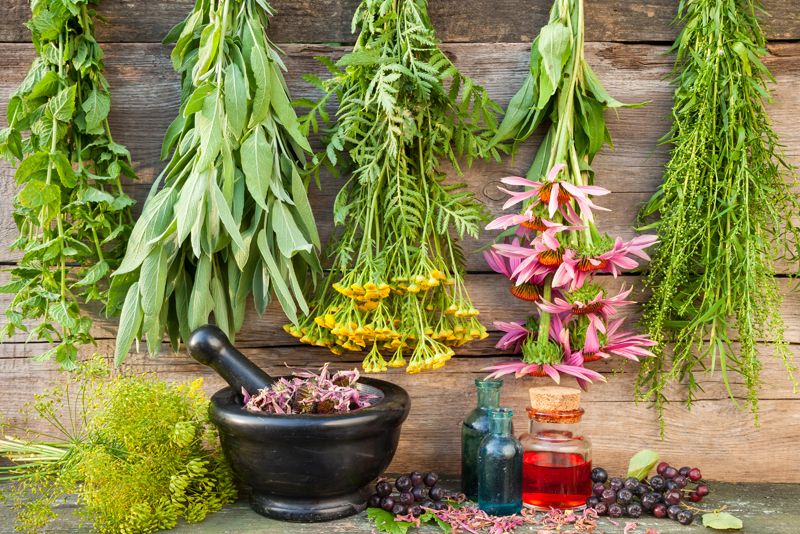 With Thanksgiving around the corner, we have many reasons to be grateful. We can be thankful for our family, friends and for waking up this morning. We can be appreciative that we have food on the table and clothes on our back when so many are less fortunate. This is the time of year to count our blessings, no matter how big or small they may be.
Parsley, Sage, Rosemary and Thyme…sounds like the lyrics from some 60's song doesn't it? But in reality, these are herbs that your pantry shouldn't be without, especially when it comes to that star of your dinner table on Thanksgiving.
The Menu:
Herb Roasted Turkey with Savoury Cornbread Herb Dressing
Turkey:
(*Tip-Remove the turkey from the refrigerator 1 hour before roasting.
1 (15-17 pound) turkey
1 1/4 stick unsalted butter, slightly softened
2 tablespoons each of finely chopped fresh sage, rosemary, thyme and parsley
Salt and pepper to taste
1 large carrot and celery cut into nice large chunks
1 lemon cut into chunks
2 large onions, cut into quarters
1 carton of chicken stock or water
Directions
Combine the butter, sage, rosemary, thyme, and parsley in a food processor and process until smooth. *Tip – I do this ahead of time by doubling the ingredients, that way I have enough left over for other recipes. I combine ingredients, put them on parchment paper, tuck and roll it into a log and twist ends, then place in the refrigerator or freezer until needed…all you have to do is slice the herb butter and it is delicious on everything, including under the skin of your turkey!
Preheat the oven to 350 degrees F. I prefer low and slow so after oven has reached 350 degrees, turn down to 325 once you put the turkey in.
| | | | | | | |
| --- | --- | --- | --- | --- | --- | --- |
| Weight in lbs | 8 | 12 | 14 | 18 | 20 | 24 |
| Time in hours-unstuffed | 2.75 | 3 | 3.75 | 4.255 | 4.5 | 5 |
| Time in hours-stuffed | 3 | 3.5 | 4 | 4.25 | 4.75 | 5.25 |
Dry the cavity of the turkey with paper towels before seasoning with salt and pepper. Toss in the carrots, celery, onion and lemon. Rub the entire turkey with herb butter (on top or under the skin) and season generously with pepper.
Chicken stock (half the container, the remainder will be used in the stuffing) can be used instead of water to flavour your bird.
Put the turkey in the oven for recommended times above, basting with the warm chicken stock every half hour, until your digital thermometer inserted in the thigh reads 160 degrees F. Once your turkey is cooked, remove from the oven, transfer to baking sheet and tent loosely with foil, and let rest 20 minutes before slicing.
Cornbread Dressing with Fresh Herbs
serves 10-12 *Tip-make the day before.
9 cups white sandwich bread, cut into 1/2-inch cubes
3 cups sweet cornbread, cut into 1/2-inch cubes
6 Tablespoons unsalted butter
2 medium finely diced onions and celery ribs
1 clove minced garlic
2 Tablespoons minced fresh parsley, thyme and sage leaves
2 cups chicken broth, divided
1/2 cup whole milk
3 extra large eggs
1/4 cup turkey drippings, reserved from roasted turkey
Preheat the oven to 250º F. Place the white bread and corn bread cubes on a large baking sheet. Bake 35-45 minutes until the edges are dry but the centers are still soft. Let cool, then toss the white bread cubes and the corn bread cubes in a large bowl and set aside.
Butter a 9x13-inch baking dish and set aside. Turn the oven to 375º F.
Melt butter in a large sauté pan over medium heat before adding the onions and celery. Salt and pepper to taste. Cook until the vegetables approximately 8-10 minutes and then add the garlic, thyme, and sage and sauté for 1 minute. Add 1/2 cup broth to deglaze the pan, scraping up any browned bits from the bottom. Pour the vegetable mixture over the bread cubes and toss to combine.
In another bowl, whisk the remaining chicken broth, half-and-half, and eggs. Pour this over the bread mix and add the parsley. Transfer the mixture to the baking dish. Pour 1/4 to 1/3 cup turkey drippings over the dressing and bake for 35-45 minutes or until the top is golden brown.
Bon Appetite!
Please always do your research and consult with your physician, naturopath, or health care provider before taking any home remedies or supplements or following any treatment suggested on this page. Only your health care provider, personal physician, or naturopath can provide you with advice on what is safe and effective for your unique needs or to diagnose your particular medical issue.


Related Articles
Editor's Picks Articles
Top Ten Articles
Previous Features
Site Map





Content copyright © 2023 by Bettina Thomas-Smith. All rights reserved.
This content was written by Bettina Thomas-Smith. If you wish to use this content in any manner, you need written permission. Contact Bettina Thomas-Smith for details.