Tomatoes - The Aztecs' Tomatl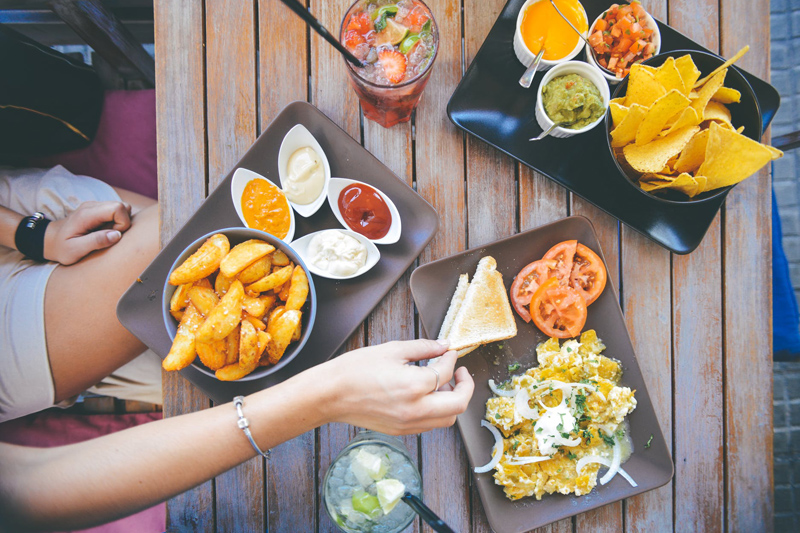 The Incas thought little of the vine with its small golden fruit. It was a weed which grew in their fields, among the bean and corn plants, and was not valued as a source of food. However, the vine slowly spread across the continent and, when it reached Mexico, the Aztecs began to cultivate it and eventually integrated it into their cuisine. It then crossed an ocean aboard a Spanish galleon and, having landed in Spain, wove its magic throughout Europe and set off to conquer the rest of the world. Today, the Aztecs' tomatl is grown in virtually every country, from Iceland to the Falkland Islands, and is an intrinsic part of countless gastronomies. It has always been known as pomodoro in Italy, but elsewhere a version of its Náhuatl name, tomatl, has stuck. Lycopersicon, the Latin name, translates into the considerably more exotic (and somewhat incomprehensible) Wolf Peach.
Jitomates © Philip Hood
The Aztecs regarded their tomatls as a symbol of good fortune from the gods, but this auspicious reputation did not follow them to Europe. On arrival from the New World in the early 16th century, they were relegated at first to the role of ornamental climbers and in fact viewed with great distrust: they were thought to be poisonous, due perhaps to their very dubious family connections, being members of the nightshade family and second cousins to henbane, mandrake and belladonna… They were also suspected of causing gout and cancer as well as inspiring lust. The Italians, however, had no such reservations. An Italian chef is reputed to have taken the pomi d'oro, or "golden apples", from Spain to Florence and dished them up to the Borgias who developed a great taste for them – and where would Italian cuisine be today without the small golden fruit of the Incas' wild vine?
Tomatls were not received with quite such warmth in Britain: John Gerard, a British 16th century herbalist, is said to have described them as "of ranke and stinking savour" and it was not until the 19th century that they were cultivated across the British Isles as a commercial crop and started to appear in cookery books, mainly as chutneys and pickles.
The tomato we are all most familiar with is red and round, in spite of the fact that long, oval tomatoes, and yellow tomatoes, have become quite commonplace over the last twenty or thirty years, and that farmers' markets often stock some very unusual varieties. However, the tomato family is infinitely more exciting than a trip to the supermarket would have us believe. Some years ago, when I was researching a magazine article on tomatoes, I set off on a tomato discovery expedition and was amazed to find that they come in all sorts of different shapes, sizes, colours, and even flavours – there are well over a hundred varieties of tomato and some of them are very flamboyant indeed - the lycopersicon clan turns out to be decidedly eccentric and the lesser known varieties of wolf peach are well worth seeking out. At West Dean Gardens in southern England, I found no less than 40 varieties of little tomatoes in one of the vast greenhouses, just one type per pot, with jolly names like sugar snack, sun baby and matt's wild cherry. The vines had run riot and curled into a canopy across the glass ceiling, virtually taking over the entire conservatory. They were laden with fruit at different stages of ripeness, four or five little tomatoes per truss, some round, others pear or plum-shaped, from bright butter-cup yellow through gold and copper to pink and poppy red. In other greenhouses, I found 'bush' tomato plants shaped like a crinoline, tall thin plants snaking up their supporting string like jungle lianas, tomatoes the size of a grapefruit and tiny tumbling toms joyfully cascading out of hanging baskets – my visit changed my understanding of the Aztec tomatl for ever!
These are some of the tomatoes which I have been lucky enough to find, enjoy and cook at different times:-
• orange banana, long, slender and bright orange, tasting more of apples than tomatoes
• yellow pear, barely 2cms long, acid yellow and perfectly pear-shaped
• green zebra, bright green with emerald stripes
• ochradell, yellow on the outside and lime green on the inside, citrusy and sweet
• Hilda's yellow beefsteak, craggy and misshapen, with a distinct hint of peaches and plums when cooked
• purple calabash, deeply ridged, turban-shaped, more strong pink than purple, with broad green shoulders
• and the most glamorous of all, La Noire Charbonneuse, a princess among wolf peaches, not black or even charcoal grey as the name implies, but with a shimmering, burnished copper skin tinged with verdigris and an intense, grapey, almost winey flavour.
Modern day Aztecs, however, cook with red tomatoes. The markets are packed with crates of big, juicy, sweet red tomatoes which positively sing with flavour, and although they appear regularly in salads, their main role in Mexican cooking is in sauces, both raw and cooked: this is where they take centre stage and where they display their versatility and their countless talents in the kitchen, and next week I shall be starting a series on the sauces of Mexico, from salsas to moles and pipianes.
You Should Also Read:
The Sauces of Mexico - Salsa Cruda
The Sauces of Mexico - Yucatecan Salsa Xnipec
Tomatillo, the Mexican husked tomato


Related Articles
Editor's Picks Articles
Top Ten Articles
Previous Features
Site Map





Content copyright © 2023 by Isabel Hood. All rights reserved.
This content was written by Isabel Hood. If you wish to use this content in any manner, you need written permission. Contact Mickey Marquez for details.