The Chillies of Mexico - El Poblano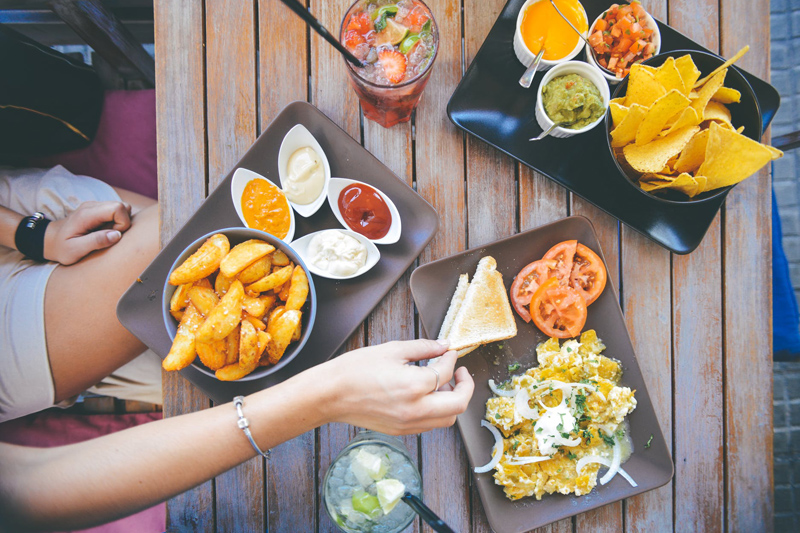 El Poblano, as its name implies, is a native of the state of Puebla but it makes an appearance in virtually all the regional cuisines of the country. It is a handsome chilli, mild-mannered, well fleshed, broad-shouldered, with a smooth shiny skin and a rich colour which varies from deep green to purple or near black when it is unripe, and a vibrant red as it matures. Its size, shape and thickness make it an ideal chilli for stuffing, and its most celebrated performance is in the famous "Chiles en Nogada", a dish virtually synonymous with Mexico's Independence Day celebrations on 15 and 16 September.
Chiles Poblanos © Philip Hood
While other fresh green chillies, like the jalapeño and serrano, are often used raw, the poblano is almost always cooked, and more often than not grilled or roasted, which intensifies its flavour and brings out a certain velvety smokiness. The skin, seeds and veins are then easily removed and the chilli is ready to stuff for "chiles rellenos", to cut into strips known as "rajas", to be blended into an opulent, creamy sauce or soup or added to a "mole" sauce or "guiso", stew, or just to bring colour and zest to "arroz verde", green rice. Furthermore, the poblano's role is very much that of a vegetable rather than a seasoning, and unlike the smaller chillies, it takes centre stage in dishes and is not relegated to a minor part in the whole. When dried, it becomes an "ancho" chilli, which I shall be writing about on another occasion.
The ideal cooking medium for a poblano chilli is a wood fire, as this somehow produces a wonderful earthiness – this is undoubtedly the way the cooks in the great market of Tenochtitlán charred their poblanos, but it is of course not always practical or easily available, however historically traditional! Grilling on a charcoal BBQ is the next best thing, considerably more accessible in summer at least, and straightforward to control, as the key is to cook the chilli enough to blister the skin and break down the flesh just sufficiently to make it malleable – softness is to be avoided at all costs, as there are invariably further cooking stages. In the modern kitchen, the most effective way of dealing with a poblano is to blast it with a blow torch or hold it over an open gas flame – and in the absence of a flame, an electric grill will do the trick. Once the skin is nicely blistered and blackened, the poblano can be sweated in a plastic bag or a covered bowl to loosen the skin even further - it can then be rubbed off without effort.
Chiles rellenos, stuffed chillies, are an extremely popular dish and a very authentic and Mexican way of preparing them is to dip them in a batter before frying them in oil. However, this does make them rather heavy and indigestible, and cooking them in the oven or poaching them in a sauce has become common and produces a lighter, fresher dish.
Real poblano chillies are not always easily come by outside Mexico or the southern United States but do not let this put you off trying out the recipe below. I have made it with bell peppers of all colours and although it is certainly not the same and lacks the warmth and spice of the poblano, it is still very delicious.
Poblano chillies stuffed with crab and sweetcorn – Chiles Rellenos de jaiba y elote
The poblanos in this recipe are filled with a luscious crab and sweetcorn mixture, bound with a delicate goat's cheese, and bathed in a light tomato "caldo" or broth.
Serves 2 as a main course, 4 as a first course
For the broth:-
30 ml/2 tbsp olive oil
200 g/7 oz onions, peeled and coarsely chopped
2 garlic cloves, peeled and crushed
350 g/12 oz tomatoes, coarsely chopped
375 ml/1 1/2 cups water
Sea salt and freshly ground black pepper
For the chillies:-
4 poblano chillies, about 150 g/5 oz each
30 ml/2 tbsp olive oil
175 g/6 oz onions, peeled and finely chopped
2 garlic cloves, peeled and crushed
225 g/8 oz tomatoes, coarsely chopped
2 small dressed crab or about 250 g/9 oz fresh crabmeat, a mixture of white and brown
100 g/4 oz tinned or frozen sweetcorn kernels, defrosted, rinsed and well drained
100 g/4 oz fresh goat's cheese
2.5 ml/½ tsp chipotle chilli powder, or to taste
5 ml/1 tsp dried Mexican oregano
60 ml/4 tbsp freshly grated Mexican queso añejo, strong Cheddar or Pamesan
Sea salt and freshly ground black pepper
Start off with the broth as it can be made ahead of time and keeps well. Heat the oil in a frying pan, add the onions and garlic and cook over medium heat, stirring regularly, until they are soft and golden. Stir in the tomatoes and some seasoning, turn the heat up and cook briskly until most of the moisture has evaporated. Transfer the vegetables to a food processor, add the water and blend until smooth. Check the seasoning and scrape it all back into the frying pan. Reheat before serving.
Cook the poblano chillies by holding them over a gas flame with a pair of kitchen tongs until the skin is blistered and black. If you do not have a gas cooker, preheat an electric grill to high; place the chillies on a foil-lined baking tray and grill them 5 cm/2 in from the heat, turning them as necessary. Place the chillies in a plastic freezer bag and set them aside for 15 minutes to sweat and cool. Remove from the bag and peel off the skin – it should come away easily.
Make the stuffing while the chillies are cooling. Heat the oil in a frying pan, add the onions and garlic and cook over medium heat, stirring regularly, until they are soft and golden. Stir in the tomatoes and some seasoning, turn the heat up and cook briskly until most of the moisture has evaporated. Remove from the heat and leave to cool while you deal with the chillies.
With a knife, cut a slit three quarters of the way down the side of each chilli. Open it carefully and scrape out the seeds and the veins. Try to leave the stalk intact but don't worry if it breaks away.
Stir the remaining ingredients into the stuffing and check the seasoning. Spoon into the chillies and place them in a baking dish where they fit snugly. Sprinkle with cheese. The chillies can be prepared up to this point up to 24 hours in advance and refrigerated. Bring back to room temperature before cooking.
Preheat the oven to 200oC/400oF/gas 6/fan oven 180oC and cook the chillies for 25 to 30 minutes, until they are soft and yielding and the cheese has browned.
To serve, place the chillies in deep, warm plates and ladle the hot tomato broth around them.
Buén provecho!
You Should Also Read:
The Chillies of Mexico
The Chillies of Mexico - El Mulato
Poblano Chillies with Cream Recipe


Related Articles
Editor's Picks Articles
Top Ten Articles
Previous Features
Site Map





Content copyright © 2023 by Isabel Hood. All rights reserved.
This content was written by Isabel Hood. If you wish to use this content in any manner, you need written permission. Contact Mickey Marquez for details.