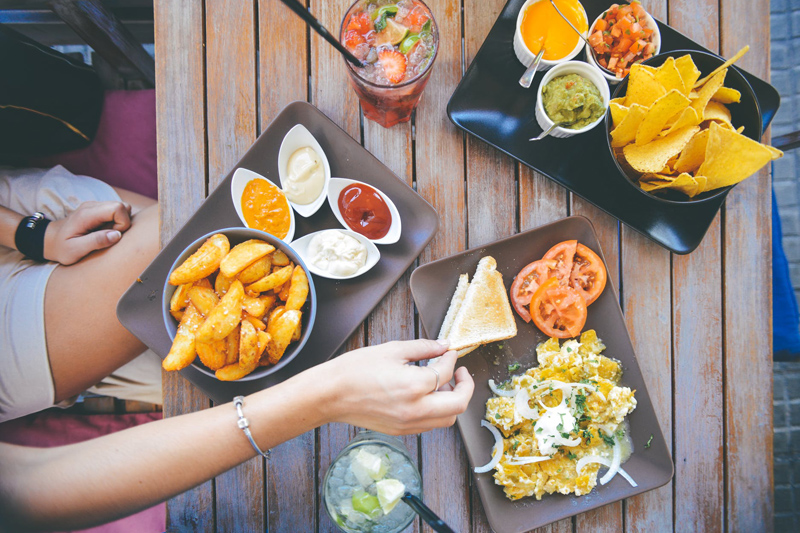 From their sunny homeland of Mexico to the sweltering heat of Kerala or the sandy beaches of Thailand, chillies are associated with warm climates and exotic dishes flavoured with coconut and cumin, coriander and cinnamon: aromatic curries and stir-fries, mellow "tagines" and gutsy "moles". It was therefore with amazement that I found out, when I first met Chillipepperpete nearly a decade ago, that he had planted a chilli heaven in his sloping back garden just a few miles from Brighton, on the south coast of England. His colourful stall, emblazoned with his fiery logo, stood out boldly at the food and farming festival being held at the Weald & Downland Museum in Sussex, and he was doing a roaring trade in fresh and dried chillies, as well as his handmade sauces, pickles and chutneys.

Peter Seymour's love of spices and chillies began in the early eighties when he lived in Goa for two years, but it was not until 1996 that he turned his full attention and focus towards food. He had been running a 'telephone room' of 125 employees for a major charity and, sick and tired of commuting, stress and struggling to meet targets, he decided the time had come to re-assess priorities and perhaps move in a new direction. The pull towards food was irresistibly strong and he felt that there was a gap in the market just longing to be filled: frozen meals. Not a new concept, certainly not a wildly exciting one! But your usual common-or-supermarket frozen meal was not what Peter had in mind. He was aiming at a niche market and a discerning, demanding public looking for high quality, healthy and unadulterated food.

Undeterred by his lack of professional training, he created the b.right.on.food co, put together a mouth-watering menu which took his clients on a culinary world trip, from Goa to Brazil, from Mexico to Morocco - in fact through the spicy, aromatic, chillied cuisines of the world - and as a one-man-band working from a home kitchen, began catering for parties as well as delivering his delicious meals to local homes, delicatessens and health shops.

As the business grew, so did the requirement for specialist ingredients, particularly dried chillies. Frustrated by poor availability and fat-cat middlemen, Peter finally decided to go straight to the source and started importing them in bulk direct from Mexico. A chilli internet mail order service seemed an obvious side line so a website was set up. Its immediate success led to the creation of chillipepperpete.com, and chilli powders and blends, as well as spicy chutneys and pickles from Peter's kitchen, were added to the fresh and dried chilli range. The best seller was and still is the chilli multipack, with 12 different dried chillies: apart from its decorative value, it provides a perfect opportunity for the adventurous cook to try out a wide spectrum of heats and flavours at a reasonable price.

The chilli business took a new turn two years later, when Peter and his family moved a few miles from Brighton to Ovingdean. At last he had somewhere, however small, in which to experiment and grow his own chillies. His timing was perfect: the long hot summer of 2003 saw him planting 30 varieties of chilli in his half acre back garden - plants native to Peru, Mexico, China and Indonesia thrived in the sun and warmth of Sussex, a chilli hotline was set up, and chilli heaven took root.

Chilli plants grow tall rather than wide and are therefore undemanding when it comes to space. By mid-summer, they can be 10 feet high, even if they are in a pot, and they will fruit steadily from June or July right through until November so Peter's little half acre was capable of producing a wealth of heat, spice and passion, and a crop of well over a hundred kilos in the second year from the 40 varieties he had planted. Some were sold at farmers' markets and food fairs, or to his mail order customers; some found their way into his wonderful pickles, sauces and jams (slim jim ketchup, or perhaps ají limón and lime); others still were smoked or processed in the dehydrator, thereby converting them into their dried counterparts: poblanos became anchos, jalapeños turned into smoky chipotles and chilacas ended up as pasillas. Needless to say, a good supply was always kept for home use: Peter's two children became chilli aficionados at an early age, helping with the watering and repotting, happily eating the mild caribes and poblanos, and eventually developing a taste for hotter stuff.

The last few years have seen the business expand well beyond its cottage industry beginnings, with a chilli shop in Brighton Marina and a second one planned for later this year in the romantic "Lanes" of Brighton, as well as a fully-fledged international chilli mail order service with clients all over the world. The half acre garden in Ovingdean has given way to a full scale chilli plantation in Spain, and Chillipepperpete is now one of the largest chilli importers in Europe, as well as a key purveyor of chilli seeds to British and European companies. The range of chillies has grown apace, including incandescent nagas, Peruvian ajís and "Aleppo Crush", as well as herbs and seasonings, oils and spices, "Bloomin Hot Cashews" and the alarmingly named "Extreme Ultimate Heat Box". Food writing has recently been added to Peter's skills, with a bi-monthly column in "Chaat", a magazine published by The Curry Club, and regular contributions to The Chile Foundry, a chilli website which is ablaze with chilli information, articles, news and fiery fun. But perhaps the most flamboyant achievement has been the creation of chilli "fiestas" countrywide, under the "Fiery Foods UK" label: the annual Fiery Food Festival in Peter's home town of Brighton is the flagship - during the middle weekend of September, the heart of the city throbs to the sound of Latin American music, food stands offer sizzling dishes from the four corners of the globe, chilli eating competitions take place, chilli awards are handed out, and professional chilli cooks, myself included, demonstrate fiery cookery – in my case, Mexican of course!


You Should Also Read:
The Chillies of Mexico
Chilli, Dynamite in the Kitchen
Mexican Antojitos - Enchiladas


Related Articles
Editor's Picks Articles
Top Ten Articles
Previous Features
Site Map





Content copyright © 2022 by Isabel Hood. All rights reserved.
This content was written by Isabel Hood. If you wish to use this content in any manner, you need written permission. Contact Mickey Marquez for details.