Lutein
is found naturally in dark green leafy vegetables like spinach and kale. It can promote healthy eye cells and tissues, improve your vision and has been shown to decrease the risk and even reverse age related macular degeneration.
But, it can only do these things IF you get the right kind.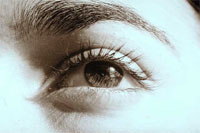 Here's the rest of the story. Lutein is just one of more than 600 carotenoids. Carotenoids are the coloring agents found in red, yellow, orange and dark green fruits and vegetables. Numerous studies link carotenoid antioxidant phytonutrients to reduced risk of cancer and heart disease, enhanced immunity and tissue protection.
But, consider this. All carotenoids, including lutein, work together synergistically. For example, although beta-carotene is a good antioxidant, alpha-carotene is an even better one, and the combination of alpha and beta-carotene is far better than either one alone. The same kind of synergy is necessary for lutein to work.
Taking a lutein supplement in an isolated form, or any other isolated carotenoid (such as beta-carotene, lycopene, zeaxanthin, etc.), can even be detrimental. Isolated beta-carotene, for instance, has been shown to significantly inhibit your body's ability to use other important carotenoids in other important parts of your body. This can cause a serious imbalance.
How should you get your lutein? Fruits and vegetables are the natural source of carotenoids for humans. And dark green leafy vegetables are the healthiest natural source of lutein.
But here's the problem. Most commercial manufacturers of food supplements use non-human food sources in their supplements. Why do they do this? Because they're cheap.
And here's the really scary part. Dunaliela salina (also known as pond-scum) is the most frequently used commercial source of carotenoids, whereas marigold (FloraGLO) is the most common source of lutein. But microalgae and marigold petals are not normal human foods. You certainly won't find them at any salad bar or deli.
What can you do? My recommendation is
Carotenoid Complex
. It's the only whole food, human-food sourced carotenoid supplement on the market. This product gives you a complete, natural, synergistic balance, which includes lutein from spinach, just as nature intended.
Carotenoid Complex is also the only supplement tested and proven effective by the U.S.D.A. and the Center for Disease Control and Prevention. Plus, the definitive research was published in the prestigious
American Journal of Clinical Nutrition
. It doesn't get any better than that – for your eyes and your whole body!
My recommendation can be found at:
www.carotenoid.net
For the Health, Weight Loss and Natural Nutrition Newsletter,
click here
.
Click here for the
site map
.
Articles you might also enjoy -
Momma Said, "Eat Your Vegetables"
Foods High In Carotenoids or Phytonutrients
Veggies and Vitamins For Vim, Vigor and Vitality
© Copyright Moss Greene. All Rights Reserved.
Note: The information contained on this website is not intended to be prescriptive. Any attempt to diagnose or treat an illness should come under the direction of a physician who is familiar with nutritional therapy.