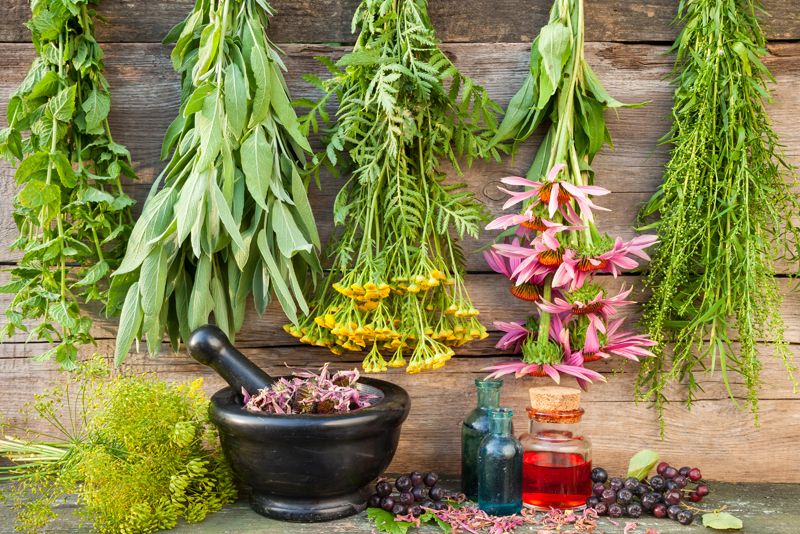 St. John's Wort is an herb that was produced to take care of depression, but what you don't understand is that this fragrant plant has more to it than meets the eye. Generally known as Chase Devil, St. John's Wort has proved to be highly successful in treating an array of challenging health issues that vary substantially.

Here are my top uses for this great herb that treats some common issues we are all afflicted with at one time or another.

Depression - St John's Wort (Hypericum perferatum) has been a miracle worker for us in regards to depression and mood. It has even been compared to the drug Prozac, but without the serious side effects. This plant has even been used for thousands of years to celebrate summer solstice; it is still used in pagan festivals to cleanse the body of evil spirits by tossing the herb into the fire. The standardized extract of this herb has great potential in improving depression and anxiety, plus helping with insomnia, often associated with the disease. Always talk to your doctor and pharmacist before taking medication with this to be sure it won't interact with any medications you may be taking. *My husband has recently had to take Lyrica/Gabapentin and continues with the St. John's Wort with no ill effects. He's been taking the herb for four years, three times a day.

Insomnia - St. John's Wort works to create a sense of balance in the brain, allowing you to attain the appropriate rest and relaxation you ought to have. Are you having trouble sleeping? Then look no further, St. John's Wort is here to help. Insomnia is created by an array of things such as stress, nervousness, hormonal changes, soreness, pain and too much coffee and soft drinks (caffeine).

Sunburn - St. John's Wort serves as a fundamental healer, especially when used over a period of time. It is recommended that you cleanse your skin modestly before massaging St. John's Wort oil on top of the burns. It is also scientifically proven that St. John's Wort is highly effective in treating regular burns that are unrelated to the sun – touching hot items such as the stove, oven, etc..

Topical Healer - St. John's Wort demonstrates why it is helpful in more ways than one. Applying the oil has proved to be incredibly effective in not just pain management, but the actual origin of the pain. Just by applying a little oil into the wound areas, you will sooth these wounded areas immediately.

Weight Loss - I bet you didn't know that St. John's Wort provides you with an assortment of antioxidant chemical characters which work together to not only reduce your appetite, but increase your metabolism. For best results, sprinkle it onto your food or into a cup of your favorite tea.

OCD (or Obsessive Compulsive Disorder - St. John's Wort has been scientifically proven to treat controlled cases of Obsessive Compulsive Disorders. The compulsions, as well as, obsessions associated with OCD differ. Whether you suffer from anxiety or any kind of abnormal illness, St. John's Wort will absolutely help you.

Infections - St. John's Wort works as an inferior antibiotic and disinfectant. It is also a great antiseptic, which serves as an active microbicide. It helps with Gastritis (which causes the lining of the stomach to swell), Gingivitis (which is caused by severe inflammation of the gums as a result of bacteria and disease) and even Thrush.

Rheumatoid Arthritis - Rheumatoid Arthritis (commonly known as RA) is a very severe auto immune disease and those that experience RA are in major need of pain management. Although vegetable capsules are a very common use of St. John's Wort in modern times, it is highly recommended that to treat RA (or Rheumatoid Arthritis) using a St. John's Wort medium, you must use the oil form rather than the powder form. It is recommended that you massage the oil into the areas where the pain is prevalent.

Addiction - From alcoholism or even an addiction to cigarettes, St. John's Wort has proven to be an effective treatment to those that suffer from such. We already know that it works great for those individuals who suffer from Obsessive Compulsive Disorder (or OCD), but how does St. John's Wort work for those who suffer from minor addictions? Simple, it works as a solution to disguise the impulses created from addiction. It is suggested that you take the capsules/pills of St. John's Wort for the best results.

Please always do your research and consult with your physician, naturopath, or health care provider before taking any home remedies or supplements or following any treatment suggested on this page. Only your health care provider, personal physician, or naturopath can provide you with advice on what is safe and effective for your unique needs or to diagnose your particular medical issue.


Related Articles
Editor's Picks Articles
Top Ten Articles
Previous Features
Site Map





Content copyright © 2023 by Bettina Thomas-Smith. All rights reserved.
This content was written by Bettina Thomas-Smith. If you wish to use this content in any manner, you need written permission. Contact Bettina Thomas-Smith for details.